Description
Do join us on 22 September 2015 for the launch of our fantastic 2015-16 Branch Programme.
We are delighted to bring you keynote speaker Simon Fanshawe OBE who will talk about how a new approach to diversity can drive the development of individual talent and the development of your organisation.
Simon will show you how you can banish the 'tick box' and the dull process in favour of a dynamic approach where data is used to drive change and HR is challenged to drive the company's performance rather than just protect its back.
About the speaker
SIMON FANSHAWE
OBE
is a co founder and partner in
astar-fanshawe
, a ground breaking consultancy, that works with companies to deploy diversity as a way of enhancing their performance. (
www.astar-fanshawe.co.uk
)
Between 2007 – 2013 Simon was Chairman of the University of Sussex governing Council. He is currently on the Boards of Brighton Festival and Dome, Housing and Care 21 and is a Trustee of The Museum of London and the Kaleidoscope Trust. He was a co-founder of one of the most successful lobby and campaign groups in recent times, the lesbian and gay equality organisation Stonewall.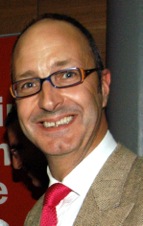 REGISTRATION, REFRESHMENTS AND NETWORKING FROM 6.15PM. FORMAL SESSION STARTS 7.00PM - 8.30PM.
This event is free of charge for CIPD members, although booking is essential. There is a charge of £25 for non-members (please note that refunds will not be issued less than 10 days prior to this event).
Professional photography and video production may be taking place at the event, and these images may be used on future promotional materials for CIPD. Please note that by attending the event, you are giving your consent for your image to be used on any CIPD promotional materials.
Organiser of From Tick box to Talent : A New Approach to Diversity at Sandman Signature, Crawley
Welcome to the events page of the Sussex Branch of the CIPD, the professional body for HR and people development.
Below you will find all the events we are currently taking bookings for. Places are booked on a 'first come, first served' basis so do book your place using the links below. A waiting list will operate once events are fully booked.

The CIPD's purpose is to champion better work and working lives by improving practices in people and development for the benefit of individuals, businesses, economies and society. The CIPD is incorporated by Royal Charter and is a registered charity.

Here at Sussex Branch we have over 3750 members and we cover both East and West Sussex. We are currently the 8th largest branch in the country out of 52 branches.  Our commitment to you as a Sussex Branch member is to be here for you throughout your professional journey:

• Facilitating local networking opportunities
• Organising great value continuing professional development
• enabling the sharing of knowledge and experience with other people professionals

and above all here for you locally as your life long career partner.

We look forward to seeing you one of our face to face meetings very soon and we would also love you to sign up to our email updates, and join our Linkedin Group (CIPD Sussex Group) so you can network with other branch members, share news and views and stay in touch with Branch activities.
See below for all the events you can currently book for.