Frontend Developer Love 2020

Wednesday, 19 February 2020 at 09:00

-

Friday, 21 February 2020 at 23:00 (CET)
Event Details
Frontend Developer Love brings together Global Frontend Javascript leaders and is the Largest Javascript Conference in the Netherlands. 1000+ Attendees per day for 3 Full Days traveling from over 50+ countries around the World. 3 Full Days of Talks from over 30+ Speakers including 2 Days Dedicated to Vuejs Amsterdam. 
Taking place at the Greatest Conference Venue in the World, Theater Amsterdam. Global Javascript Leaders converge to offer Attendees the best experience ever with a wide range of topics
Join us for 3 Days of Phenomenal Talks covering 00's of Javascript Topics with a huge sprinkle of Vuejs 
Over 350+ Tickets are already sold with Tickets selling out faster than previous years! To create more space we have a Lower Attendance capacity at Frontend Developer 2020 so grab them Tickets now at a good price, while they last. Don't miss out on what will be the Best Frontend Developer Conference yet
====================================================
Here is a list of the hottest topics to be presented at Frontend Developer Love Day One which is February 19th 2020:
Serverless, Unit Testing, Deno & Typescript, Performance at Rest, Solving the right problems, Micro Frontends Pros and Cons, Advantages of React, Angular & Vue (Stop the War), Graphql, Frameworks vs Boilerplate, Webpack, JS & IOT, How to start a Project considering UX Design & Wireframing, Working in Multi Discplinary Teams & Web Assembly
Add to that a list of topics to be presented February 20th & 21st during Vuejs Amsterdam 2020
Vue 3, Vue Animations, Vue-ui, Vue-Apollo, Nodepack, Vue + Graphql, Vue Hooks, Nuxtjs, Nuxt 3, Modular Approach, Progressive Web Apps PWA, BoostrapVue & A11Y, Vuetify, Quasar Framework, Vue-Press, Vue Composition API, Nuxtpress, Vue Store Front, Debugging Vue Apps, Vue Community Guide and many more topics to be announced
Speakers

Evan You
Creator of Vue.js
Topic: State of Vue.js 2020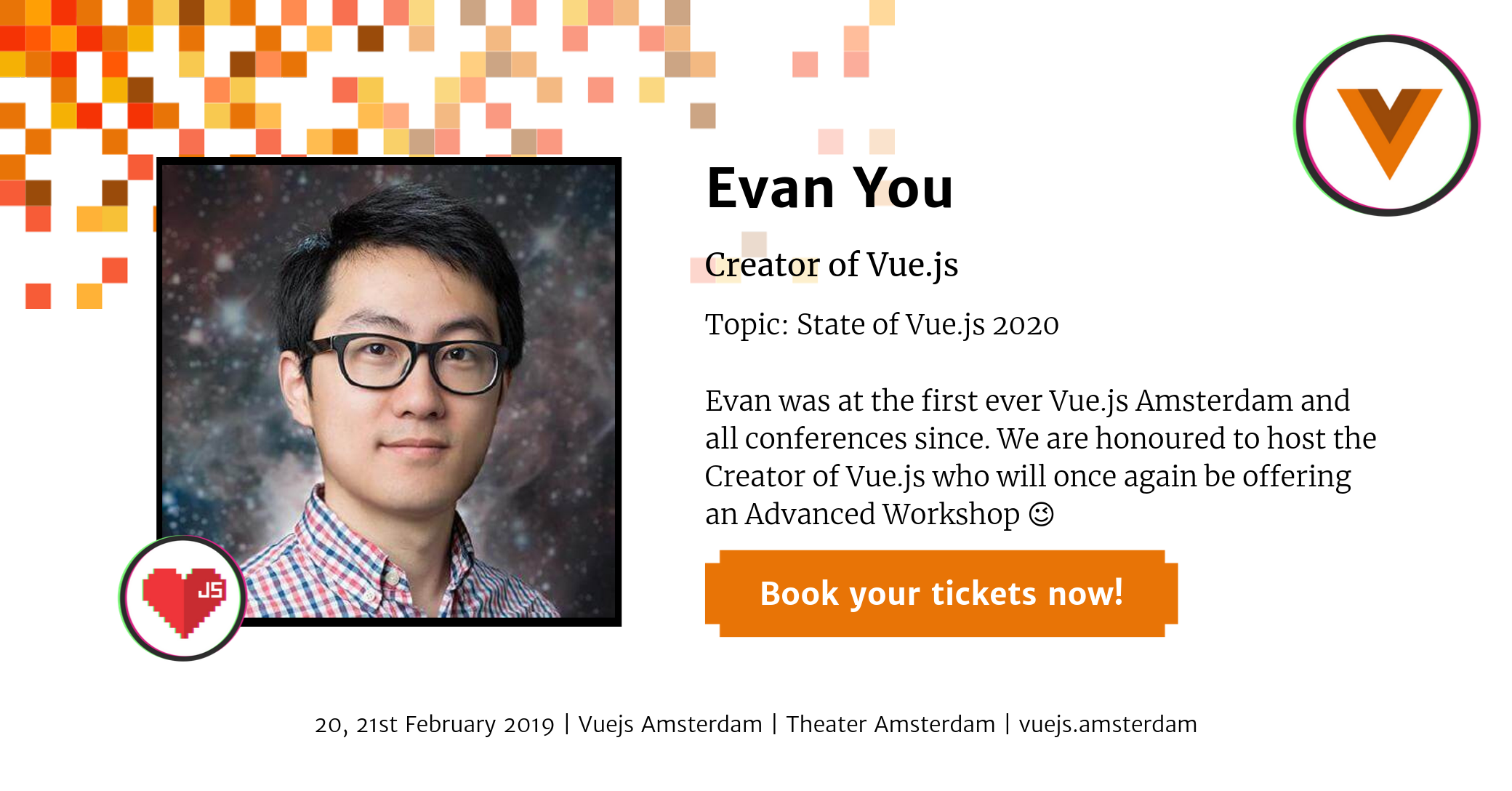 David Den Toom
Co-Founder of Passionate People, DevOps engineer / TypeScript, NodeJS & React developer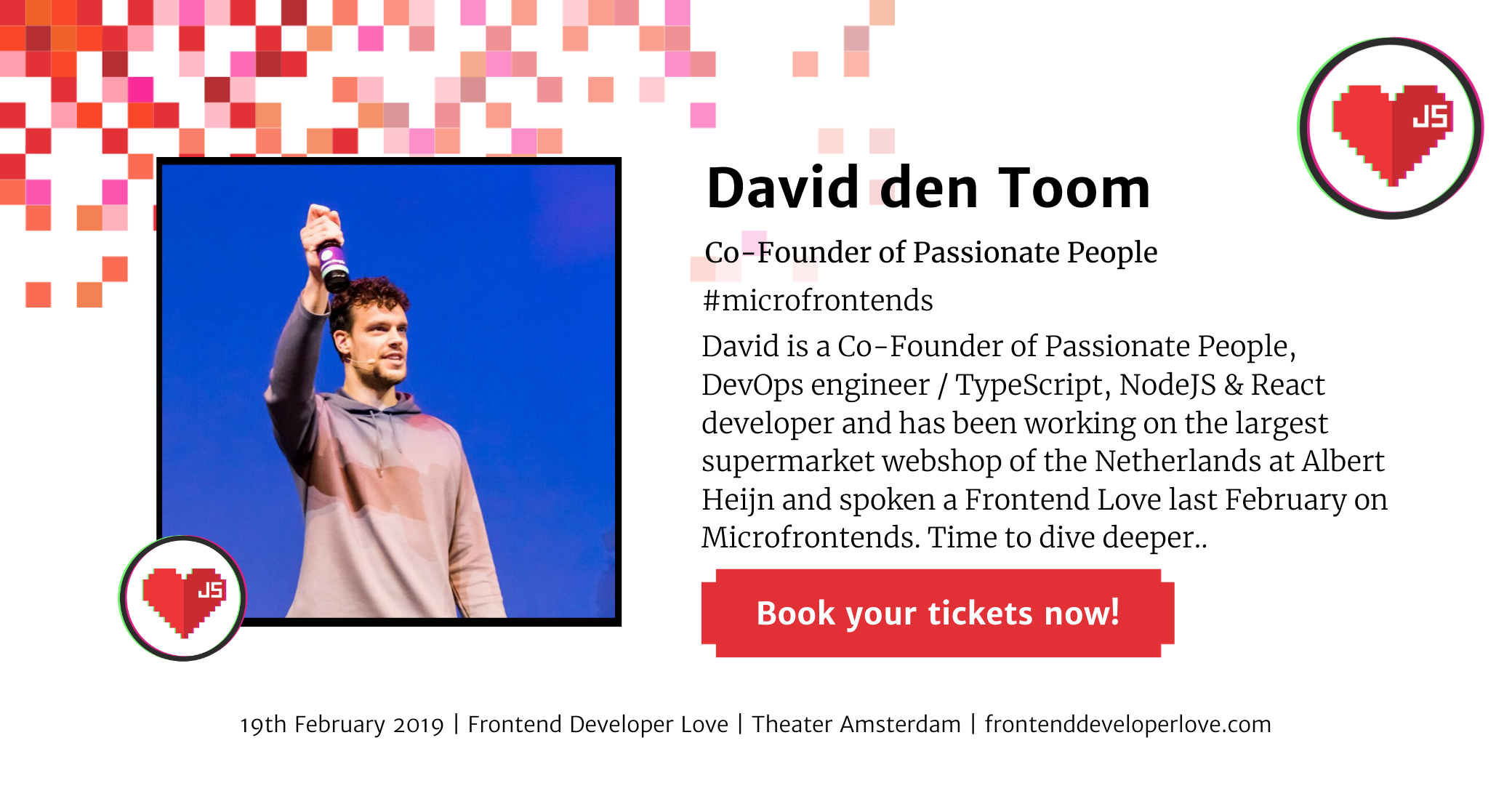 Emma Wedekind
Design systems at LogemeIn, Ladybug Podcast and CodingCoach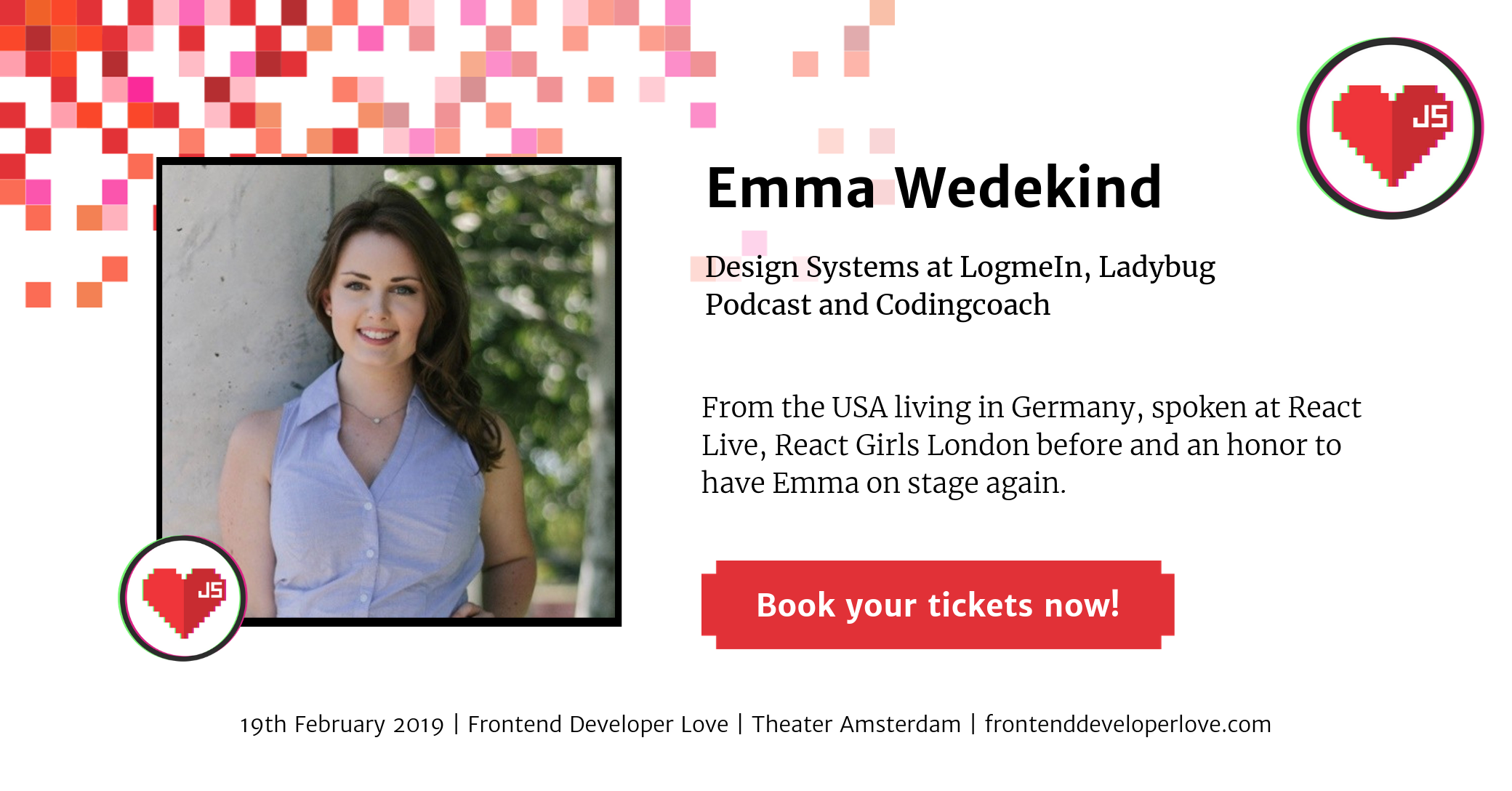 Callum Macrae
Author of Vue.js: Up and Running
Topic: Accessibility and Climate Change!
Tony Edwards
Education outreach for @SWcornwall. Most of @KernowDAT, half of @FutureSynConf and a smidge of @exploremish.
Topic: Beats, Rhyms and Unit Tests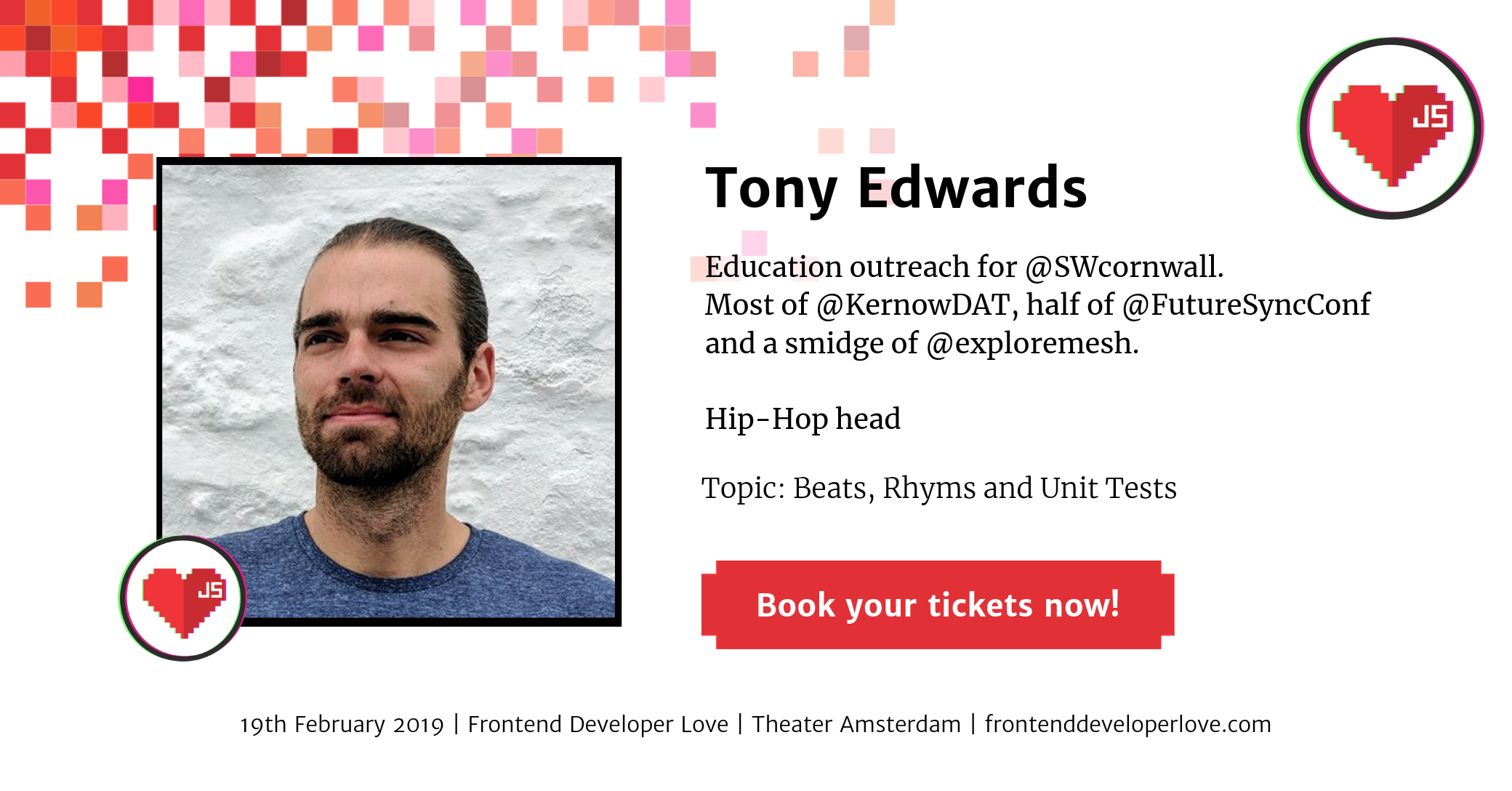 Sarah Drasner
Head of DX at Netlify
Core Team Member of Vue.js
#Animations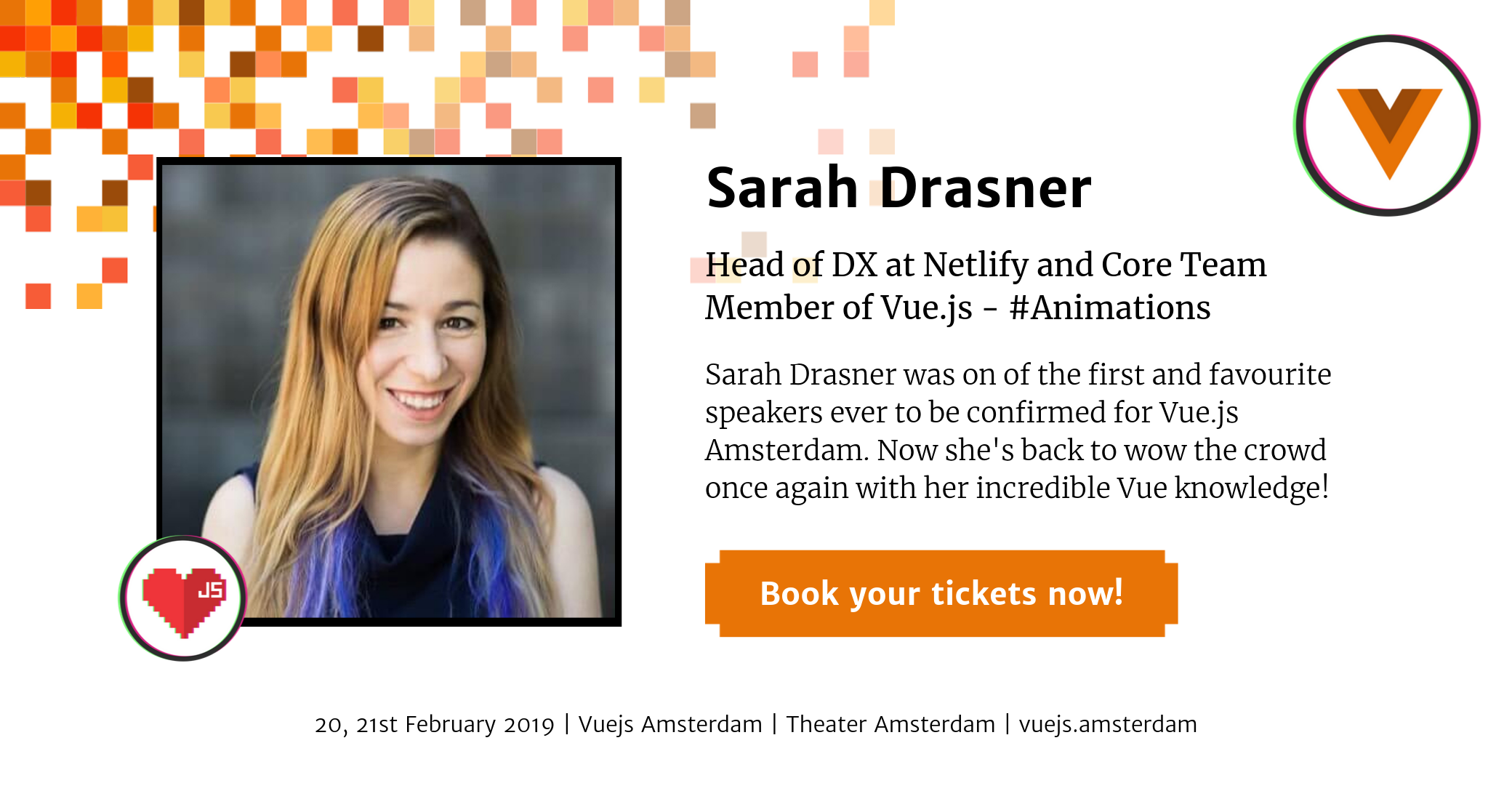 Marcus Blankenship
Leadership Coach Author, Management Trainer, Geek. 
Topic: Become as good a leader as you are a coder.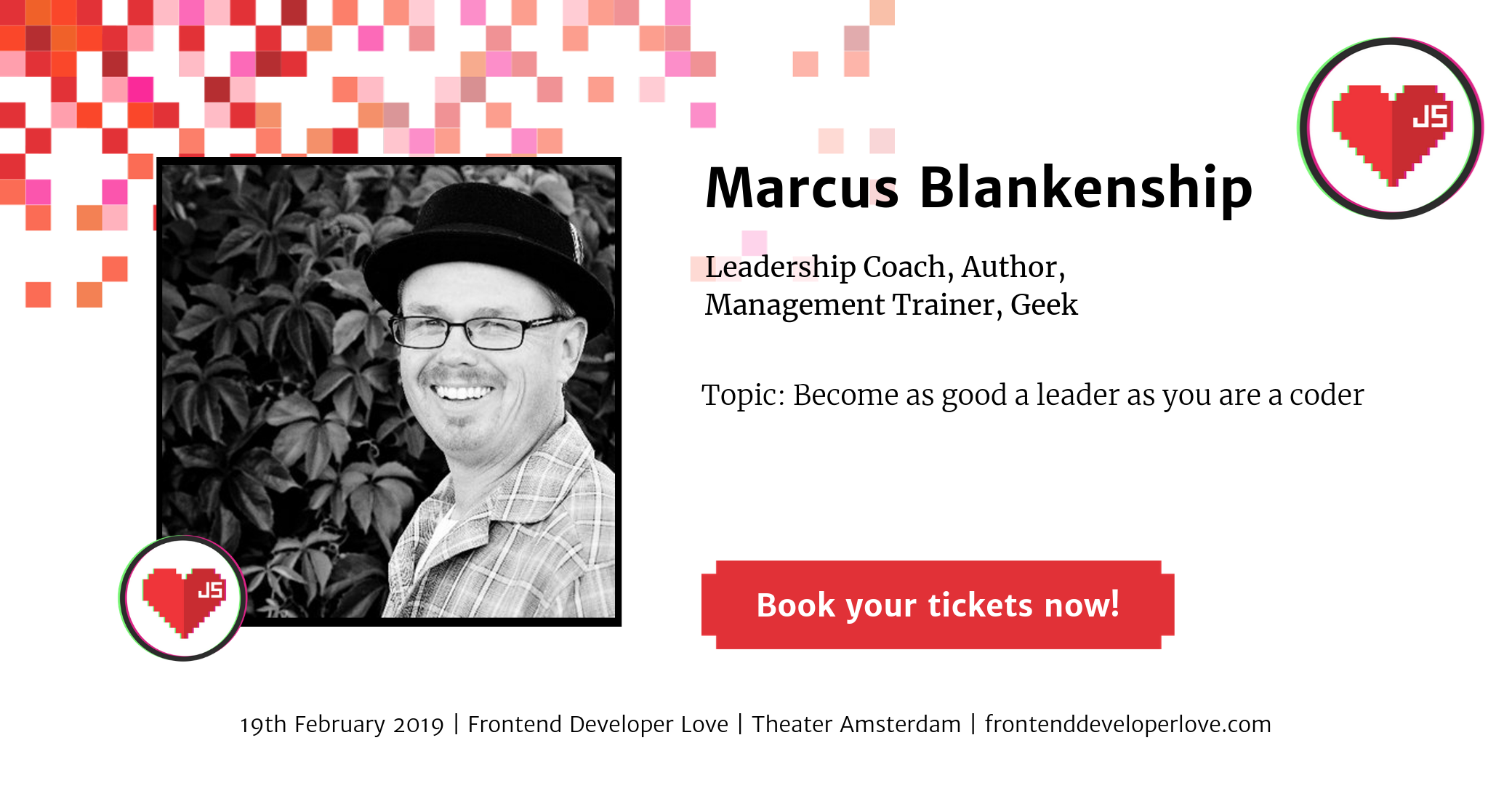 Yan Cui
AWS Serverless Hero, Independent consultant. Speaker, Blogger and Author of productionreadyserverless.com. Developer Advocate at @Lumigo.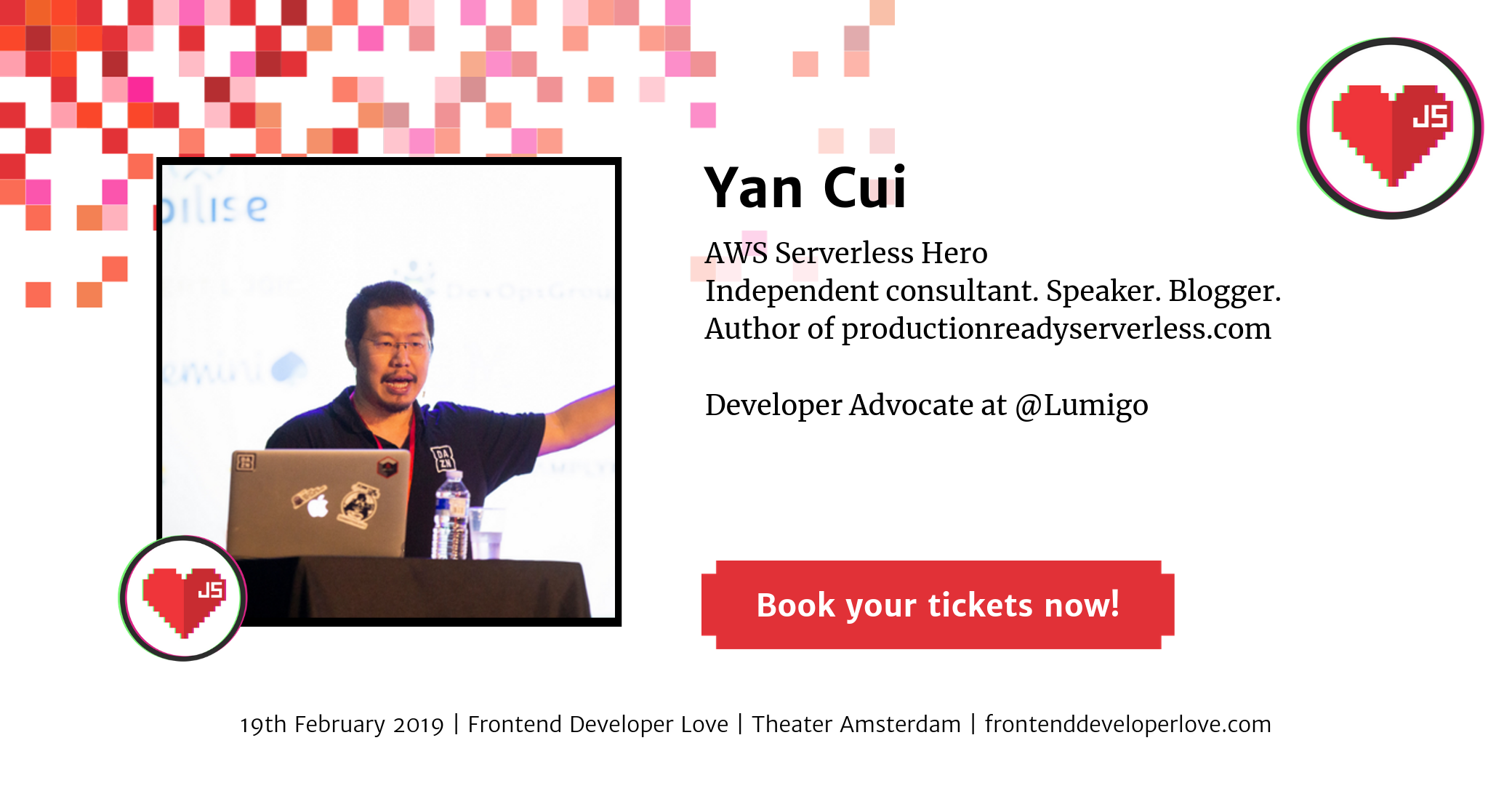 Damian Dulisz
Consultant and Core Team member of Vue.js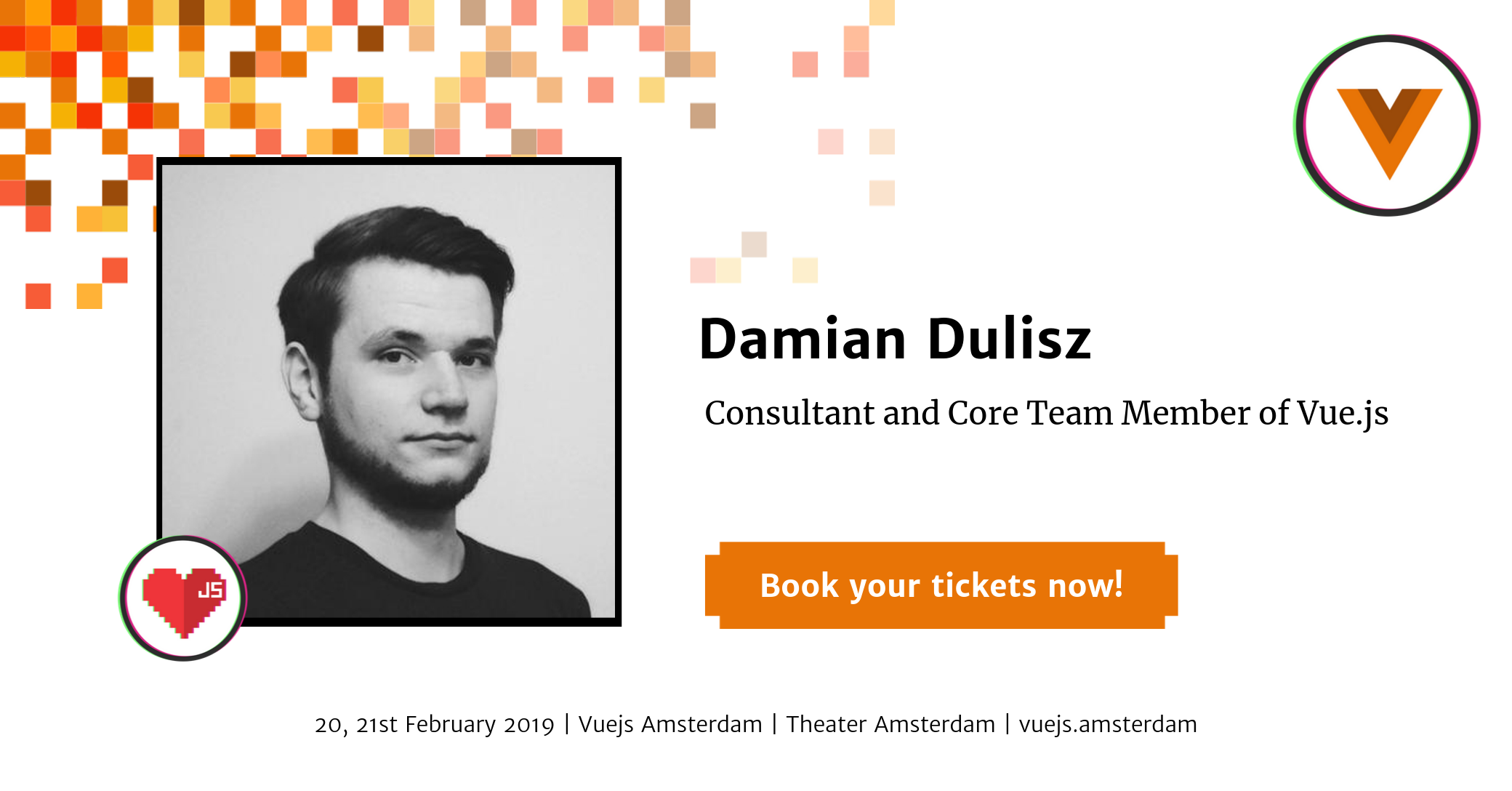 Eduardo San Martin Morote
Core Team Member of Vue.js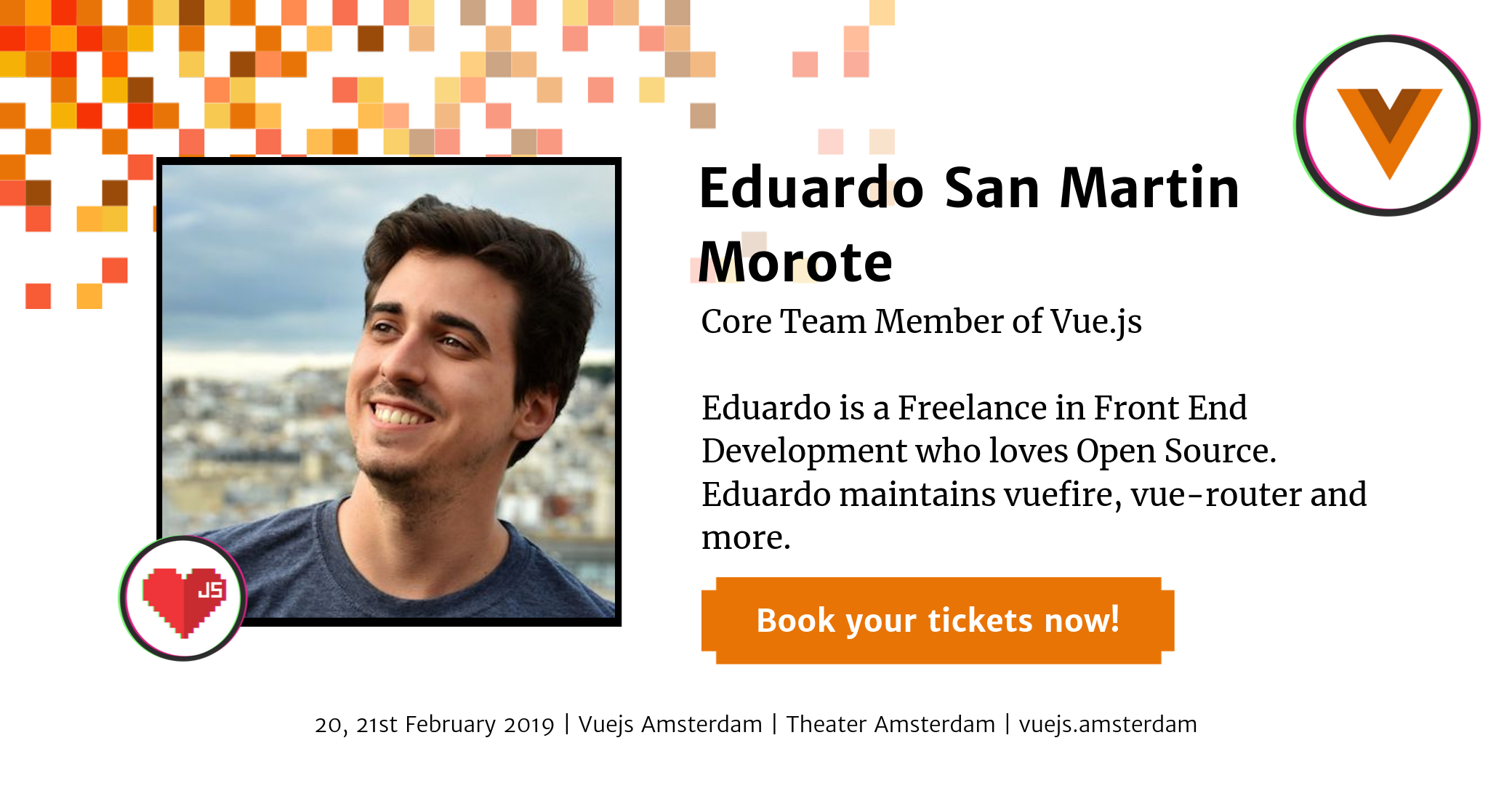 Kye Hohenberger
Creator of CSS-in-JS library Emotion
#Emotion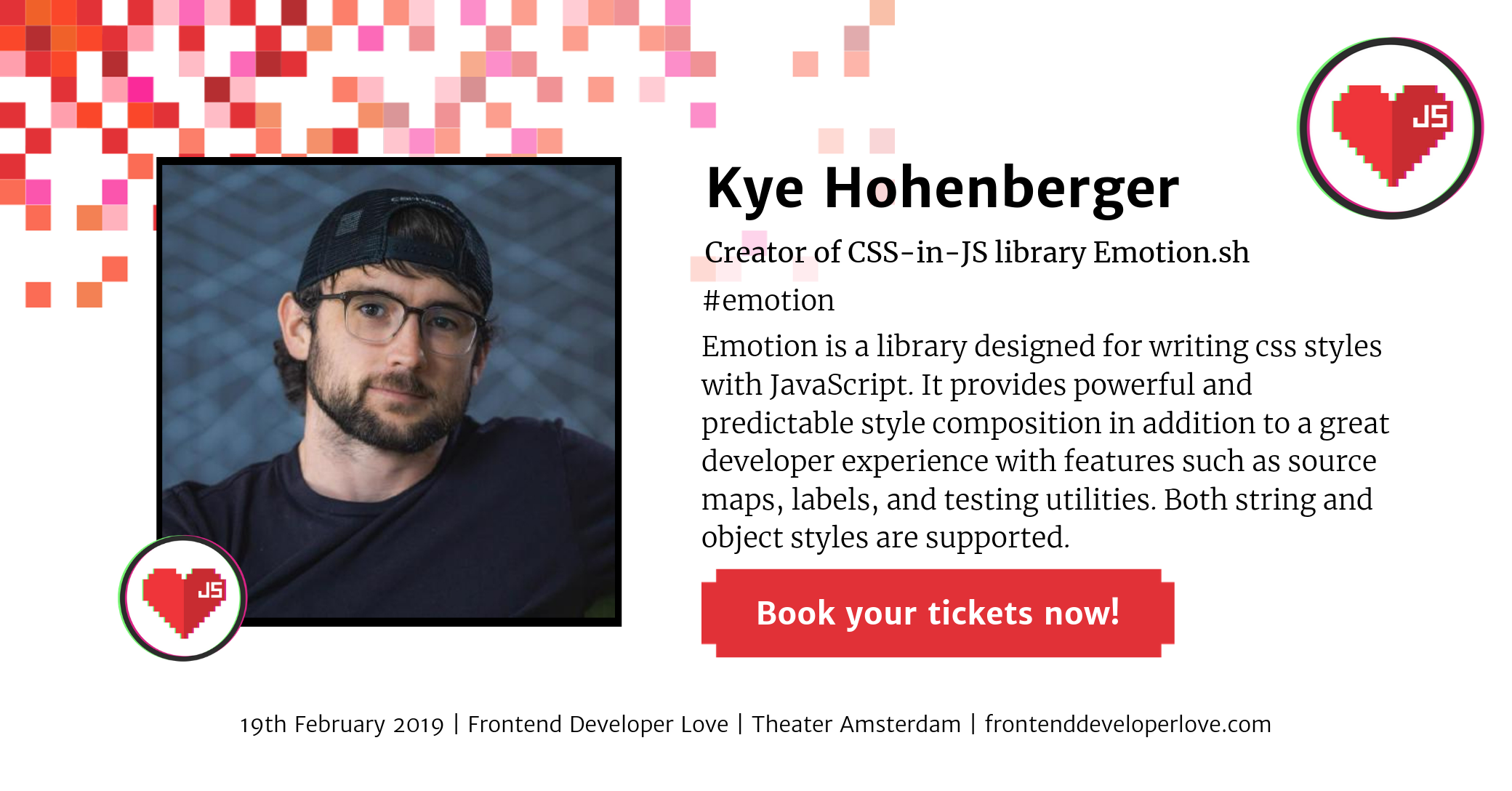 Guillaume Chau
Senior Frontend Engineer at Livestorm & Core Team Member of Vue.js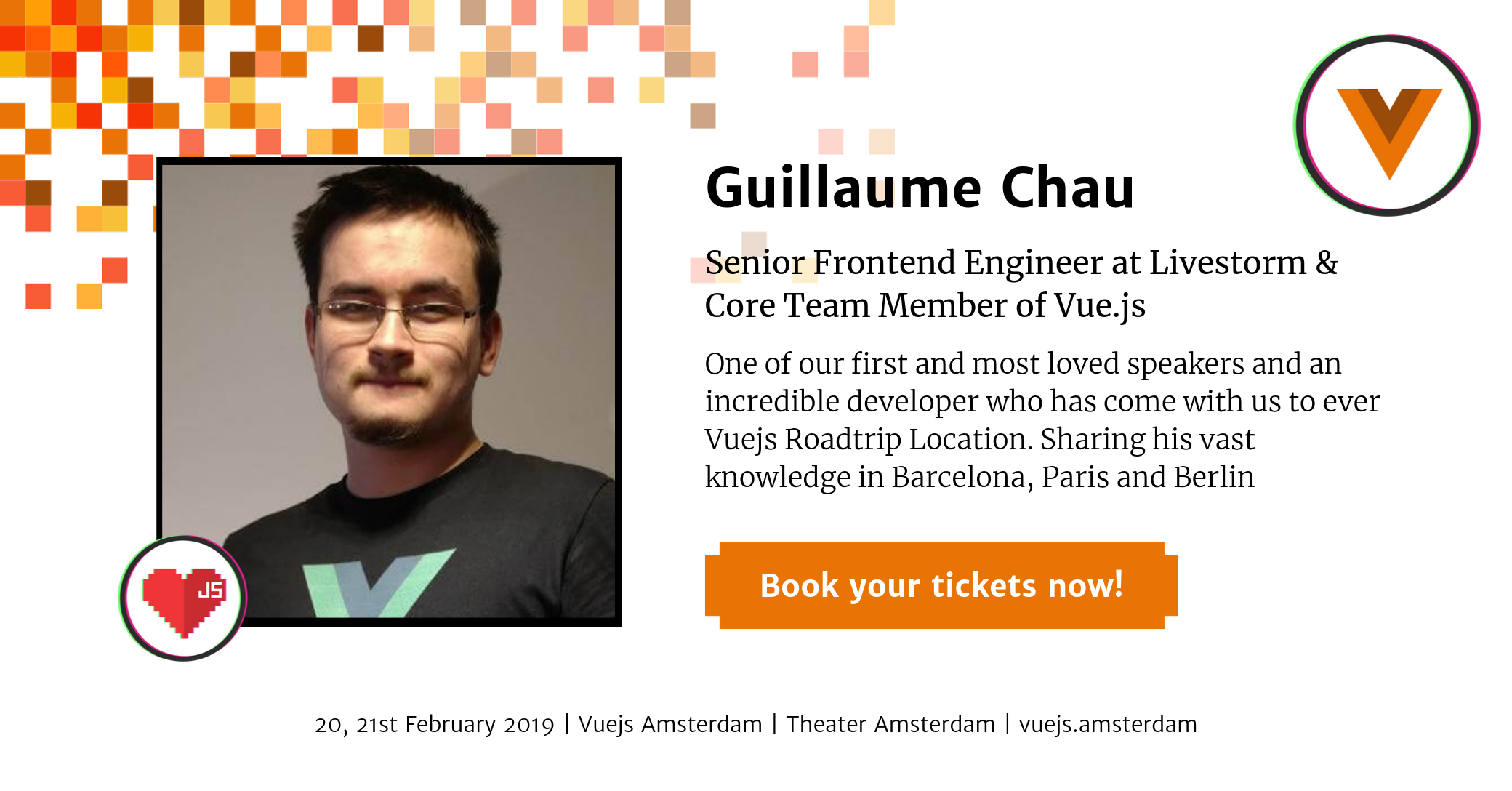 Gusto
Core Team Member of Vue.js
Vue Community Landscape
Teacher at vueandme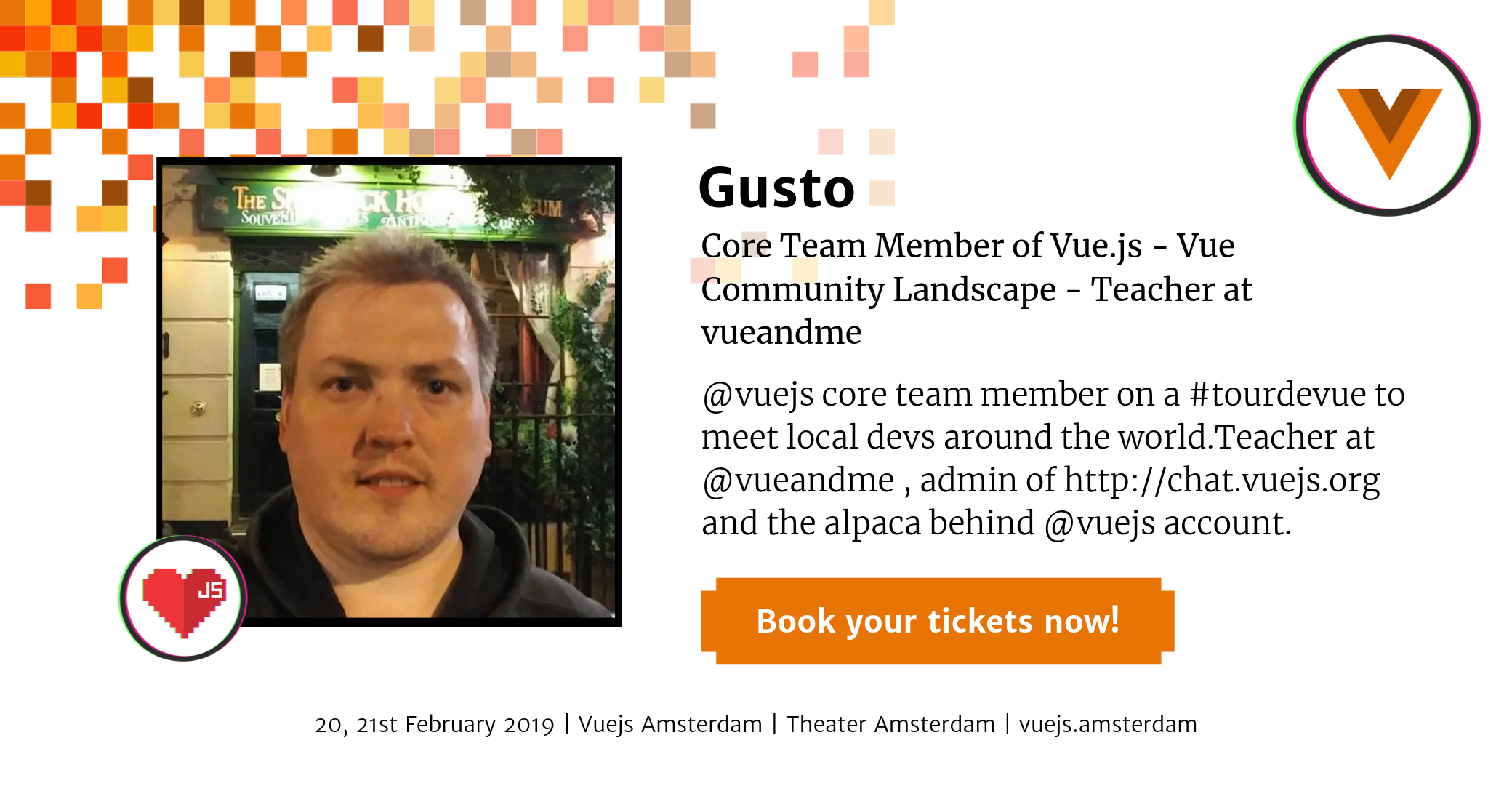 Nader Dabit
Senior Developer Advocate at AWS Amplify
#GraphQL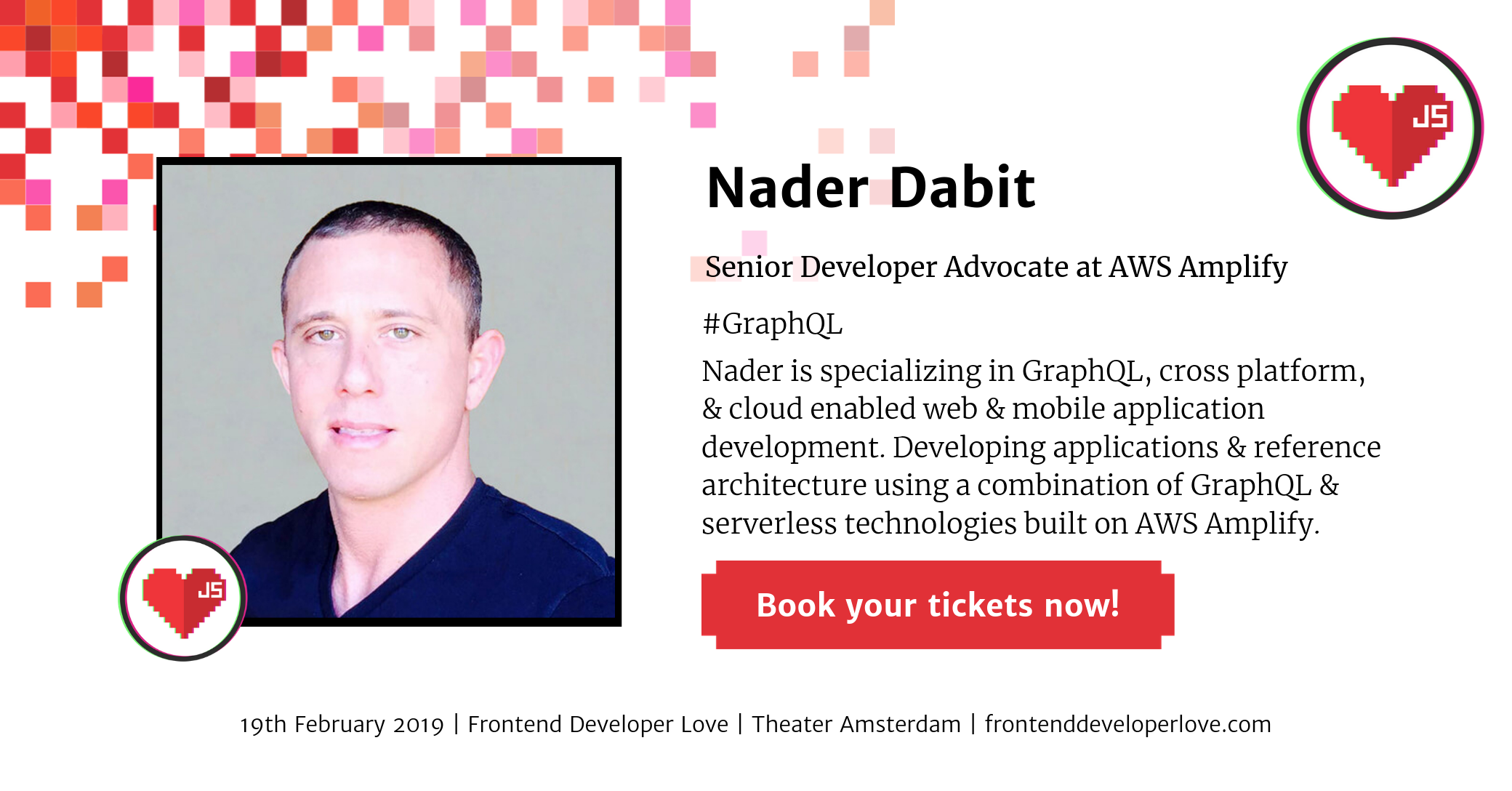 Natalia Tepluhina
Core Team Member of Vue.js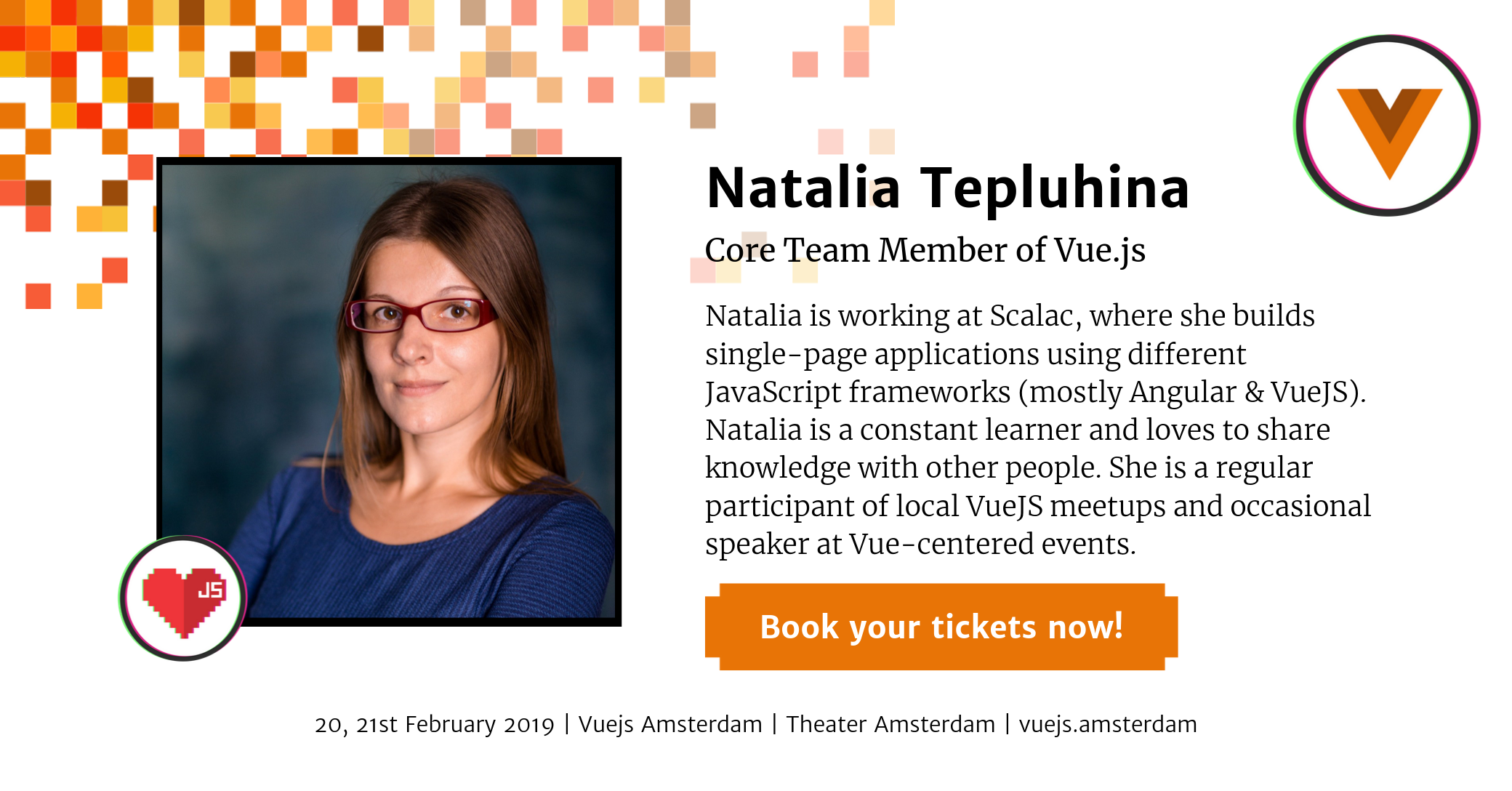 Adam Jahr
Vue News Podcast Host, VueMastery Vue.js Teacher and Community Partner
Topic: Authentication from Scratch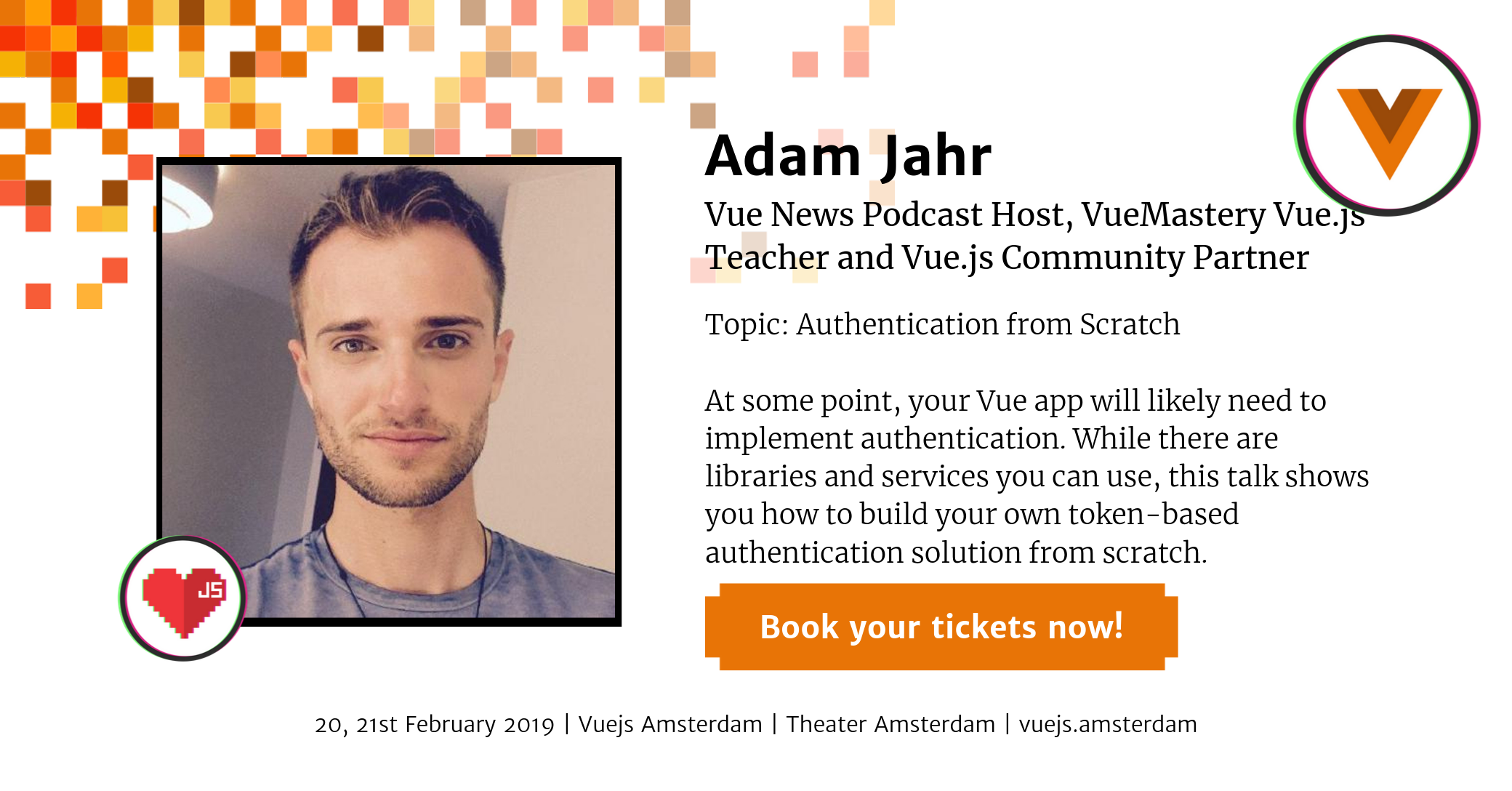 Filip Rakowski
Co-Founder of VueStorefront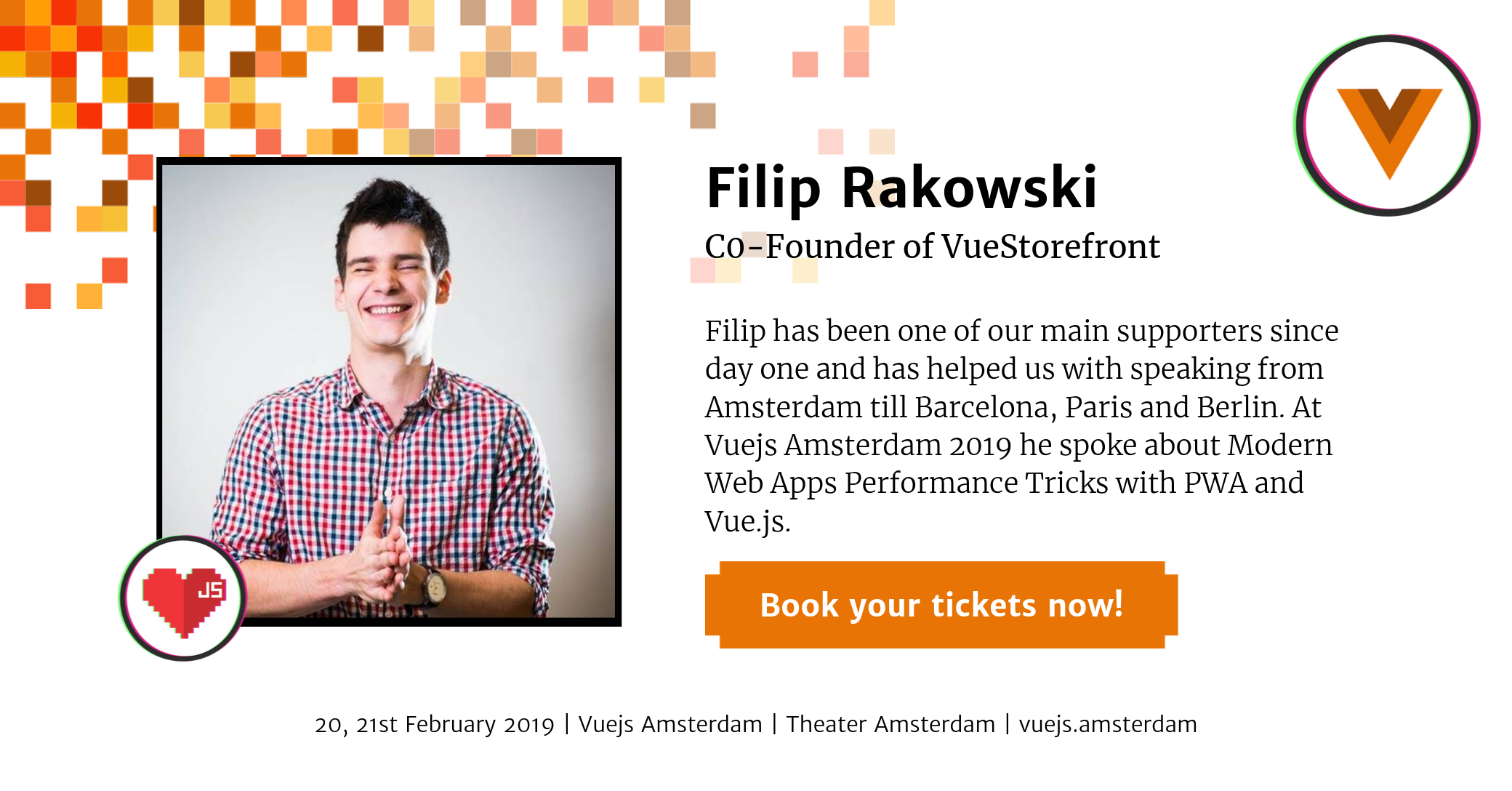 Thorsten Lünborg
Vue.js Core Team, Open Source Enthusiast and Product Owner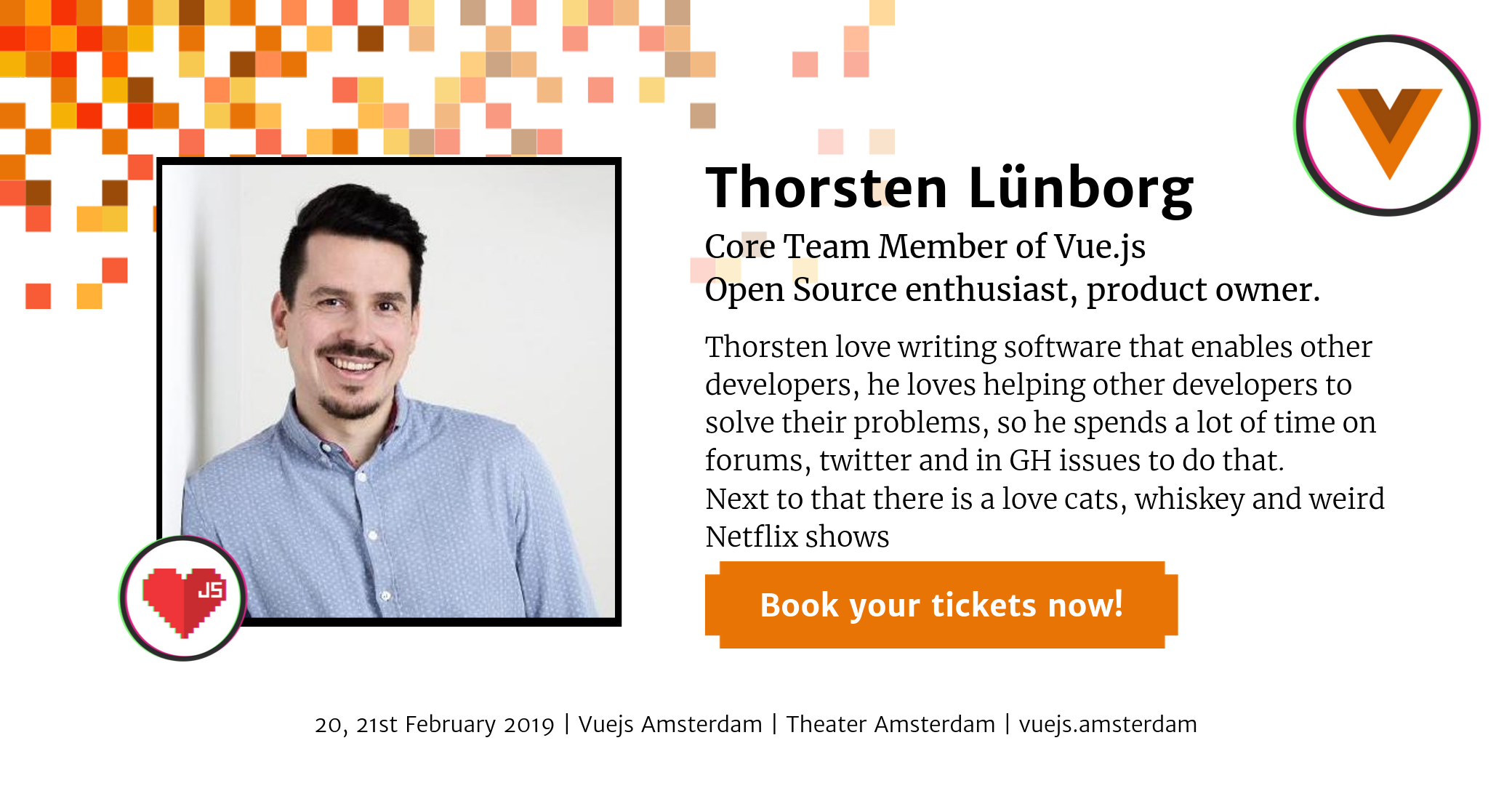 Gregg Pollack
Founder VueMastery and teaching developers Vue.js at VueMastery.
Topic: Vue 3's Composition API Explained Visually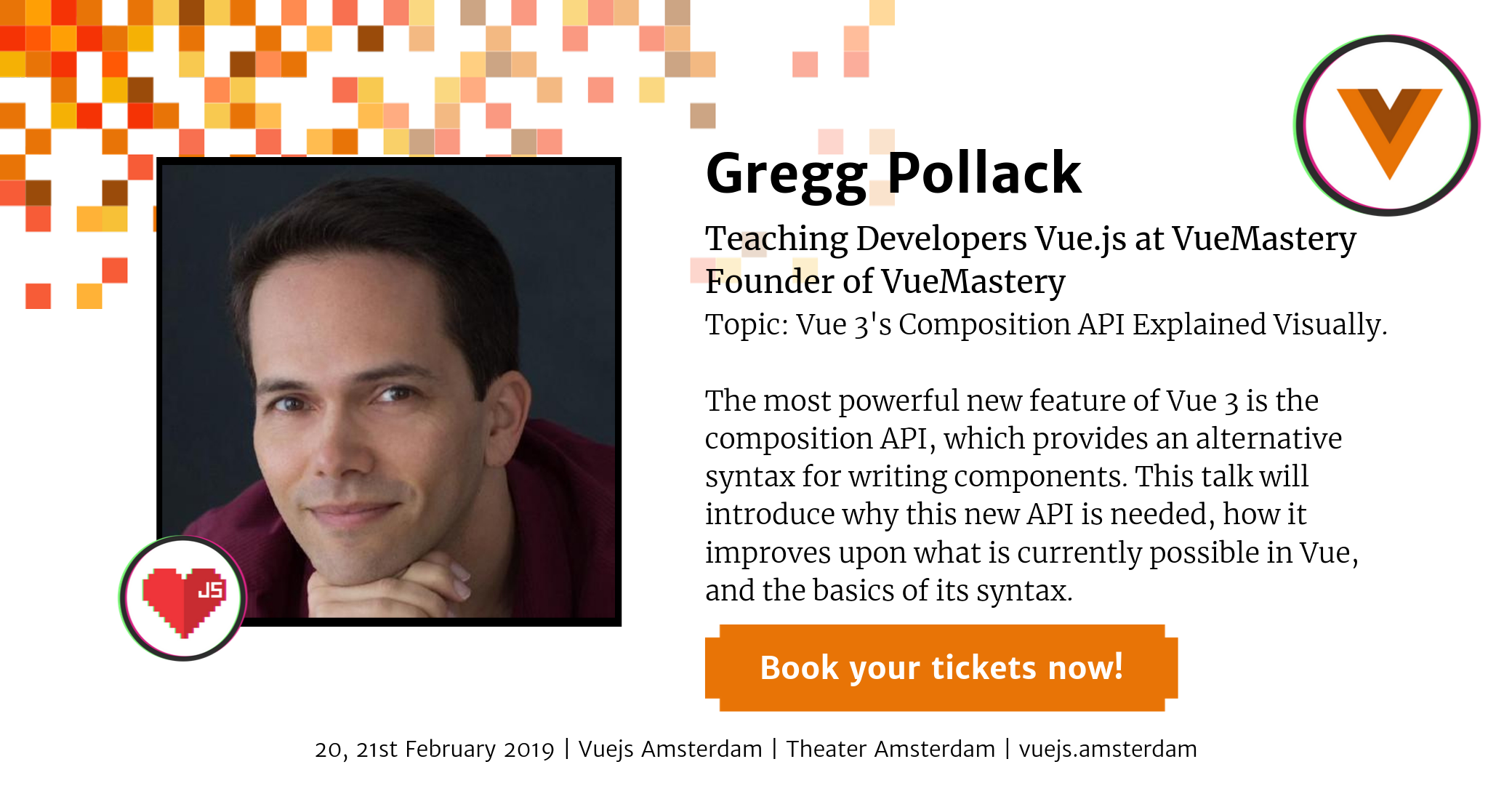 John Leider
Creator of Vuetify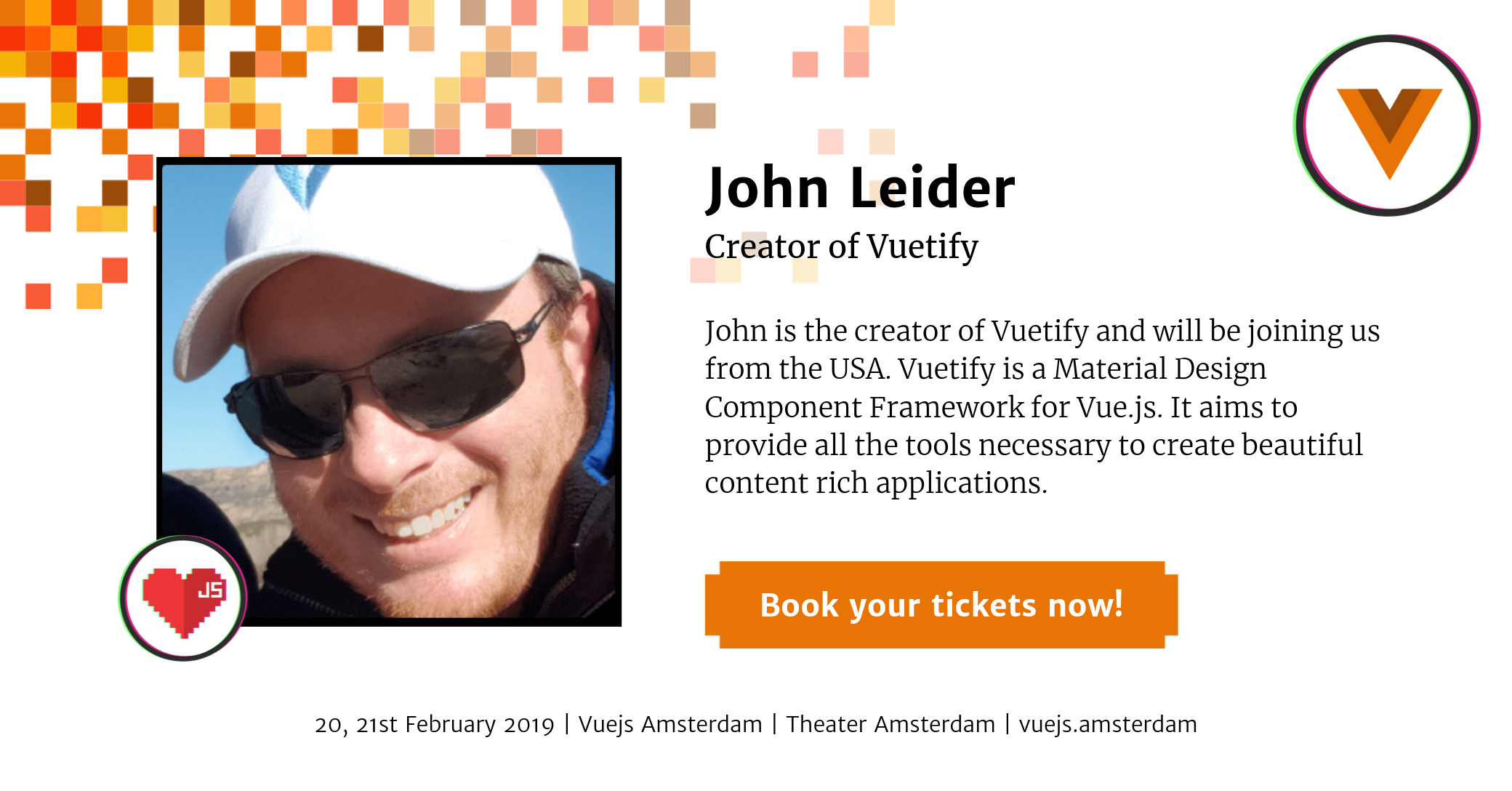 Maya Shavin
Senior Frontend Developer at Cloudinary, writer at Trainingstack and Tryultimate and Core Team Member of StorefrontUI.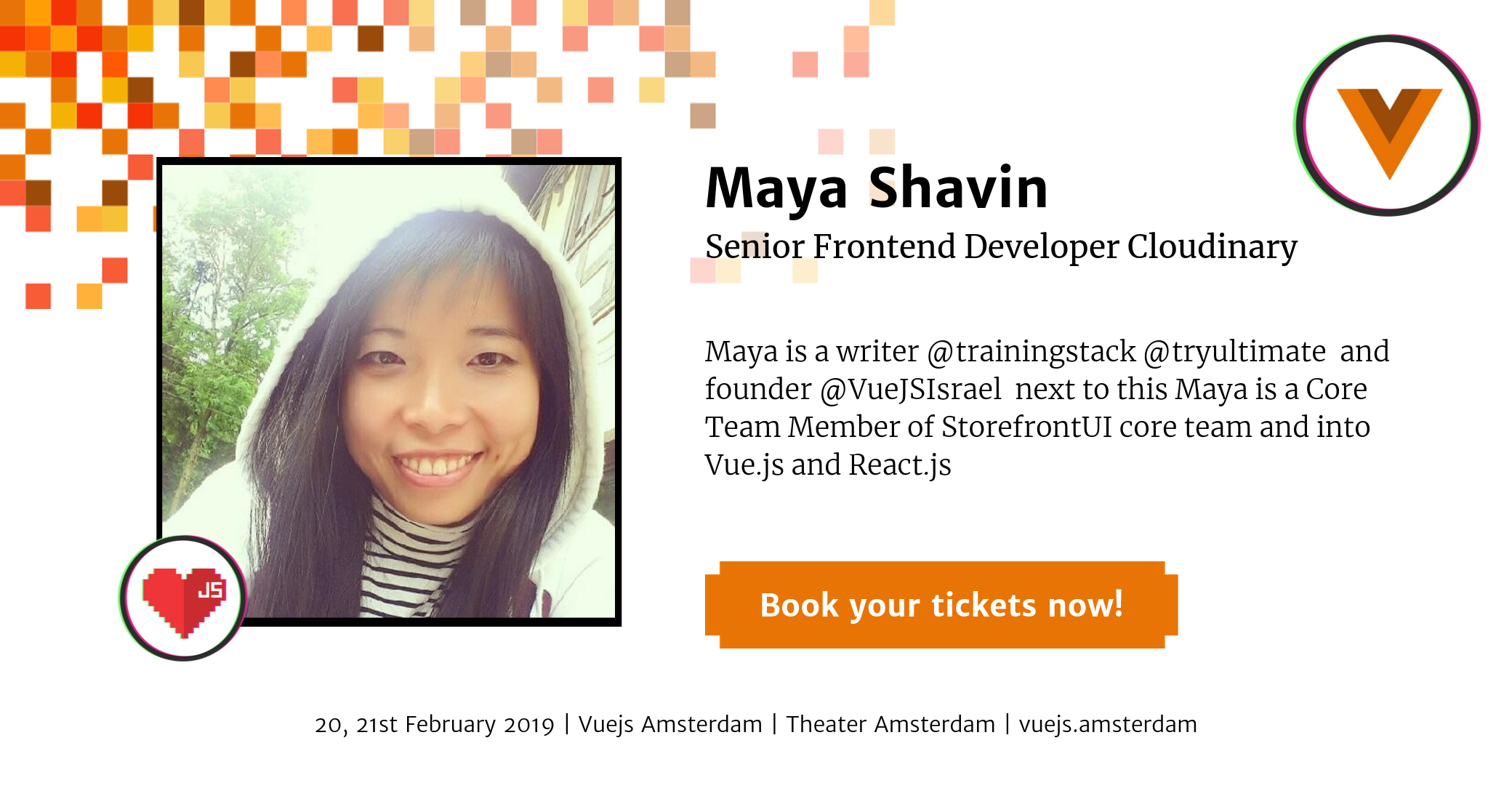 Rahul Kadyan 
Vue.js Core Team Member
Topic: New Vue. New Compiler. New Possibilities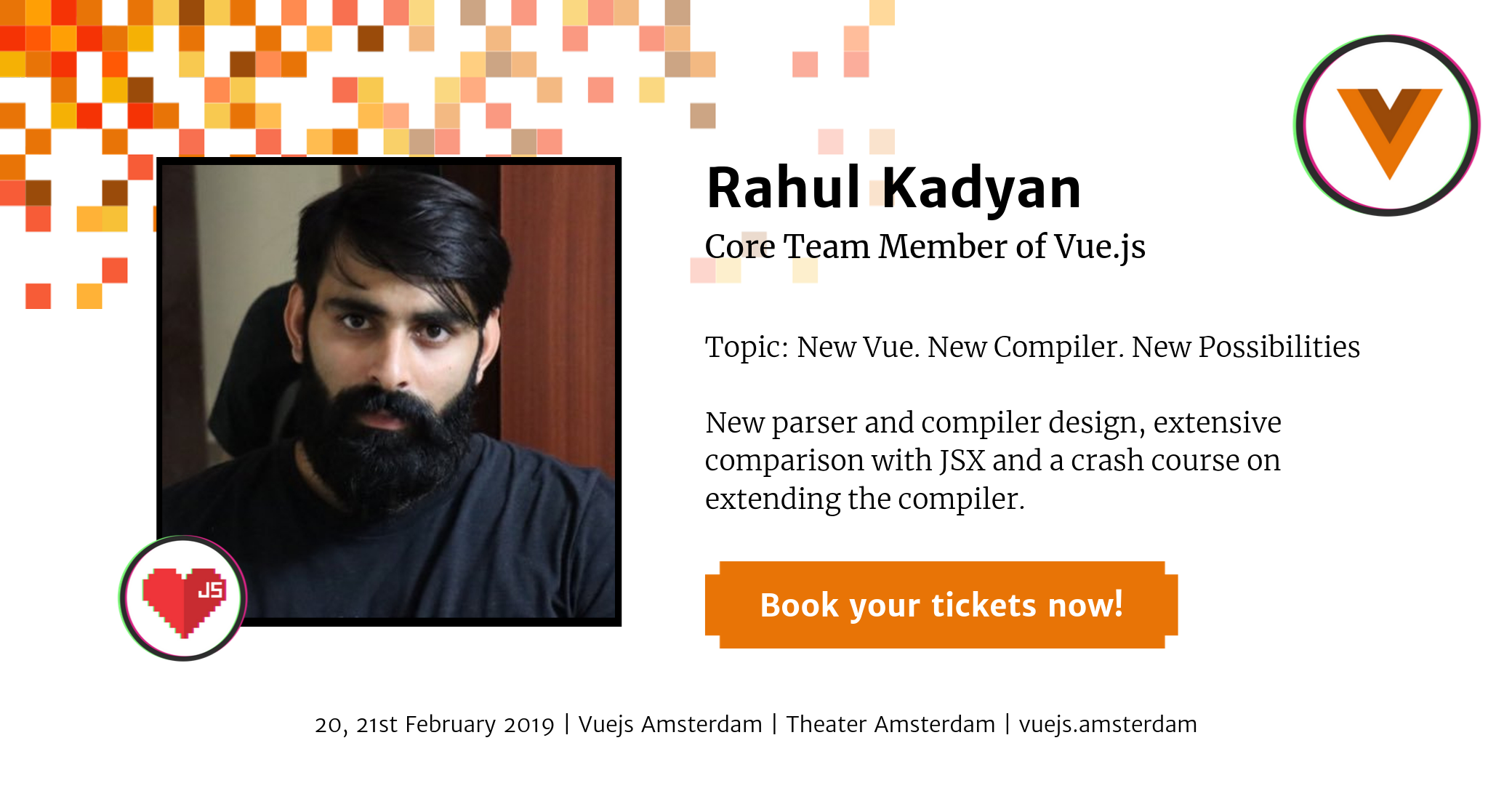 Pooya Parsa
Nuxt.js Core Team Member and Vue.js Community Partner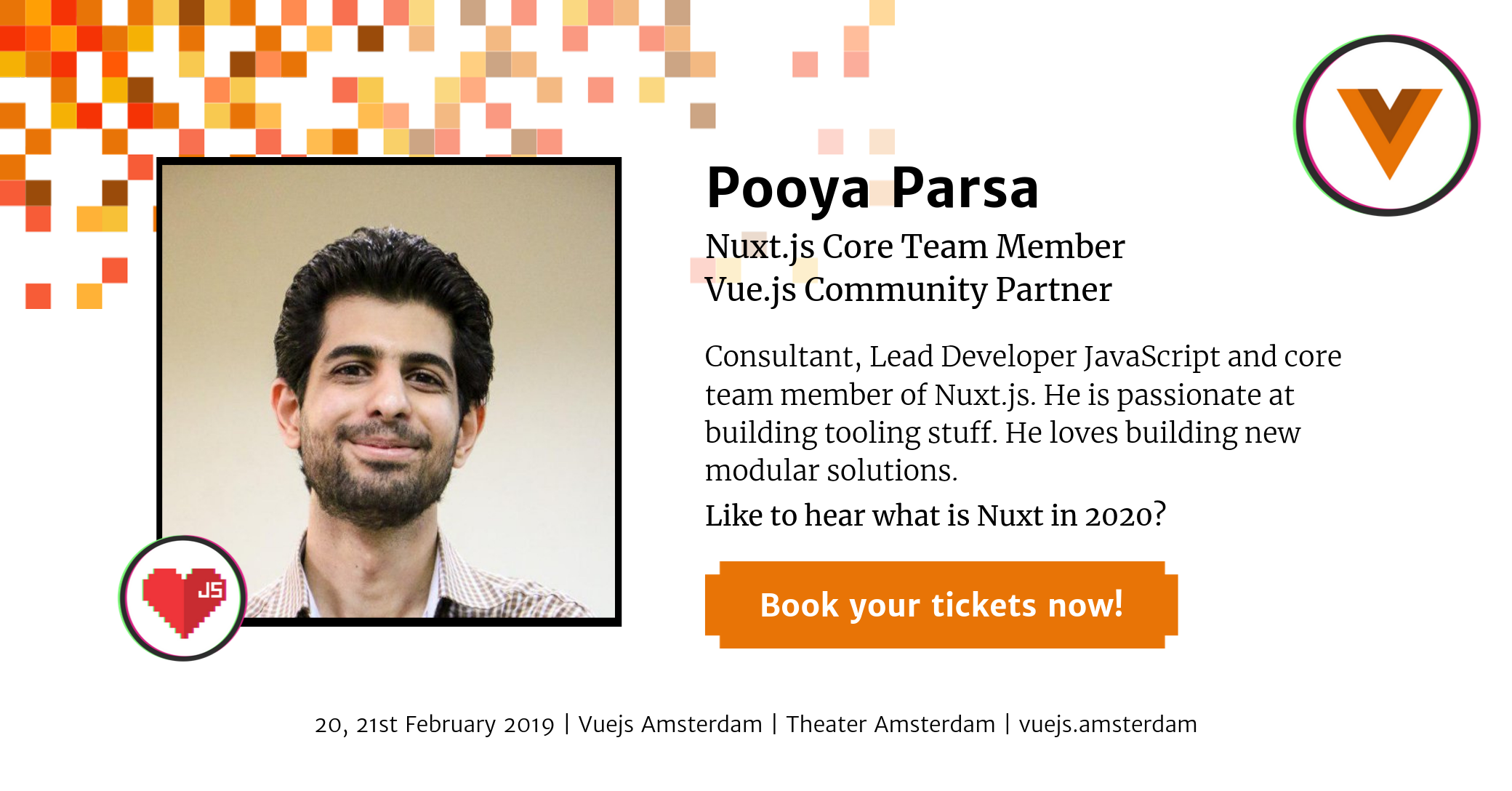 Sébastien Chopin
Nuxt.js co-author and Vue.js Community Partner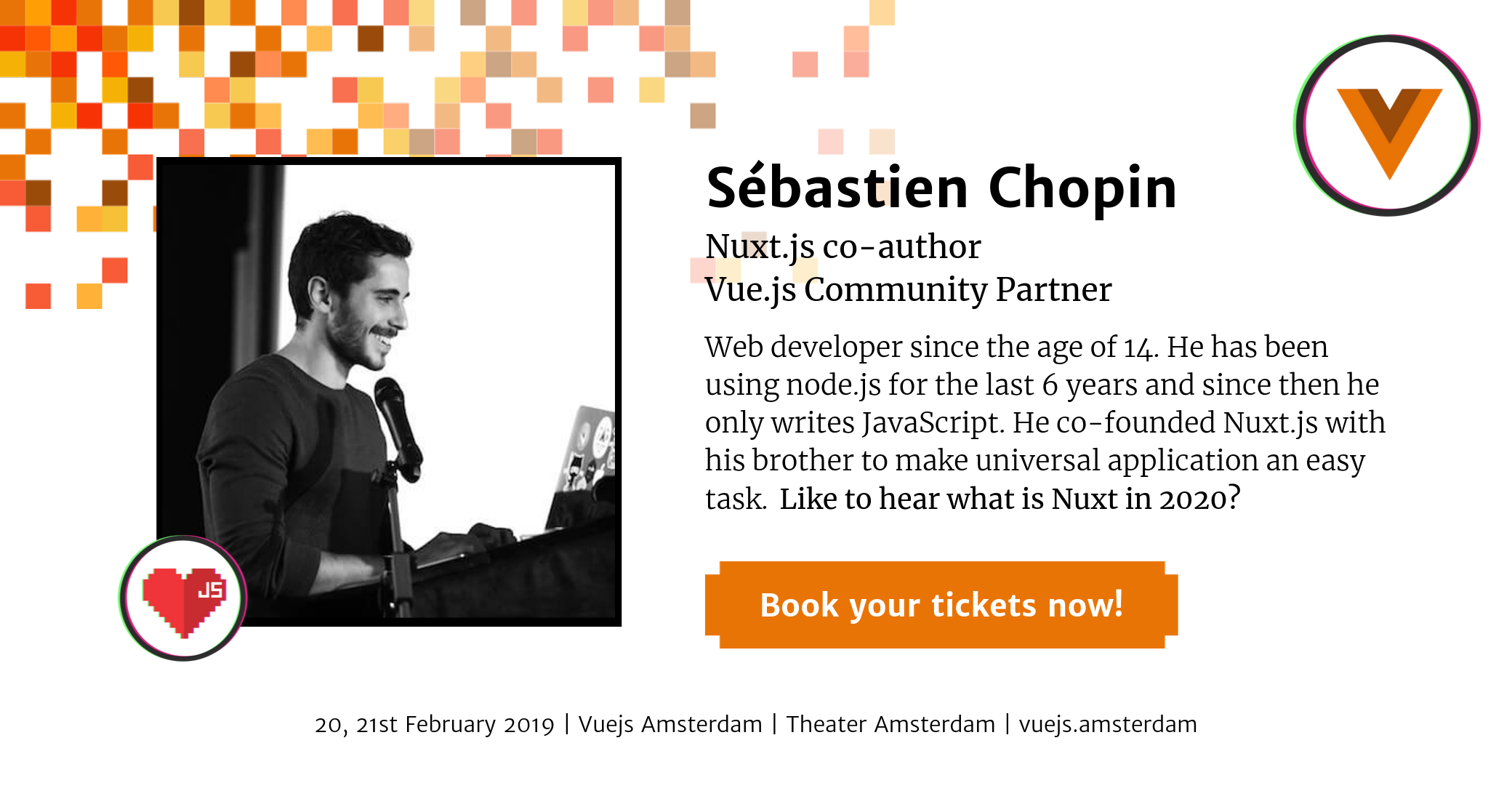 Alex Chopin
Nuxt.js co-author and Vue.js Community Partner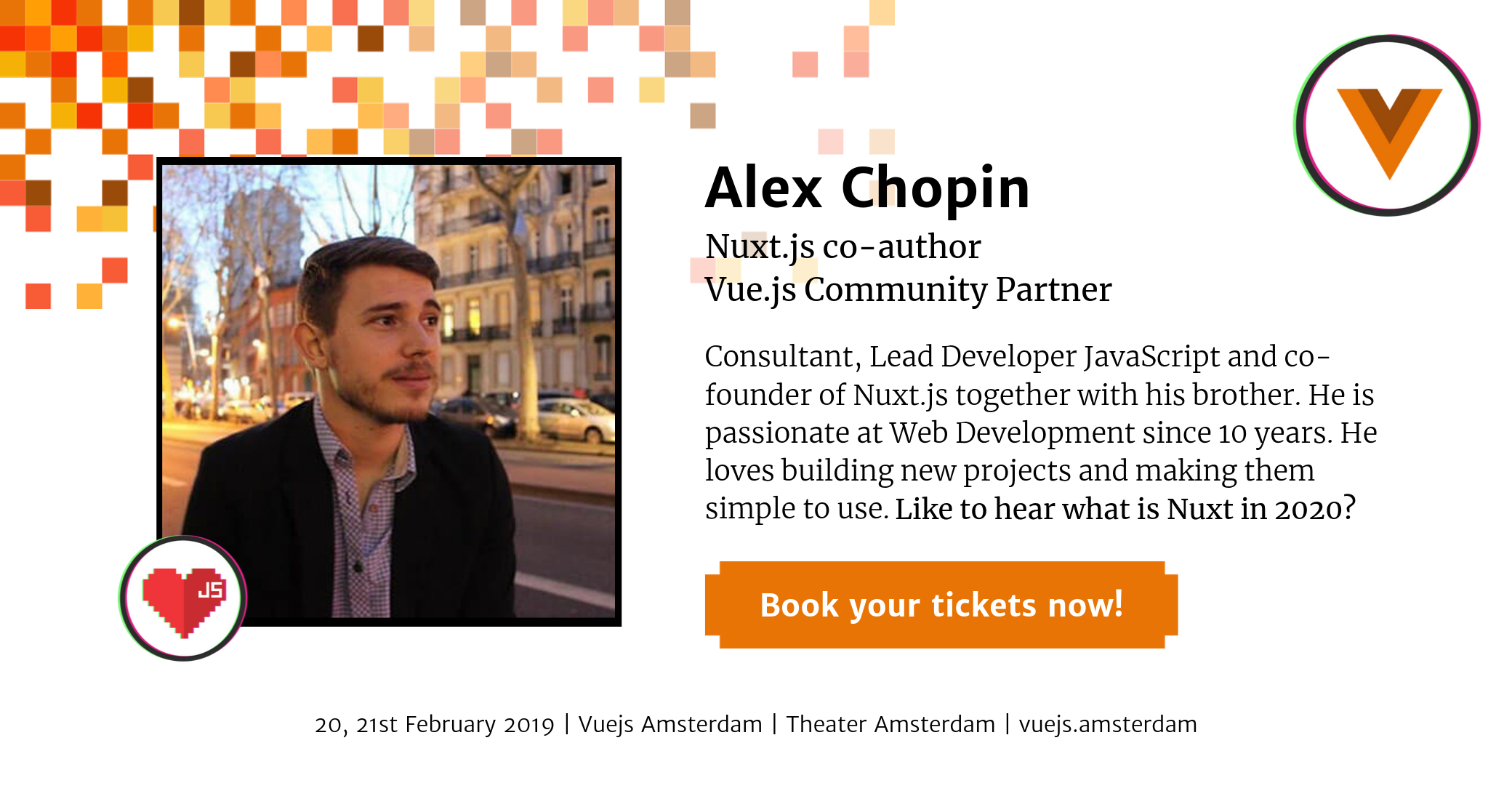 Brought to you by Frontend Love and powered by Passionate People
Save This Event
When & Where

Amsterdam
Danzigerkade 5
1013 AP Amsterdam
Netherlands


Wednesday, 19 February 2020 at 09:00

-

Friday, 21 February 2020 at 23:00 (CET)
Add to my calendar
Organiser
Frontend Love Conferences runs "wow factor" Javascript Conferences in the Netherlands.
We bring together Global Javascript Leaders for the benefit of the Frontend Javascript Community of Amsterdam and the Netherlands.
We have had almost 4,000 paying customers to our conferences so far.
But our Frontend Developer Conferences attract people from all over the world with people traveling from over 55+ countries to visit our events.
We are proud to run www.vuejs.amsterdam, www.frontenddeveloperlove.com, www.reactlive.nl, www.angularnl.com alongside running other smaller events in Barcelona, Paris & Berlin.
We are proud to give back to the Javascript Frontend Community alongside our technical partner www.passionatepeople.io