Description
Free Frontend Love Mini Conference
Frontend Love = Connecting Global Javascript Leaders
Frontend Love is the biggest Javascript Community in the Benelux.
Now it is time to spread our love to Eindhoven with the first FREE Frontend Love Eindhoven edition powered by Isaac and Passionate People. You will get the chance to hear from 8 experienced Frontend Developers, Speakers and Core Contributors. This will be an intimate event of 250 Frontend Developers giving you the chance to really speak with fellow community enthusiasts. You will also have the opportunity to speak with the speakers to gain further insight into Frontend Development work.
Frontend Love has always brought together the worlds frontend leaders with past speakers including Evan You Creator of Vuejs, Sean Larkin Webpack Core Team, Luca Mezzalira Google Developer Expert, Michel Weststrate Mobx, Ives Van Hoorne Codesandbox, Kitze React Academy, Sarah Drasner Netlify and many more.
Frontend Love Eindhoven
8 experts talking on topics like Microfrontends, Web components, Vue, Reacts and more whilst enjoying your Friday afternoon with colleagues, Frontend Developers whilst getting a chance to meet and speak to industry-leading speakers.
Programm
13:00 Doors open, check-in with a welcome drink
14:00 4 amazing talk sessions covering Microfrontends, Nuxt.js and Vue
16:00 Coffee Break
16:15 Final 4 talk sessions covering various topics on Web Components, React.js and More.
18:00 Networking & Mingling including a drink
Chris Visser - Master of Ceremonies, MC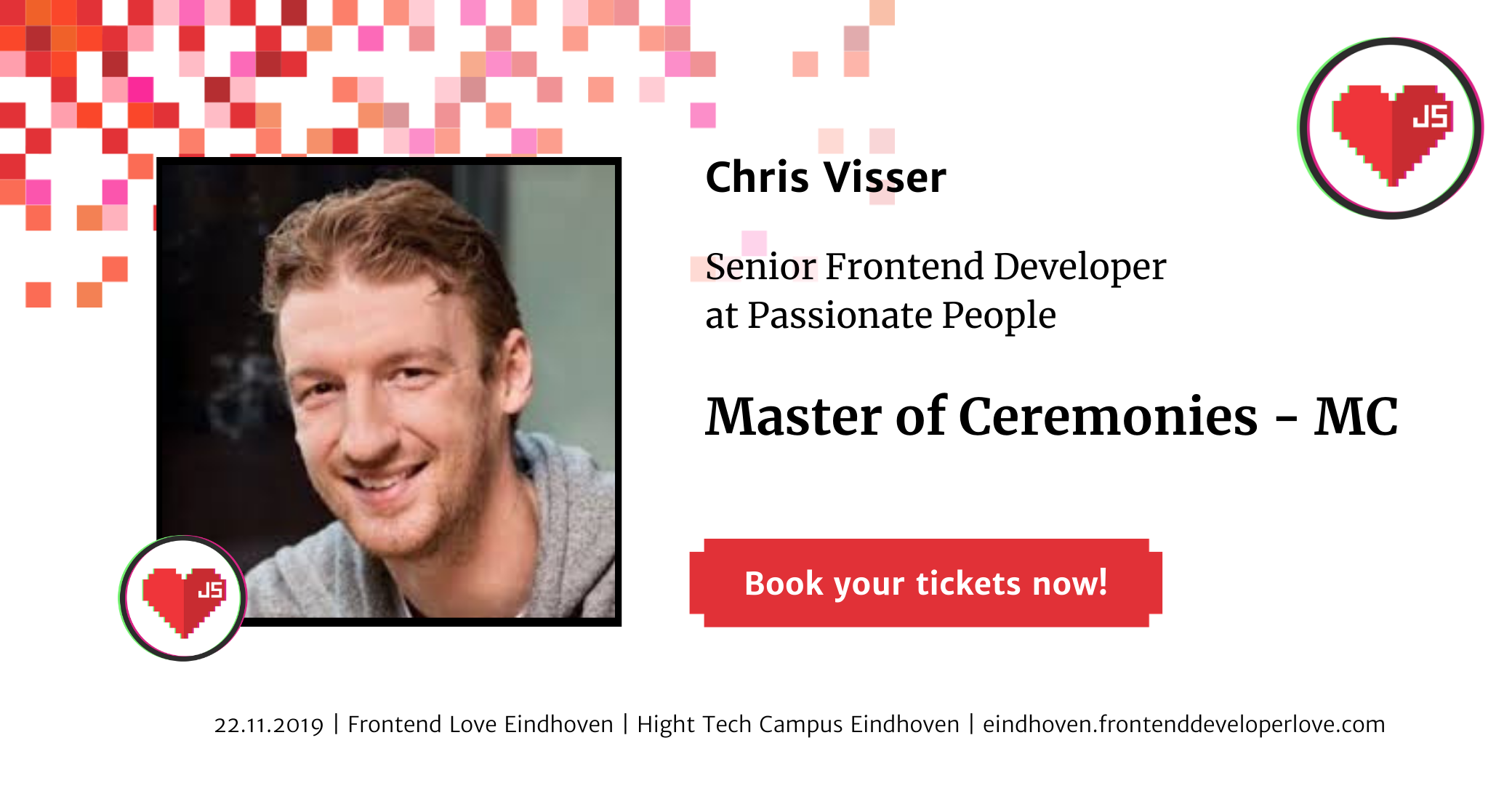 Senior Frontend Developer at Passionate People


Chris will be the Master of Cermonies — MC during Frontend Love Eindhoven. Chris is an experienced and intrinsically driven Agile Full-Stack developer and nowadays works mainly with Javascript, NodeJS, Vue, React, Apollo, AWS, Serverless and MeteorJS. With his endless curiosity and his love for very bad word-jokes makes him hilariously suited for the role of Master of Ceremonies at Frontend Love Eindhoven

Speakers


Anastasiia Dragich
Software Engineer at Booking.com

Talk title: Building Test Strategy for Vue.js application

Anastasiia is a client side developer at Booking.com with strong Front-End/Full Stack Web Developer background. She will be talking about how to build a test strategy for a Vue.js application.
Francisca van Maurik
Frontend Developer

Talk title: Angular & ElasticSearch: combined forces


Francisca will talk about Angular & ElasticSearch. This talk will give a glance of how to combine the forces of Angular and ElasticSearch from a frontend perspective.
It gives a brief idea on what ElasticSearch is, why and when do you use this? How do you add the results from Elastic in your Angular app ?Then onto how to get the results displayed on your page easily.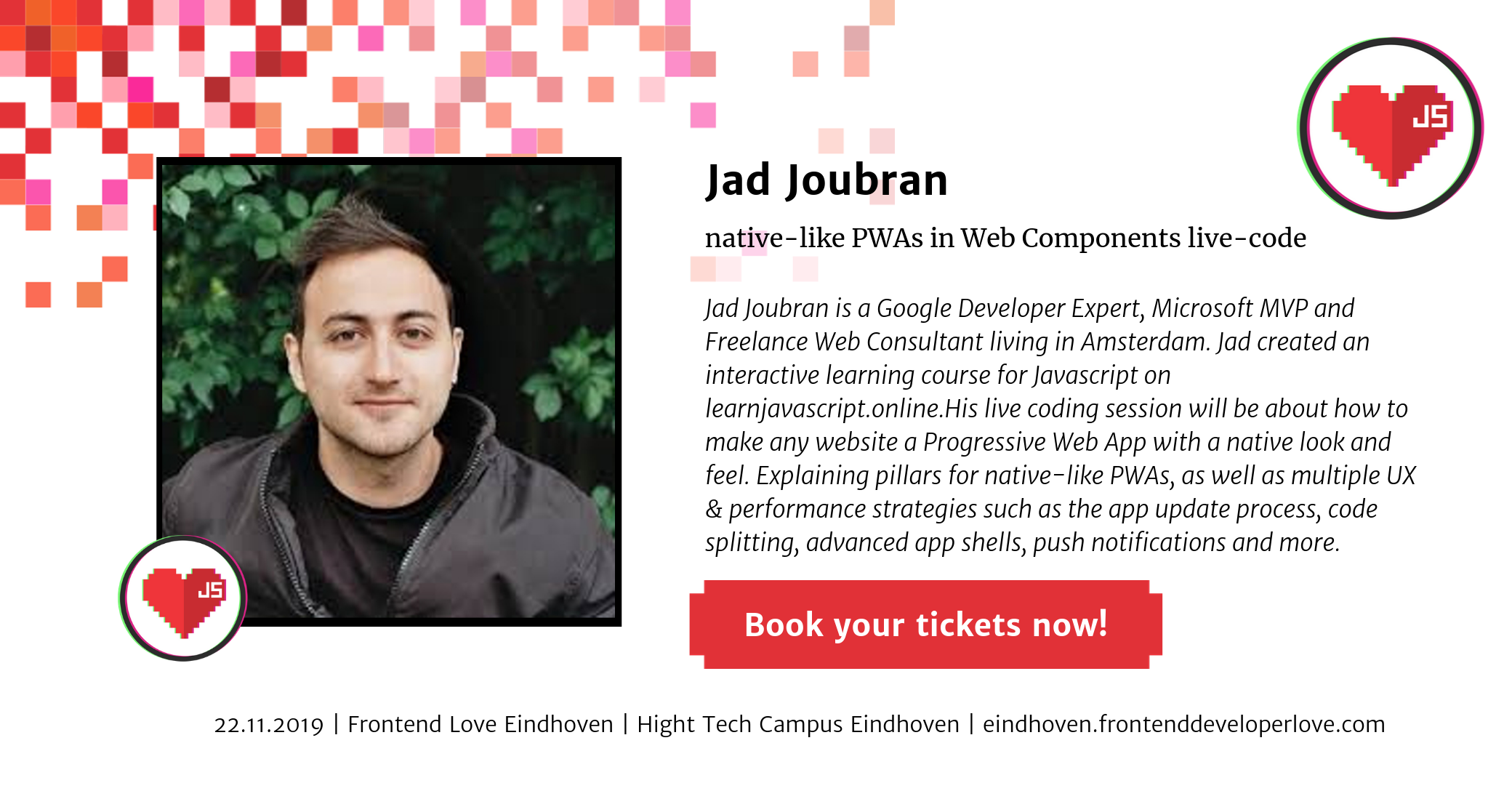 Jad Joubran
Google Developer Expert, Microsoft MVP and Freelance Web Consultant
Talk Title: native-like PWAs in Web Components Live-Code

Talk Description: A live coding session that will be about how to make any website a Progressive Web App with a native look and feel. Explaining pillars for native-like PWAs, as well as multiple UX & performance strategies such as the app update process, code splitting, advanced app shells, push notifications and more.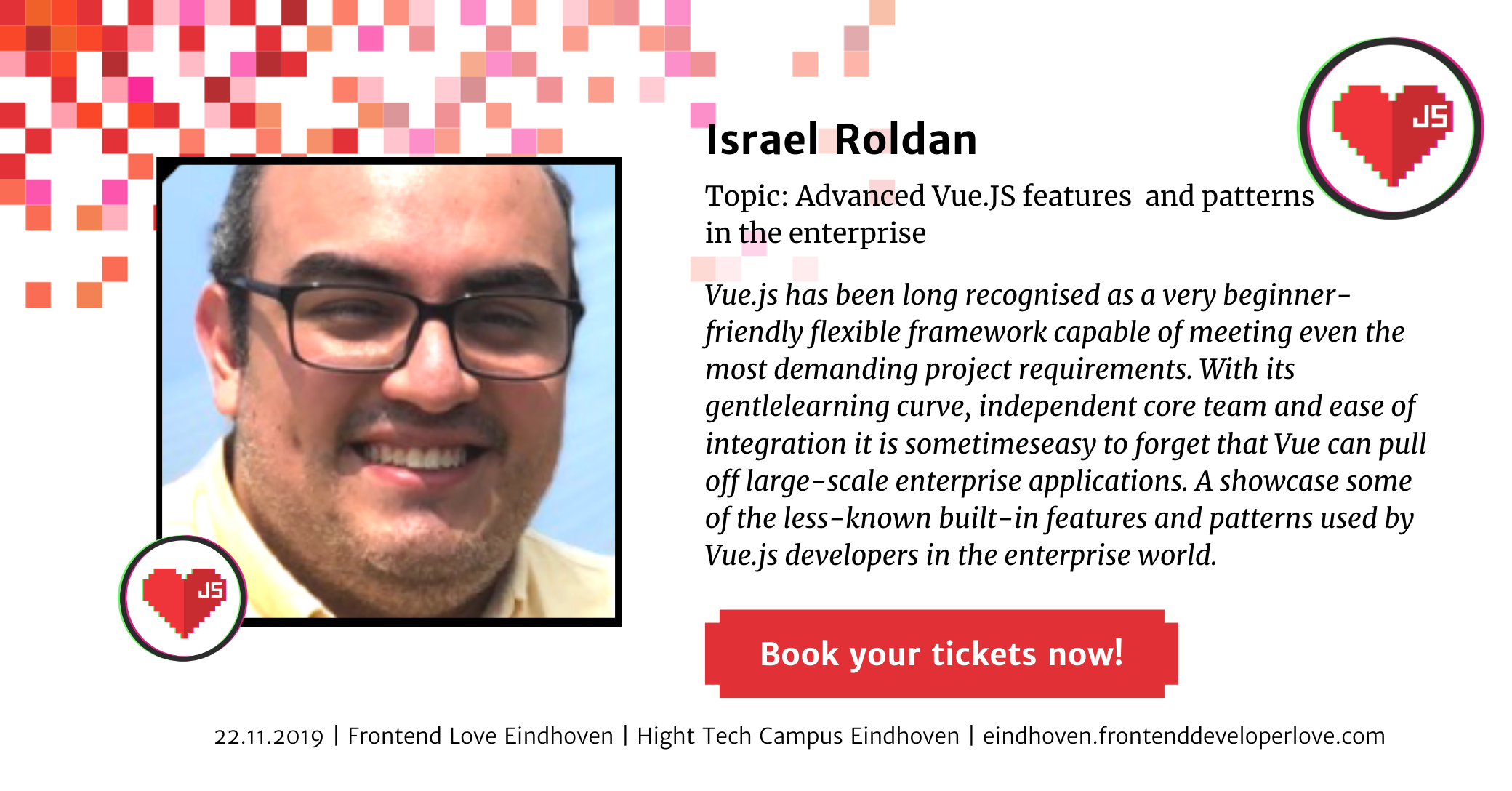 Israel Roldan
Consultant Front-end Tech Lead at Nationale Nederlanden
Talk Title: Advanced Vue.JS features and patterns in the enterprise
Talk Description: Vue.js has been long recognised as a very beginner-friendly flexible framework capable of meeting even the most demanding project requirements. With its gentle learning curve, independent core team and ease of integration it is sometimes easy to forget that Vue can pull off large-scale enterprise applications. This presentation will showcase some of the less-known built-in features and patterns used by Vue.js developers in the enterprise world.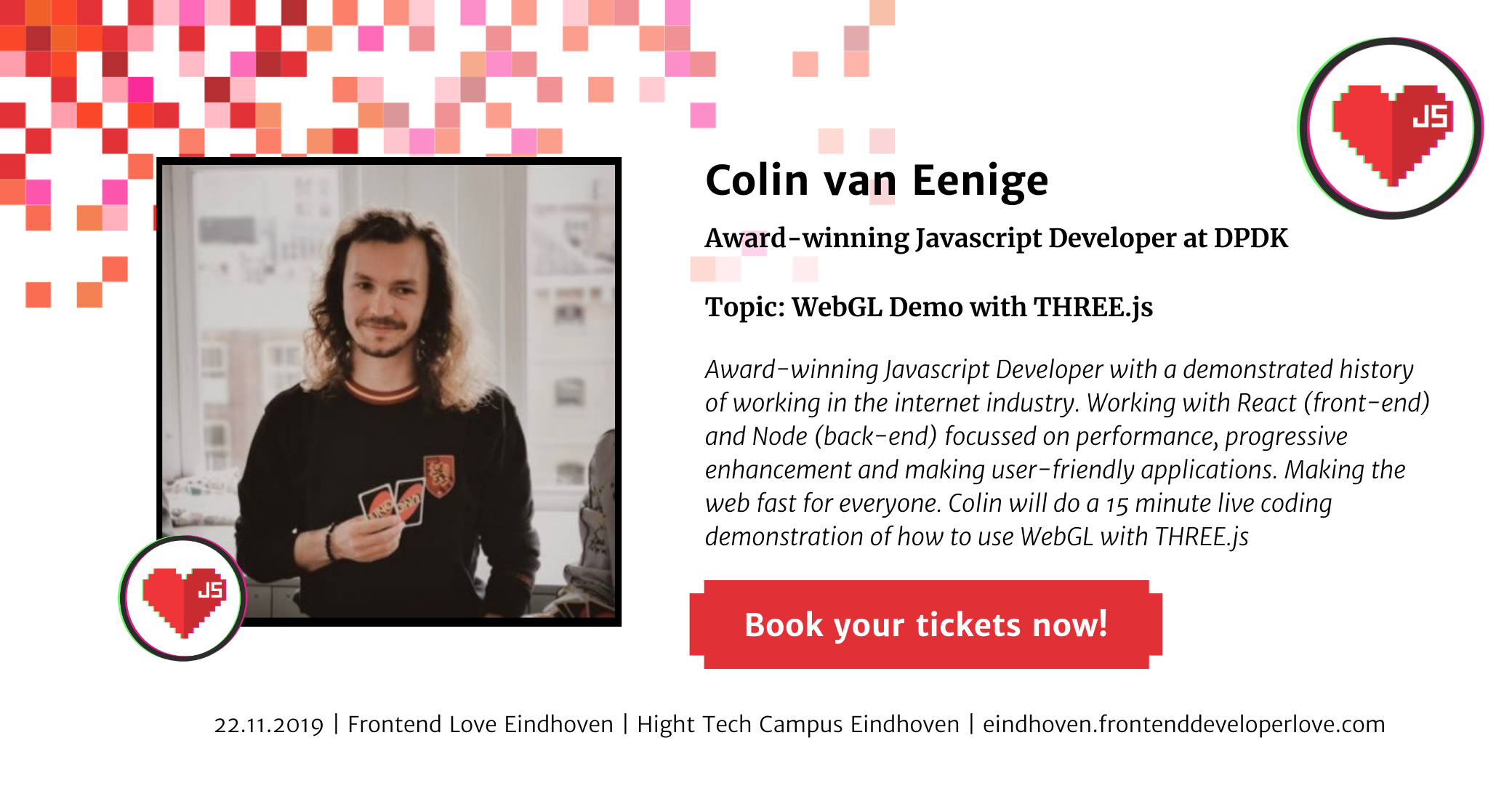 Colin van Eenige
Award-Winning Javascript Developer at DPDK
Talk Title: WebGL Live Demo with THREE.js
Award-winning Javascript Developer with a demonstrated history of working in the internet industry. Working with React (front-end) and Node (back-end) focussed on performance, progressive enhancement and making user-friendly applications. Making the web fast for everyone. Colin will do a 15-minute live coding demonstration of how to use WebGL with THREE.js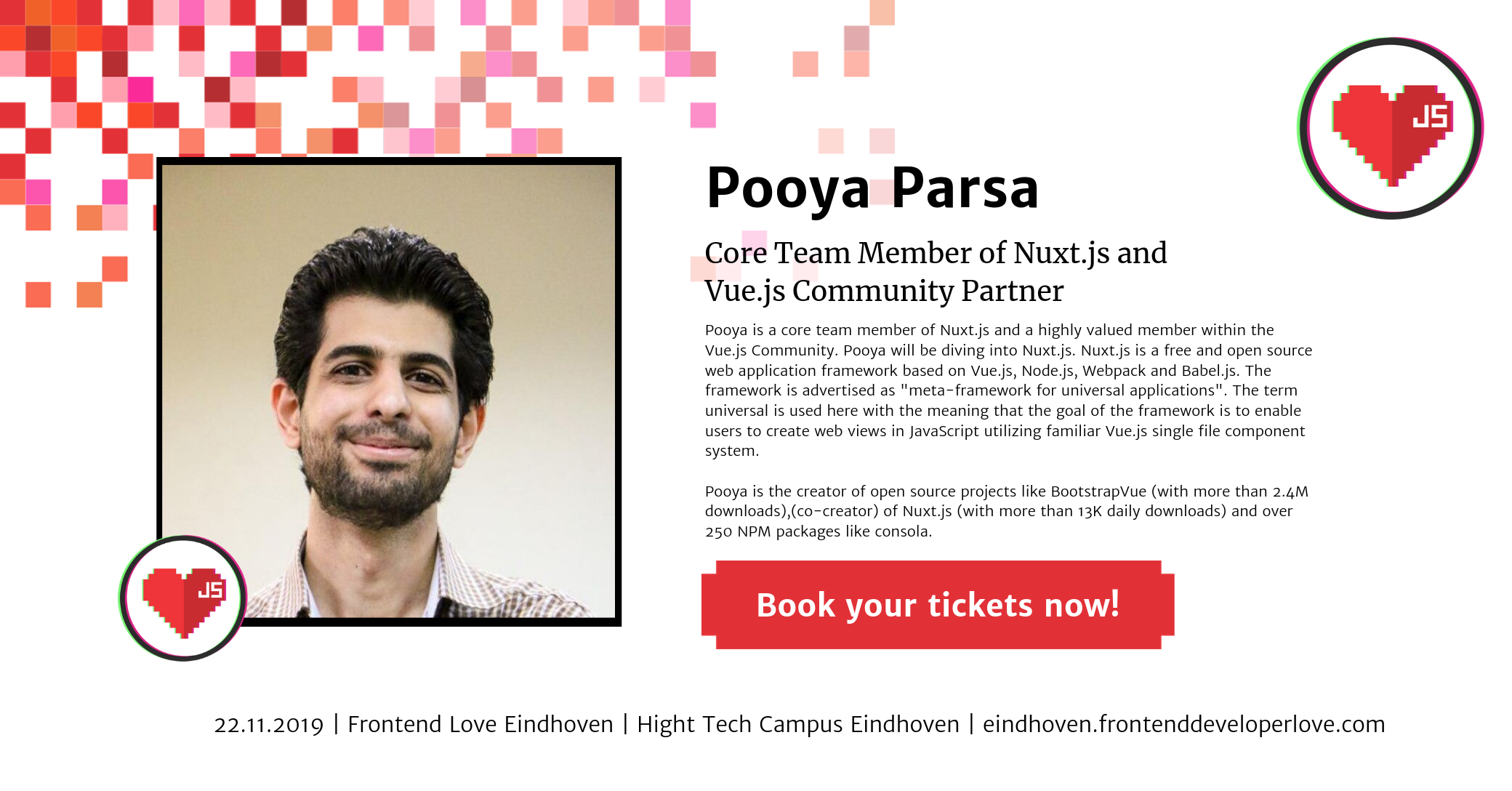 Pooya Parsa
Core Team Member of Nuxt.js and Vue.js Community Partner
Pooya is a core team member of Nuxt.js and a highly valued member within the Vue.js Community. Pooya will be diving into Nuxt.js. Nuxt.js is a free and open source web application framework based on Vue.js, Node.js, Webpack and Babel.js. The framework is advertised as "meta-framework for universal applications". The term universal is used here with the meaning that the goal of the framework is to enable users to create web views in JavaScript utilizing familiar Vue.js single file component system.
Pooya is the creator of open source projects like BootstrapVue (with more than 2.4M downloads),(co-creator) of Nuxt.js (with more than 13K daily downloads) and over 250 NPM packages like consola.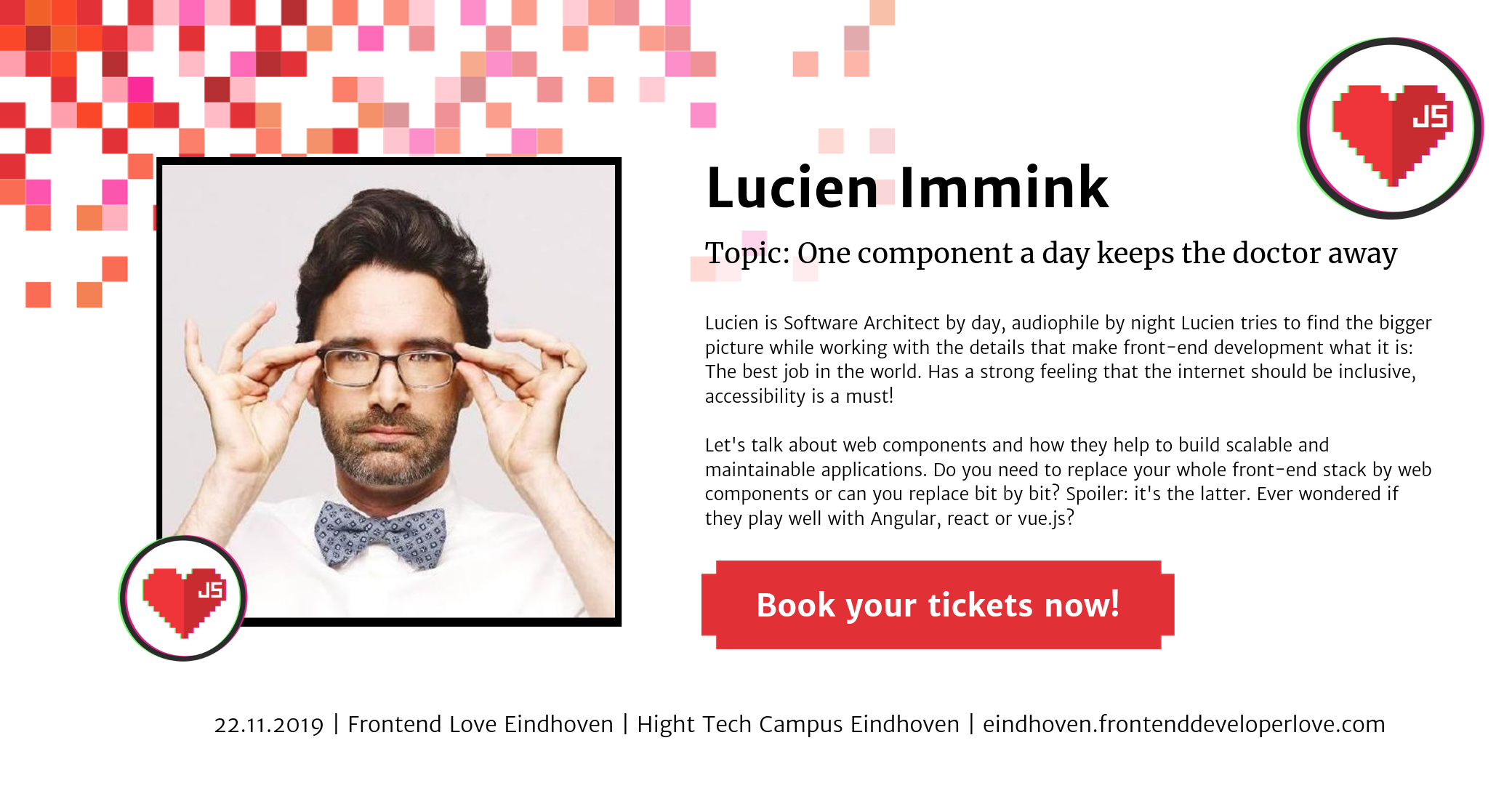 Lucien Immink
Software Architect by day, audiophile by night Lucien tries to find the bigger picture while working with the details that make front-end development what it is: The best job in the world. Has a strong feeling that the internet should be inclusive, accessibility is a must!

Talk Title: One component a day keeps the doctor away
Talk Description: Let's talk about web components and how they help to build scalable and maintainable applications. Do you need to replace your whole front-end stack by web components or can you replace bit by bit? Spoiler: it's the latter. Ever wondered if they play well with Angular, react or vue.js?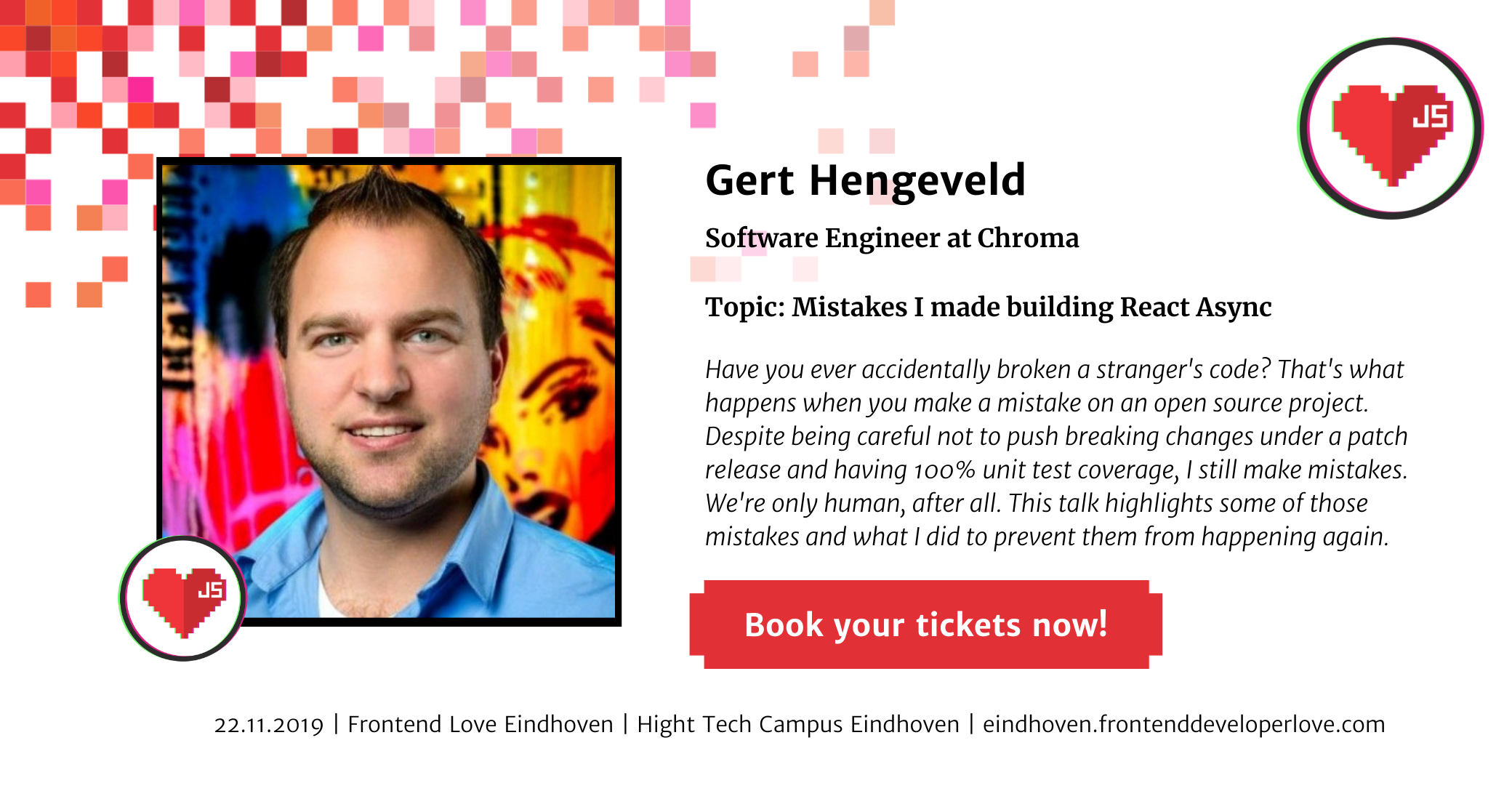 Gert Hengeveld
Software engineer at Chroma
Talk Title: Mistakes I made building React Async
Talk Description: Have you ever accidentally broken a stranger's code? That's what happens when you make a mistake on an open-source project. Despite being careful not to push breaking changes under a patch release and having 100% unit test coverage, I still make mistakes. We're only human, after all. This talk highlights some of those mistakes and what I did to prevent them from happening again.
Location
We could not think of a more suitable place than the High Tech Campus in Eindhoven to organize a Javascript event. With 250 seats available and comfortable seating whilst watching presentations and live coding on an amazing big screen.
High Tech Campus - Conference Center
Address: High Tech Campus 1 (The Strip)
5656 AE Eindhoven - The Netherlands
Google Maps: https://goo.gl/maps/uQ6DxBXJs95hXJqs8
Public Transport: STOP "HTC/ The Strip"

Free Parking available
Organiser of Frontend Love Eindhoven
JSworld Conference runs the Largest and Most Epic Javascript Conferences.

We bring together Global Javascript Leaders for the benefit of the Frontend Javascript Community.

We have had over 6,000 paying customers to our conferences so far.

But our Frontend Developer Conferences attract people from all over the world with people traveling and tuning in from over 100 countries to visit our events in person or online.

We are proud to run www.frontenddeveloperlove.com, www.reactlive.nl, www.angularnl.com, www.productupconference.com alongside running other smaller events in Barcelona, Paris & Berlin.

We are proud to give back to the Javascript Frontend Community alongside our technical partner www.passionatepeople.io