Frontend Developer Week | Javascript Conference & Community Event of 2021 | Learn & Talk Directly with the Frontend Developer Leaders
About this Event
Frontend Week by Frontend Love
08-12th February 2021 | ONLINE
The Worlds Largest & Most Epic Online Frontend Developer Conference
100 Talks, 5 Days, 20 Panel Discussions, 25 Indepth Interviews, Free Workshops, Q&A with Speakers, Updates from Creators of Libraries & Authors
Topics covered by Talks, Panel Discussions & Q&A:
Javascript, React, Angular, Vue, Svelte, Typescript, Nextjs, Nuxtjs, Web Components, PWA's, Devops, Cloud, Micro Frontends, Fullstack, Nodejs, Testing, Kubernetes, Webpack
Case Studies from companies such as:
Google, Uber, Amazon, Netlify, Vercel, Adobe, Gitlab, Microsoft, Auth0, Progress
Dont miss out on the Super Early Bird Price of 99 EUROS
99 EUROS FOR ONE FULL WORKING WEEK OF FRONTEND JAVASCRIPT LOVE
Reasons to attend
100 Talks` covering the latest & hottest in Frontend
Topics dedicated to React, Angular, Vue, Next, Nuxt, Devops, Cloud, Svelte, Typescript and more.
FREE Workshops teaching your various techniques, languages, tips & tricks from a plethora of teachers.
20+ Panel Discussions discussing and comparing Libraries, Toolings, Cloud Services, Headless CMS and Static Site Generators.
25 Unique Interviews with Founders & Authors of Libraries, toolings and techniques.
Speakers from world leading tech companies like Amazon, Uber, Netlify, Gitlab, Adobe, Booking .com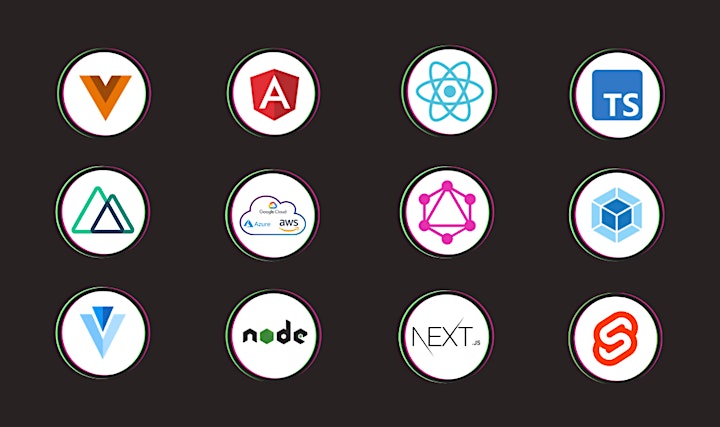 100 Frontend Javascript Talks
100 talks broadcasted to you over a Full Frontend Week with
20 Vue | 15 React | 10 Angular | 5 Cloud | 5 GraphQL | 5 Devops | 5 Typescript | 5 Svelte | 5 Next.js | 5 Nuxt.js | 5 JAMstack | Web Components | Progressive Web Apps (PWA's) | Web Assembly | Web Performance | Design Systems | headless E-Commerce
Evan You- Creator of Vue.js- Vue Technology LLC
Evan you is a Chinese independent software developer and the creator of the open-source JavaScript framework Vue.js. He created Vue after working for Google using AngularJS in a number of projects. He designs, codes and sometimes dreams about making art.
If you happen to speak Chinese, his Chinese name is 尤雨溪, and you can also find him on 微博 and 知乎.
We could not be more honoured to have Evan You joining us for the Frontend Developer Week 2021.
Outside of programming and helping his wife take care of our two kids, he enjoys video games, karaoke, sushi and collecting watches.
Keywords: #Vue.js, #frameworks, #AngularJS #VueTechnologyLLC
Natalia Tepluhina - Staff Frontend Engineer - GitLab
Natalia is a Staff Frontend Engineer at GitLab and Vue.js core team member from Kyiv, Ukraine, recently relocated to Amsterdam.
She is a constant learner and loves to share knowledge with other people. Conference speaker, and author of articles on different topics related to Vue Framework, she has got a title of Google Developer Expert in Web technologies thanks to these activities.
Some of her articles include information about Three awesome tools for GraphQL developer experience, wrapping REST API calls with Apollo Client: 'do-it-yourself' approach, Create your first data visualization chart in VueJS with D3 and many more!
She has recent talks on "How to train your Vue CLI plugin", You might not need Vuex, Migrating a big old codebase to Vue 3: what I'm excited about or All you need is Apollo client and we can't wait for her to join us during the Frontend Developer Week 2021.
Keywords: #GitLab, #Vue.js, #Web-technologies #Apollo-Client #GraphQL, #Google-Developer-Expert, #REST-API
Ikram Babs-Lawal- Junior Frontend Developer
Ikram Babs-Lawal is a 12 year old junior developer from Nigeria. Within the short period that she has been coding, Ikram has worked on over 30 projects. She is adept at HTML, CSS, bootstrap, React, Javascript, PHP and Python.
Just as she says, curiosity brought her into the coding world. As she liked the appearance of applications and websites out there, she decided to investigate the behind-the-scene part and dive right into it.
She won her first laptop at the 2019 MTN mPulse Kiddies Hackathon as a finalist. And she has since participated in other hackathons including NaijaHacks. She has also been selected to be a mentee in this year's She Code Africa mentoring programme.
We are looking forward to seeing Ikram taking the stage at Frontend Developer Week 2021. This would for sure be a different experience!
Keywords: #html #css #bootstrap #react #javascript #php #python #hackathon #naijaHacks #SheCodeAfrica #frontend-developer
Guillermo Rauch- Co-creator of Next.js - Founder and CEO of Vercel
Guillermo Rauch is the founder and CEO of Vercel and the co-creator of Next.js, as well as the creator of socket.io, one of the most popular JavaScript projects on GitHub, with implementations in many different programming languages and frameworks. He created the first MongoDB ORM for Node.JS, MongooseJS and before that he was a core developer of the MooTools JavaScript framework. His writing credits include the 'Smashing Node.JS' published by Wiley in 2012, a best-selling book about Node.JS on Amazon in multiple programming categories. Originally from Argentina, he dropped out of high school and moved to the US to pursue his ambitions in the San Francisco startup world.
He's passionate about open source and frequently speaks at conferences such as the React Summit, Vuejs Global and Nextjs Conf on topics like building serverless applications, Static, JAMStack and more, as well as coaching and mentoring open-source courses at prestigious universities such as Stanford, UPenn, Columbia etc. We can't wait to see what he has to say on the stage at Frontend Developer week in 2021!
Keywords: #Vercel, #Nextjs, #socketio, #Serverless, #JAMStack, #opensource

Sebastien Chopin - Co-founder of Nuxt.js and MALEA
Sebastien, also known as Atinux, is the creator of the open-source web framework Nuxt.js, a JavaScript framework based on Vue.js, used by major companies worldwide. He is also co-founder of MALEA, a French e-commerce company helping beauty and wellness professionals to find the perfect equipment with fantastic support. Aside from his own creation, Sebastien is a frequent user of other JavaScript libraries such as Node.JS, as well as TypeScript's Vite.js and CSS.
Despite his busy schedule as a co-founder, Sebastien finds the time to train developers and companies about these new technologies and improve their workflow. He's also a frequent speaker at international Vue conferences such as Vuejs Global, Vuejs Amsterdam, VueConf Toronto 2020, ReactiveConf 2019 & many more! His topics usually cover the latest updates and toolings in Nuxt, Web Vitals measurement, reducing the blocking time of Nuxt apps etc.
In his free time, you can find Sébastien playing some basketball or taking care of his little son.
We're looking forward to welcoming him on the Frontend Developer Week stage in 2021!
Keywords: #nuxtjs #atinux #vuejs #vuejsglobal #vuejsamsterdam #vueconf-toronto-2020 #javascript
Cassidy Williams - Principal Developer Experience Engineer - Netlify
Cassidy Williams is a USA-based Principal Developer Experience engineer at Netlify with a penchant for comedy! In her free time, she enjoys playing music, building mechanical keyboards, and creating things with a laser cutter and 3D printer which she sells on Etsy! Cassidy loves teaching and helping others improve their coding skills, which is why she's active in online classes on Udemy, Skillshare and other platforms.
With recent talks on Next.js, Building reusable UI Libraries, Early Adopter of Apollo GraphQL, Javascript for Javascripters and creating over 30 unique talks we can't wait to see what Cassidy will bring to the world of Javascript during Frontend Developer Week 2021.
She also frequently speaks at conferences and events such as JSConf Hawai'i and TEDx, and she has been featured in publications such as Glamour Magazine's 35 Women Under 35 Changing the Tech Industry and the Big Dream documentary on women in STEM.
You might have seen Cassidy's Scrabble keyboard project in a couple of dozen different publications! She also made a successfully funded Kickstarter project called Go: On the Go!
Keywords: #netlify #reactjs #nextjs #codepen #UIlibraries #apollo
Christian Heilmann - Principal Software Development Engineer- Microsoft
Christian Heilmann is a Principal Software Developer at Microsoft with more than 20 years of experience in web technologies and a background as a Front End Architect. Born and residing in Germany, he considers himself a Developer Evangelist and has written several articles and a book on the topic! He's also of the opinion that machine learning and AI can help humans in replacing our jobs with robots and we need to make a great example for them!
Chris is a firm believer that knowledge is not worth much without a great team and a good handover which is why he's dedicated the bulk of his time on educating, writing, and sharing, as well as presenting on average at 30 conferences a year! His speaking credits include TEDxThessaloniki as well as multiple software developer conferences such as CodeMotion 2020, JSPoland, and JavaScript Remote Conf throughout this year. He covers topics such as tooling, machine learning, and open web development. We are excited to see what he'll speak about at Frontend Developer Week 2021!
Keywords: #frontend #developerevangelist #machinelearning #openweb #codemotion2020 #jspoland #javascriptremoteconf
Gift Egwuenu - Frontend developer - Passionate People
Gift is a Frontend Engineer and Content Creator based in Haarlem, The Netherlands. Originally from Lagos, Nigeria, her passion is to make the web accessible to everyone. She is an advocate for building open-source projects and enjoys solving complex problems using web technologies. She is also a big supporter of building open and inclusive communities which led to her starting the JAMstack community in Lagos.
Co-organizer of the Concatenate Conference, Media Developer Expert at Cloudinary, and Auth0 Ambassador, she often speaks at conferences and events such as JamstackConf virtual, Headless Commerce Summit or Vuejs Global.
With recent talks on Building from Scratch with Nuxt.js, JAMstack FTW: Static Site Generation with Gridsome, Scaling Your E-commerce with Vue Storefront and many more, we look forward to seeing Gift rocking the virtual stage during Frontend Developer Week 2021.
When she is not coding, you can probably find her geeking about photography and cooking delicious delicacies. Apart from this, you can reach her on her Youtube channel, where she mainly uploads tech tutorials, lifestyle videos, and blogging.
Keywords: #JAMstack #Vuejs #Gridsome #media-developer-expter #Cloudinary #static-site-generation #concatenateconf #vuejsamsterdam #vuejsglobal

Naomi Meyer- Software Development Engineer- Adobe
Naomi Meyer is an NYC-based software development engineer at Adobe, with a focus on internationalization, specifically I18N, and localization (L10N) for Creative Cloud products. For this, she frequently uses JavaScript libraries such as FormatJS, MomentJS, GlobalizeJS and others. Naomi is also very enthusiastic about emoji encoding and data visualization, especially when working on it with React, Angular, and JavaScript. You can check out her work on her GitHub profile!
She is a huge proponent of knowledge sharing and frequently speaks at software engineering conferences such as JSNation Live 2020, ESNEXT Conf Online 2020, SmashingConf Live 2020, VueDay 2020 & many more! Naomi is the recipient of the 2019 Equality Impact Award and she loves volunteering to teach girls how to code, as well as contributing to open source. A big dog lover, Naomi also enjoys hiking, biking and camping.
We are beyond excited to have her join Frontend Developer Week 2021!
Keywords: #internationalization #localization #opensource #adobe #I18N #L10N #formatjs #momentjs #globalizejs #reactjs #angular #javascript #jsnation-live-2020 #esnext-conf-online-2020 #smashingconf-live-2020 #vueday-2020
Josh Goldberg - Senior Frontend Engineer - Codecademy
Josh K. Goldberg is a Senior Frontend Engineer at Codecademy where his focus is on the core learning platform, accessibility, and web infrastructure. He also has ample experience working with GLS, Redux, and C#, as well as PHP, JS, and MySQL for his project in Schalk Lab on BCI2000, a general-purpose system for brain-computer interface (BCI) research. Josh is also familiar with the machine learning capabilities of Azure.
He has a passion for TypeScript and open source and often spends his free time building a retro game engine in TypeScript, exploring meta-languages, and generally playing around with code on the internet. You can find his HTML5 remakes of Super Mario and Pokemon on his GitHub!
Josh also devotes a significant amount of time and knowledge to speaking at conferences, having done so at 3 just this year! His topics usually include type system game engines, Introduction to Open Source and Speedy Expo Apps with Persistent Redux State.
Keywords: #typescript #metalanguages #opensource #codecademy #redux #PHP #mysql #tsconf2020 #ggv-hacktoberfest-2020 #swm-academy-2020 #tsconf-2019
Negar Jamalifard - Frontend Developer - Loudly
Negar is an Iranian self-taught frontend developer currently based in Germany. She is using her proficiency in Javascript, CSS and Vue.js as a frontend developer at Loudly working on a Music-related web application for finding fast and convenient solutions for browsing thousands of songs and customizing music files. She's also proficient in React.JS after learning it in only 2 weeks when her job required it!
In her free time, she publishes both tech and non-tech articles on her Medium profile and creates Youtube videos to pay back the internet for all the help of teaching her coding by spreading her own knowledge and experiences!
This November, she was part of the organizing team of the online edition of Vue Toronto conference and she has spoken at the ReactJS conference in Tehran on dealing with a CORS error in Webpack! We're eager to see her share her experiences during Frontend Developer Week in 2021!
Keywords: #javascript #vuejs #loudly #vuetoronto #reacttehran #corserror #webpack
Austin Akers- Software Engineer- Microsoft
Austin Akers is a US-based Software Engineer at Microsoft who is also a cellist and skilled muay Thai fighter with a passion for breakdancing! He has a rich portfolio of working with frontend tools such as JavaScript, CSS3, Angular, React.JS, NgRX and Vue.JS. He has also contributed to the development of Vuetify, Metamask Docs & Test Dapp, as well as automating the financial tracking of the Ethereum Wallet for Cryptoplex Management.
Austin is dedicated to constantly learning and improving himself as a developer and he also likes to share his expertise of Vue.js, Babylon.js, Polymer.js & more with others through speaking at conferences. We are honored to welcome him to the Frontend Developer Week 2021!
Keywords: #vuejs #polymerjs #babylonjs #css #javascript #angular #reactjs #vuetify

Daria Caraway- Software Engineer- Workday
Daria is USA speaker and a Certified Scrum Master and Software Engineer at Workday, where she builds consumer-grade experiences for the enterprise user. She has been working on full-stack applications for 6 years and she is currently working on a React ⚛️+ TypeScript front-end and Kotlin service. Her interests include writing user-focused code that future dev collaborators can easily reason about, and organizing teams so that everyone feels happy, fulfilled, and prepared to crush it.
When she is not doing tech things, you might find her at the rock climbing gym, traveling (sometimes to SCUBA dive), or at home hanging out with her cat.
Some of her recent talks include Advanced Web Debugging with Chrome DevTools, and How to Have an Amicable Breakup With A JavaScript Library. She also has a talk on the React podcast talking about Building Considerate React Component APIs with TypeScript.
Daria also has a blog where she writes about interesting topics such as Building a Slack App with Express and the Node SDK and Mocking Functionality in Jest at Different Scopes. We look forward to having Daria speaking at our Frontend Developer Week 2021.
Keywords: #TypeScript, #Kotlin, #Workday #Certified-Scrum-Master #SoftwareEngineer #Web-Debugging #NodeSDK #Slack #React-Components-APIs
Jessica Sachs- Tech Lead- Cypress.io
Jessica Sachs is a US-based software engineer at Cypress.io where her focus is on building open-source software. She maintains vue/test-utils and does Cypress component testing for Vue. She's also a big fan of legacy codes and occasionally works with JAMStack and CSS as well!
Jessica is a dedicated member of the Vue community and a regular contributor and speaker at conferences around the world. Most recently, she gave a workshop at VueConf Toronto 2020 on Stress-free testing in Vue 3, and she also participated in a fireside chat at this year's World Vue Summit! She also introduced component testing with Cypress to the audience at VueJS Global.
We couldn't be more excited to have her at the Frontend Developer Week in 2021!
Keywords: #cypress #vuejs #vuejsglobal #world-vue-summit #vueconf-toronto-2020 #jamstack #css
Dexter- Full Stack Engineer- Passionate People
Alexander Esselink (Dexter) is a Dutch FullStack web engineer at Passionate People, focused on modern UI frameworks like Svelte, React and Vue.
He also speaks at meetups and conferences such as Frontend Love Conference last February, where he made a presentation about his favourite framework Svelte and its intuitive use. We look forward to all the learnings that Dexter will bring to us during Frontend Developer Week 2021!
Besides being a developer and a juggler of words at meetups and conferences, he is the master of diabolo and vj-ing. In his free time, you can probably find him joining a great round of Karaoke or hanging out with his red hair cat.
Check out his amazing visuals made with code! https://visuals.dxlb.nl/
Keywords: #Svelte, #UI, #frameworks, #React #Vue #fullstack #vuejsamsterdam #PassionatePeople #web-engineer
Mirjam Bäuerlein- Software Developer- BRYTER
Mirjam is a German motivated Software Developer, leaning heavily on the Frontend side and in love with all things JavaScript. She currently works at BRYTER and helps to build a no-code decision automation platform with VueJS.
She started programming at the age of eleven on her Schneider CPC 464 in Locomotive BASIC, and it has been a hobby ever since, mostly focused on web development. Also, she worked as a dog trainer for almost 9 years, focusing mostly on training for dogs with behaviour issues.
She is a member of the Techettes Frankfurt, a local community in the Rhine-Main region that supports women in the technology sector. Also, she is a co-organizer of the Vue.js Frankfurt meetup. Her last talks on "Treat yourself - a tale about dog training and test-driven development", or "what you need to be a Full Skill Developer" makes her an incredible speaker for our Frontend Developer Week 2021.
In her free time, she likes to work on some side projects, often related to programming and the developer community in general. Some of them are: expect(Exception) a Podcast about Frontend Testing, Guest lectures at the University of Applied Sciences in Darmstadt, where she teaches students about the basics of web development and also a SnekGame, A clone of the old Nokia game snake built-in plain JavaScript.
Keywords: #VueJS, #LocomotiveBASIC, #web-development, #BRYTER #JavaScript

Jason Yu- Frontend Developer- Attest
Jason Yu is an Imperial College London graduate who first began his journey in the realm of technology at the young age of 13 when he started experimenting with web technologies. Jason is a full-stack developer although he currently works as a frontend developer at Attest. He is a huge fan of using Typescript, Javascript, Vue.js & Vim, although he occasionally dabbles in HTML, PHP, and Ruby as well.
Developing a passion for solving daily inconveniences through the use of technology, he is also the creator of Faviator, a mahjong score calculator and it is his ambition to continue creating useful and intuitive solutions to day-to-day problems. Jason frequently speaks at events around the world and has been a guest at Vuejs Manchester meetup, Vuejs Hong Kong meetup, and Vuejs London Conference. What's unique about his talks is that he does live-coding presentations during them! He also has his own Youtube channel where he has a series called "Live Coding Wednesdays" in which he attempts to live-code a project in an hour every Wednesday.
In his free time, Jason is a multi-talented musical wonder, playing the guitar, piano, drums, Chinese flute, & harmonica, as well as singing and beatboxing!
We're very interested to see what Jason has in store for us at Frontend Developer Week 2021!
Keywords: #javascript #typescript #html #php #ruby #vuejslondon #livecoding #frontend
Tom Nchinda- Full-Stack Engineer- Passionate People
Tom is a Full-stack engineer at Passionate People, fan of tech, sports, music and all things awesome. He is also a cross-device Web Developer, who firmly believes in "develop once, deploy everywhere".
His specialities include: HTML, HTML5, CSS2, CSS3, Javascript, jQuery, C#, ASP.NET, WCF, XML, XSLT
We look forward to having him speaking for the first time at Frontend Developer Week 2021!
Debbie O'Brien- Head of Learning and Developer Advocate- NuxtJS
Debbie is an Irish Head of Learning and Developer Advocate for NuxtJS with over 10 years of experience in Frontend development. Microsoft Most Valuable Professional in developer technologies, Google Developer Expert in web technologies, Cloudinary Media Developer Expert and nominated for a Github Star.
She has a special love for JavaScript frameworks, especially Vue.js and Nuxt.js and improving performance with webpack. Debbie holds a Frontend and FullStack Tech Degree and is Microsoft certified. She is an international speaker and organizer of MallorcaJS and VueSpain. She also works as a tech degree moderator for Treehouse and a mentor for OpenClassrooms. Debbie also works as a teacher at Vue School and a writer for Ultimate Courses.
With recent talks on Going Static in a Dynamic World with Hasura and Nuxt.js, What's new in Nuxt.js, Static generated sites we are looking forward to seeing her next year during the Frontend Developer Week 2021.
You might have seen Debbie practising sports such as running, cycling, skiing and even Taekwondo. She is a 4th degree Black Belt!
Keywords: #NuxtJS, #webpack, #OpenClassrooms, #VueSpain #Static-generated-sites, #web-technologies, #Cloudinary #Media-Developer-Expert, #Google-Developer-Expert
Shodipo Ayomide- Media Developer Expert- Cloudinary
Shodipo is a Senior Developer Advocate, Program Manager, Software Engineer and Technical Lead with over 8 years of experience and a track record in web & mobile applications development, UI, and UX design. He is from Lagos, Nigeria, and he is currently a Media Developer Expert at Cloudinary.
Giving talks/workshops at developer conferences around the globe, he is also one of the organizers and organizers of the Developer Circles Lagos from Facebook, unStack, Open-Source Community Africa, NaijaHacks Hackathon, and various others. Shodipo is also an Expert and Instructor at egghead.io
Shodipo also speaks at conferences and meetups around the globe, and among his latest topics we can find: Fast and Furious with VueJS & WebPack, Getting up to Speed With Deno, Automating Workflow Processes Using GitHub Actions or Getting up to Speed With Deno.
We're very proud to welcome him on the Frontend Developer Week stage in 2021!
Keywords: #DeveloperCircles, #unStack, #NaijaHacks #VueJS #WebPack #GitHub #Deno #UI #UX #Cloudinary

David den Toom - Frontend Developer and CTO- Passionate People/ AHOLD
David is a Dutch Javascript developer, Co-Founder and CTO at Passionate People who develops platforms based on modern technology stacks to increase performance, ownership and development speed. He uses technologies that include Node.JS, React, TypeScript &, Kubernetes.
In the past 3 years, David has spoken at numerous meetups and conferences such as Frontend Love Conference in 2019, where he spoke about Rest, GraphQL & gRPC, React Live 2019, where he spoke about Microfrontends and recently he has been a moderator at Product Up, where he was moderating a fireside chat with Daniel Gebler, the CTO of Picnic.
Keywords: #NodeJS, #Microfrontends, #GraphQL, #Rest, #gRPC, #React #TypeScript #Javascript #Kubernetes
Tim Benniks- Director of Web Development- Valtech Paris
Tim is an Amsterdamer currently working at Valtech as director of web development in Paris. His role is partly global and he helps oversee and animate its amazing front-end teams all over the world. Next to working at Valtech, Tim also speaks at Conferences and creates content about web development topics and soft skills.
He also speaks at big conferences and a whole bunch of meetups. His last talks include topics such as Webpack 5 module federation and more, Magical combination to build a modern website, Introducing Vite & Vitepress and How to lead a team to success in a high-pressure environment!
In his free time, you can find Tim playing the guitar and enjoying family time with his wife and his corgi called Nugget. You can also reach him on his Youtube channel!
Among his specialities, we can include Vue.js, e-commerce, inclusive design, accessibility, Progressive enhancement, responsive design, ES6, nodejs, technical architecture, web development strategy, typography, mobile-first development, component-based design, performance, scalable / optimised javascript, prototyping, continuous integration, website localisation and outsourcing.
We can't wait to see what Tim will bring to Frontend Developer Week 2021.
Keywords: #Valtech, #web-development #nodejs, #javascript #prototyping #outsourcing #vuejs #accessibility #typography
Eduardo San Martin Morote- Consultant Frontend Developer
Eduardo is a Frontend Developer who, in the past, developed many applications as a FullStack developer, focusing on solving business problems by understanding them and providing the solutions. Today, he still focuses on that but he specialises in Front-End.
As a Freelancer that loves Open source nowadays, he has been contributing to Open source since he started crafting applications. He mostly maintains Vue.js related projects as Vue itself, vuefire and vue-router but he sometimes helps out somewhere else, to make the web move forward. When he develops applications, he likes to focus on UX, and always in a pragmatic way. He tends to reduce waste as much as possible by applying Lean wherever he can. He also trains people in web development, being patient and adapting to different levels.
Most of his free time is spent contributing to Vue.js ecosystem as a core team member and keeping up to date with new standards. He also likes to talk in public, and he organises the Vue.js Meetup in Paris.
With recent talks on Vue-router and its techniques, Modern Routing or How does a frontend router work?, we are very excited to see what Eduardo is going to bring this time to Frontend Developer Week 2021.
Keywords: #UX, #Open-source, #web-development, #Moder-Routing #frontend-router #freelance #Lean #vuefire #vue-router
Maria Lamardo- Senior Accessibility Designer- CVS Health
Maria is a Board Certified Assistant Behavior Analyst and an enthusiastic front-end developer with extensive experience in creating websites and web applications. She is also one of the prominent leaders within the Vue Community. She co-founded World Vue Meetups and is an official Vue Community Partner.
She is a "Grow with Google Challenge Scholarship 2018" recipient for the Mobile Web Specialist Nanodegree program at Udacity. She has also completed a Front-End Web Developer Nanodegree program at Udacity along with a wide range of courses offered by CodeCademy and other online education providers. Her skills include HTML5, CSS3, SCSS, JavaScript, Python, SQL, Responsive Design and more!
Some of her personal interests include crocheting and outdoor activities such as hiking, kayaking, surfing, rappelling, and zip lining.
She is also a speaker at different Conferences with topics such as Content Loading That Isn't Broken, Accessibility forms and Vue form Validation. Looking forward to having her during the Frontend Developer Week 2021 sharing knowledge with the tech community!
Keywords: #Udacity, CodeCademy #vue-community-partner #accessiblity-forms #CVSHealth #vue