Description
FSB Connect Cornwall Networking in Association with Cornish Partnerships - Haywood Farm Cider, St Mabyn 23 July 3.00pm-5.00pm - Cider Tasting and Tour
Join us at a special, not to be missed Cider Tasting event at Haywood Farm Cider and enjoy some 'proper Cornish Cider'. We'll also have a tour round Haywood Farm's extensive orchards so you can learn about the varieties of apple they grow for cider and juice, and tips on growing apples!
The cost is £6.50 per person for a tour, cider tasting and tour.
The Bray family have farmed at Haywood since 1919, but cider has been produced on the farm's granite cider press for centuries, supplying the families and labourers with the Westcountry's favourite drink.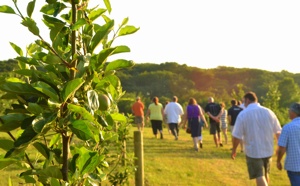 FSB Connect Cornwall have partnered with Cornish Partnerships to offer you great networking opportunities for 2019. These events will take place twice a month in various venues across the county and will be run by Cornish Partnerships on behalf of FSB.
For general enquiries regarding the event please contact Operational Support Coordinator Vanessa Gale vanessa.gale@fsb.org.uk Tel. 07976 425139
The FSB Events Privacy Policy can be found online here.
08-23710 P9917