Description
Top Speaker Line-up to Celebrate FSB Women in Business
During Cornwall Business Week on Tuesday 16th May FSB Cornwall will be at the Lighthouse Cinema, Newquay between 2 and 4pm to host a "Celebration of Women in Business". Our fantastic line-up of speakers will inspire, motivate and enthuse as we celebrate the vital contribution that women in business make to our economy.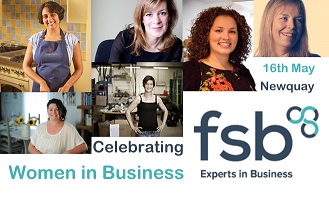 To view the full speaker profiles, please go to https://www.fsb.org.uk/regions/cornwall/events and click on the 16 May event, scroll down and click on 'more details'. You will then be able to scroll down to the end and click on the Profiles for Women in Biz attachment.
Bini Ludlow of the FSB Women in Business Taskforce will be our MC and start proceedings with her fascinating story. Bini has turned her passion for traditional Indian cuisine into a business and launched "Sweet Cumin" in 2012. Since then Bini has won several local and national awards, is a regular contributor to the local food scene as well as penning guest columns, appearing on a number of regional food programmes and being a great national ambassador for our own FSB Women.
Our impressive speaker line-up continues with; Alexis Bowater, Bowater Communications and the Venus Awards (Alexis may also be familiar to you as a past news anchor of ITV Westcountry), Jo Downs of Jo Downs Glass, Michele Poynter of Mish, Linsey Hall of the Real Ideas Organisation, Karen Oldham-Waring of Sunflower Training.
They will all be talking about their journey to becoming successful business women. Many challenges will probably be familiar. You will learn what they have done toget over some of those sticking points and hopefully you can take away some great new ideas.
We will round up the event with a panel session for you to ask your own questions and end with a chance to talk to our speakers individually with everyone networking over a Cornish Cream Tea. The event is free to attend and open to everyone, not just ladies! It follows the Francis Clark, Finance in Cornwall event at the same venue in the morning, so if you are going to that you are welcome to stay on or just join us for the afternoon.