Location
St Austell Conference Centre
Saint Austell
PL25 4EJ
United Kingdom
Sales Have Ended
Ticket sales have ended
Ticket sales have now ended but if you would like further information, please contact: Vanessa.Gale@fsb.org.uk
Description
FSB Cornwall 'School for Small Businesses'
St Austell Conference Centre will become the "FSB School for Small Businesses" for the day from 10.30am on 19 September. 15 inexpensive, professionally tutored, hour long, masterclasses to choose from (equating to 300 places for small businesses) to learn new business skills and ask questions in a safe and friendly environment. There will also be b2 b networking, new contacts and opportunities to find some more ongoing business support. A completely flexible, business friendly day where you can come and go as you please.
CLICK HERE FOR A PDF OF ALL THE SPEAKERS AND CLASSES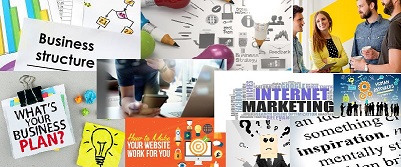 Doors open: 10.30am with registration, tea/coffee and networking before classes begin at 11.15am.
Cost: £8 per class (1 or up to a max of 3 classes are available to choose)
£8 for a networking lunch which can be booked independently of the classes & you can attend just for that if you like. [If you plan to stay for the whole day lunch will only be provided if booked in advance & is not included in the class cost.]
How "FSB School for Small Businesses" will work:

Our practical classes are limited to 20 people to maximise benefit and cost just £8 each. 1 hour duration.
You don't have to be there all day. You book the parts of the day that you want to attend.
5 classes will run at any one time (N.B. choose only one in a set as you cannot be in two places at once)
Below is a table with SETS of 3 times and 5 class choices to help you plan your attendance at a glance. Some classes are repeated to avoid a clash. Remember: If you want to book more than one class (max 3) then make sure you only choose one from each horizontal line. You can also book to join the networking lunch separately (also £8). Now note the alphabetical label (e.g. Class A) for your selection of class or (classes) as you will need this when you book.
Between classes there will be opportunities to network with your new contacts as you switch from one class to another and of course there will be refreshments throughout the day.
Lunch (12.15pm to 1.15pm): Is a networking lunch and must be booked in advance. It can also be attended independently from the rest of the event. Booking for the lunch is a separate line at the end of the tickets page. If you want to invite anyone to join you, you may book more places.
Between 4pm and 5pm: There will be a free bonus where everyone will come together for a final session to hear from some of the tutors that you haven't met and an inspirational lively session to end the day on a high.
* From 5pm to 6.30pm: You have the opportunity to stay on and attend the Cornish Partnerships Open House Networking event - a chance to chat to even more new people, give out your business cards and make more useful contacts. No need to book if you attend this FSB event (another free bonus) but if anyone else is attending separately they will need to book - see more details at www.cornishpartnerships.co.uk .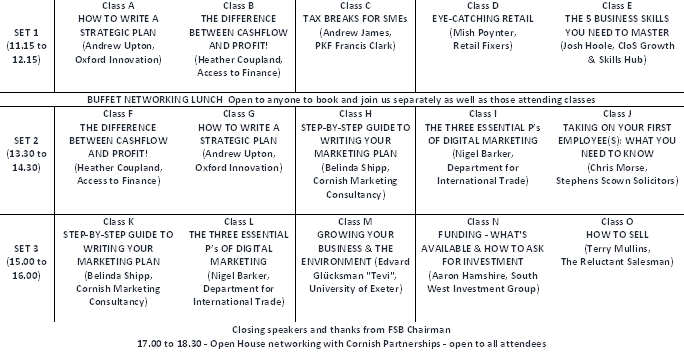 How to Book:
Click the green "TICKETS" button on this page. From there you will need to scroll down and check the box for the class (or classes) that you would like to attend (this is where noting the alphabetical class label from the table above will help). Business Planning, Cashflow, How to Write a Marketing Plan and Social Media are all repeated at different times so if sold out at your chosen time there may be another opportunity so make sure you have studied the table above carefully before heading to the tickets page.
For buffet lunch and networking, you will need to scroll down to the end of the whole list to book onto this. The system will total up the costs and charge you accordingly.
[Sorry about the need to scroll through options, we are limted by system capabilty for a complex event.]
If you have any problems, please contact vanessa.gale@fsb.org.uk - 07976 425139 ___________________________________________________________________________
Here's an overview of timings for the day:
10.30 – Arrival, registration for all day delegates, networking over tea and coffee
SET 1 (11.15 to 12.15)
BUFFET NETWORKING LUNCH (12.30-13.30) - Open to anyone to book and join us separately as well as those attending classes
SET 2 (13.30 to 14.30
SET 3 (15.00 to 16.00)
16.15 to 16.45 - Closing speakers and thanks from FSB Chairman
17.00 to 18.30 - Open House networking with Cornish Partnerships - open to all attendees*
For general enquiries regarding the event please contact Operational Support Coordinator Vanessa Gale vanessa.gale@fsb.org.uk Tel. 07976 425139
08-23710 1415

The FSB Events Privacy Policy can be found online here.