Description
FSB Devon - Productive Time Management - Workshop
16 October, 12-2.00pm, Barnstaple Rugby Club
The cost is £10 and includes refreshments and lunch. There is free parking on site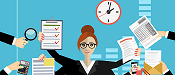 The one thing that we all have in common is time – we all have the same amount every day of our lives. Unfortunately, you can't collect, accumulate or save it. You can only spend it.
Additionally, modern life is busy and is getting increasingly faster and more complex. In order to manage this, time is an essential asset in all industries and roles. With so many distractions and demands on our attention, squandering time is easy to do. That's why improving our time management skills has never been more important to our success.
This introductory workshop is designed to get attendees to understand that time management isn't about time but understanding purpose and developing focus. This workshop introduces you to some of the key concepts. You will then learn a simple process of identifying your goals, planning and focussing on them.
Themes Covered
Principals of time management
Identifying your values and priorities
How to decide what is urgent/not urgent, important/not important
Barriers to time management
Some tools for time management
Working on your preferred strategies for dealing with competing demands
We've got Vikram Kamerkar from Minerva Lifelong Learning coming along to give us this workshop
The cost is £10. There will be lots of opportunity to network with the other attendees too and we'll enjoy a tasty lunch together to give you plenty of time to chat.
This event is open to all, not just FSB members so please invite your friends and colleagues along too.
For general enquiries regarding the event please contact Operational Support Coordinator Vanessa Gale vanessa.gale@fsb.org.uk Tel. 07976 425139
The FSB Events Privacy Policy can be found online here.
08-23710 P9917
Productive Time Management