Description
FSB's Grand Tour, a programme of regional FSB events to promote understanding of GDPR and Cyber requirements for small businesses, is coming to Cornwall and Devon on 20 June at China Fleet Country Club in Saltash
The General Data Protection Regulation is the most important change in data privacy regulation in 20 years. It will come into force on 25 May 2018. The regulation is designed to harmonise data privacy laws across Europe, to protect and empower citizens' data privacy and to reshape the way organisations approach the collection, management and disposal of private data.
The new regulations will have far-reaching implications for every business. Join us in Saltash where our panel of experts will let you know what you need to do NOW to prepare for the changes. The sessions will be run in a 'Question Time' format and you'll be encouraged to ask questions in order to broaden your understanding and awareness of such an important topic. After nearly a month of GDPR being in place and having operated with it, we will also be on hand to answer any new concerns that businesses have found during this time.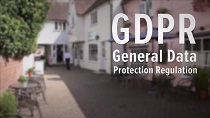 Book now to avoid disappointment as spaces are limited. These events have been very popular. Our recent GDPR networking event in Cornwall was sold out with over 60 attendees.
Programme for the session:
10:30 - Arrival & registration
10:45 - Welcome & introductions by Tim Lazenby, FSB Insurance
10:50 - Speaker 1: Beverley Bates, FSB Legal Services
GDPR/Cyber: Help available, and why the two are inter linked.
11:00 - Speaker 2: Rianda Markram FSB Legal Services
GDPR: the law, what is it, what does it mean and why should small businesses be worried?
11:40 - Speaker 3: NCC
FSB PR / Crisis Management – how GDPR ties in with Cyber, how to look after your data to prevent data breaches and impact on GDPR, rounding up with some general cyber issues businesses have dealt with
12:20 - Tim Lazenby, FSB Insurance Service
Additional products available to cover SMEs for Cyber
12:25 - Quick comfort break.
12:30 - Question & answer session
13:30 - Networking lunch - you can also talk informally to the experts
This event is open to all but spaces are limited, please book early to avoid disappointment.
Please contact Vanessa Gale, Operational Support Coordinator, for more information - vanessa.gale@fsb.org.uk 07976 425139

08-23710 1415
The FSB Events Privacy Policy can be found online here.