Description
Join us for #FSB Midlands Connect - Meet Up at SME Expo 17
Businesses from across the Midlands, from Shropshire to Leicestershire, are invited to this #FSB Midlands Connect - Meet Up at the SME Expo 17.
An exclusive chance for all our Midlands members and their colleagues to network in one place at one time.
Being held at the SME Expo 17, which launches at the NEC on 3rd and 4th October 2017. The SME Expo 17 offers thousands of business owners a one stop shop to get expert insights, seek out initiatives and learn about the innovations and services essential to help them skill up, scale up and drive growth. The event will bring together 130 speakers and 150 exhibitors to present, discuss and debate critical topics around the core sectors of business including Marketing, Business Tech, Funding, Finance, Outsourcing, Accounting and Innovation.
Prior to the show's official opening FSB has secured exclusive access to host our #FSB Midlands Connect - Meet Up from 9am until 9.50am.
The facilitated networking session will be jointly hosted by professional MC and host Dave Sharpe, and professional speaker and writer Karl Craig-West.

This event is an opportunity to meet like-minded individuals, widen your network and build connections for growth and development both professionally and individually with business owners from across the Midlands.

Don't forget to Register to attend the SME Expo 17 here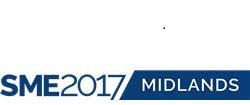 Contact gioia.grobler@fsb.org.uk for any additional information