Description
Are you ready for electric travel?
Join FSB Plymouth for a free and friendly networking event this Wednesday 20th September. An exciting opportunity to meet fellow business owners and build new relationships within the Plymouth business community.

Entry is free, and as with all our networking opportunity the event is open to everyone, not just FSB members.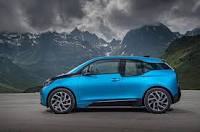 Plus....find out more about business car leasing which could save you and your business £100s every year! Ashley Smith of HM Williams Accountants will be discussing the pros and cons of leading vs buying your next car.

While you're here, you can test-drive the BMW i3 at Ocean BMW.

Plymouth FSB have teamed up with Ocean BMW to put on this exciting free event (with refreshments) on Wednesday 20 September 6.30 to 8.30pm at St Modwen House, Longbridge Rd, Plymouth PL6 8LD.

If there is not enough time to test drive the BMWi3 on the night, you can make a reservation with the team for a time that suits you.

We look forward to seeing you there!
If you have any questions, please contact Vanessa Gale (vanessa.gale@fsb.org.uk)