Description
International Diversity Day 21 May 2018
We are holding an event along with Plymouth University to celebrate International Diversity Day. This will be a seminar and presentation from a Plymouth University professor which will highlight the benefits of diversity and equality to businesses. The cost is £5 for FSB members and £7.50 for non-members.
We will simultaneously hold events in Plymouth, Nottingham and Manchester, streaming the presentations between the three sites. There will also be the opportunity for FSB members and non-members to attend at each venue for networking and meeting with Gender Equity Network members and students. Come and be inspired!
The event is open to FSB members, non members and Plymouth University students from the Business School.
Refreshments will be available.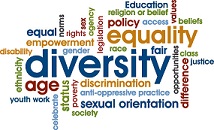 Programme and more details will be added soon.
Please contact Vanessa Gale (Operational Support Coordinator) if you have any queries about this event - vanessa.gale@fsb.org.uk 07976425139
08-23730 p9918