Description
International Diversity Day 21 May 2018
International Diversity Day takes place on 21 May and to celebrate, FSB have teamed up with Plymouth University to hold a unique event which will simultaneously be streamed in Plymouth, Nottingham and Manchester.
Presentations from leading experts in gender and diversity research will showcase the benefits that diversity brings to businesses - see the full programme below.
There will also be great networking opportunities with other members, non-members and students and refreshments will be available.
Don't miss the celebration! The cost is £5 for FSB members and £7.50 for non-members.
The event is open to FSB members, non members and Plymouth University students from the Business School.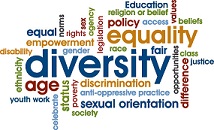 Diversity Day Event Programme:
2.00 – 2.15
Registration
2.15 – 2.30
Welcome
Dr Haya Al-Dajani and Alison Theaker
2.30 – 3.00
Unconcious Bias
Dr Sylvia Terbeck: School of Psychology, University of Plymouth
Whilst equality and diversity training might effect our explicit expressions and behaviour, we also harbour unconscious biases which can affect us. Learning and understanding the scientific bases and the psychology of them can help to lead to more open and nuanced attitudes. This can help business to be more successful when attracting a diverse range of staff and customers. In this presentation Sylvia will describe the social psychology of unconscious bias. She will explain the underlying psychological mechanisms, the latest research in this area, and ways to overcome prejudices.
3.00 – 3.30
Unconscious Bias, a Lack of Diversity and Gender Inequalities in a Traditionally Male Profession: A Case Study
Dr. Lorna Treanor: Nottingham University Business School
This presentation demonstrates how embedded stereotypes influence the career outcomes of individual professional women located within a traditionally masculine STEM profession (veterinary medicine) that is now numerically dominated by women but remains led by men. In doing so, this research highlights the outworkings of unconscious bias within organisations - in terms of recruitment & selection, work allocation and promotion decisions.
3.30 – 4.00
Generating Routes for Women's Leadership
Dr Helen Woolnough: Sylvia Pankhurst Gender and Diversity Research Centre, Manchester Metropolitan University
Research tells us how organisational processes obstruct women's progression and retention in leadership roles, and pioneering organisations are responding by developing initiatives to create better routes for women's leadership. But how do businesses access this knowledge and work out which insights and practices can drive innovation in their organisations? The Generating Routes for Women's Leadership (GROWL) project uses the methodology of 'Engaged Scholarship' to put organisations in dialogue with research evidence and better practice so they can innovate develop and retain female talent in leadership roles.
4.00 – 5.00
Local networking and refreshments

Please contact Vanessa Gale (Operational Support Coordinator) if you have any queries about this event - vanessa.gale@fsb.org.uk 07976425139
08-23730 p9918