Description
Join FSB Wealden for Summer Lunch on 14 August at 12 noon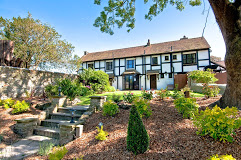 Shed your lone wolf cloak and join like- minded Wealden business people to chat business and get involved in a friendly and supportive business network.
FSBConnect aims to support all types of business and those interested in starting a business, with information, networking and support. All are welcome to this event which aims to showcase the great quality of 'what we've got' in Wealden and why there's Multum in Parvo - much in little!
The event will give you the chance to
meet local businesspeople over brunch
share your business and what you're looking for
chat and enjoy friendly support
The cost is £15 and includes tea & coffee, main course and a dessert from one of the following options:
For bookings after 9 August the selection is limited to :
Slow Roasted Belly of Pork with cider fondant potato, chantenay carrots, fine green beans, apple sauce & cider reduction
or
Tomato, Mozzarella & Parmesan Arancini (v)with a spiced tomato sauce
followed by
Downsview Farm Ice Cream or Sorbets (g/f, v)
Bookings in advance via this website and the event is open to members, non-members and any business associates.
For general event enquiries please contact Gioia Grobler


07-23630 - P9915
The FSB Events Privacy Policy can be found online here.