Description
FSB Women Cornwall Conference
You might just be new to business, lacking a bit of confidence, wondering what the next step should be, wondering who can help? Or have you been trading for a while and are just looking for that next push to get your idea on to the next level? Perhaps you might even be at the stage of wondering if you can actually do this and have met with difficulties and social barriers?
Well wonder no more! Our "FSB Women Cornwall" Conference designed by our own taskforce group, will bring people just like you together to be inspired, gain confidence, discover new business skills and make some great contacts. Yes this is going to be a very high class, prestigious event in fabulous surroundings (in a hotel owned by incredible business woman Olga Pollizi – sister of Rocco Forte and mother of Alex, the Hotel Inspector), but it is also inclusive, non-judgemental and set to be a day to relax, enjoy and reassess how amazing your next steps can be.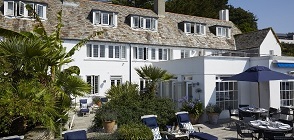 So, in the delightful and elegant surroundings of Hotel Tresanton in St Mawes this is a day to both enjoy and get enormous benefit from. We start with a morning of inspiration from incredible business women such as Jill Stein of Padstow's famous Seafood Restaurant and Amanda Winwood of Made for Life Organics. They will be talking about how they got to do what they do now and how they also started to work together. Other high-profile speakers are to be announced soon (watch this space). After lunch in the restaurant we will break into two smaller workshops so delegates really get the benefit of the wisdom on offer and then we will swap to give a stretch of the legs and a chance for a cuppa so that everyone gets the full benefit of what will be a very special day. There will be plenty of time to make new contacts and perhaps even discover new business partners or supporters. You will also have a quiet corner to go to if you need to catch up on emails or have a private chat with a new-found colleague.
This is a "hot ticket" event with only 60 spaces available, so we wanted to give you advance booking notice now for what will truly be a memorable, high class event. Don't miss out by leaving it too late to get your ticket.
Cost: £25 (any refreshments or items purchased other than those provided by the organiser during event breaks will need to be paid for at the time).
Car parking at the hotel is limited and they have asked us to keep their small hotel car park free for their guests, so for our conference they have advised that people can park on the single yellow line at that time of year, which is just down the road from the hotel but for greater ease there are car parks in St Mawes a short level walk from the hotel. In case of bad weather umbrellas can be provided and for those with access issues then a car can act as a shuttle to the hotel. Please contact us if you have any special access requirements so that we can make your day as easy and comfortable as possible.
Details of Car Parks in St Mawes are as follows: There is a long stay car park behind the Rising sun in St Mawes. Charge for all day 08.00–18.00 £5.00. Card payments accepted in lower parking meter (nearest to Roseland Visitor Centre). Change for the parking meter can be obtained from Roseland Visitor Centre when open. Quay Car Park is a short stay car park in the centre of St Mawes on the quay. Charges up to 6 hours £5.00, up to 8 hours £6.00. If you are a blue badge holder with Nil and Disabled tax discs, you can find out more information here
If coming from Falmouth the best way to arrive is https://www.falriver.co.uk/getting-about/ferries/st-mawes-ferry and delegates can then park in Falmouth and walk from the ferry to the hotel

We look forward to welcoming you.

For general enquiries regarding the event please contact Operational Support Coordinator for Devon/Cornwall Vanessa Gale vanessa.gale@fsb.org.uk Tel. 07976 425139