About this Event
A whole day of exercise, broken into 10 different sessions that offers something for everyone! Giving you the perfect opportunity to try something new. All done inside the beautiful All Saints Church on Lindfield High Street.
All classes are free of charge however a donation towards FSW would be hugely appreciated.
Alongside the exercise event, there will also be a healthy eating cafe for people to stop and have a drink and a chat. The cafe will provide a range of drinks and snacks throughout the day, as well as lunch at 1pm. Please come along and say hello.
9am: Cardio with Jill @ Firefly Fitness
A High Intensity Workout for 30 minutes, using exercises to boost your metabolism whilst toning your muscles at the same time. A great start to the day.
10am: Stretch with Emily Scott
Take some time for you to relax and move your body in a non-stressful way. A reviving class that will stretch and unwind you, leaving you feeling great and ready for the day ahead.
11am: Swoove with Esther
Your chance to try the fantastic Swoove class (Sing, Whoop, Move) with the lady herself - Swoove Fitness founder Esther Featherstone. This excellent class is bound to put a smile on your face.
12pm: HIIT with Hadley @ Linear
A high intensity workout designed to burn fat and test your cardio ability using a variety of exercises. The perfect class to do just before heading to our pop-up cafe for lunch! This is organiser Victoria's favourite class – so come and join her please.
LUNCH BREAK AT CHURCH POP UP CAFÉ
2pm: Cardio Blast with Mike @ Personal Training for Health
The local favourite and hugely popular pulse-raising Cardio Blast - 20 different cardio-based drills using the 50:10 Blast format. A great option to work off your delicious lunch from our pop-up cafe and get ready for the afternoon. This is organiser Vic's favourite class – so come and support her please.
Outside 2pm: Healthy Walk with Lindsay Norris
Join Lindsay for a half hour walk around Lindfield village. Lindsay is a healthy walk leader with Mid Sussex District Council experienced in providing interesting routes for walkers. We will be keeping to paved paths and twittens around the village with a gentle hill to finish. The perfect start to the afternoon and you can pop into the church for a cup of tea with your friends afterwards.
3pm: Chair Aerobics with Val Hillyard
Chair aerobics, like any aerobic workout, is designed to elevate your heart rate and keep it elevated for a set period of time. It helps build endurance and strengthen the heart, whilst remaining seated… vital for not putting too much stress on the body. Val's class will be the same as her popular Tiger @ Ten class. Make sure you book early!
4pm: Family Dance
Bring the kids and get ready to boogie on down to some disco tunes. Learn some funky new dance steps and put a smile on all your faces… to make a brilliant start to the weekend. One for little and big kids alike!
5.30pm: High Energy Class for Teens & Tweens with Kate Rowe-Ham
Designed specifically for Tweens & Teens, this high energy class is a perfect after-school event with their mates. A great introduction to a gym style workout to encourage this age group to look after their cardiovascular health! Parents can grab a coffee at the pop-up cafe whilst you wait. Tickets will go quickly for this so please, book early.
6.15pm: Pilates with Samantha Cairns
Pilates is an exercise class that consists of low-impact flexibility and muscular strength with endurance movements. Pilates emphasizes proper postural alignment, core strength and muscle balance… and we are delighted to have Samantha Cairns offering this class.
7pm: Super Circuits with Mike @ Personal Training for Health
Rounding off the day, a 45-minute total body workout providing high energy station-to-station style circuits class. Mike promises to make this a super sweaty end to the day - one not to be missed and we're hoping that this end of day class, can encourage all those who have been at work all day to don their trainers and support us in this last session. Both Victoria & Vic's husbands will be at the front of the class for this one and are hoping all their Lindfield buddies will join them too.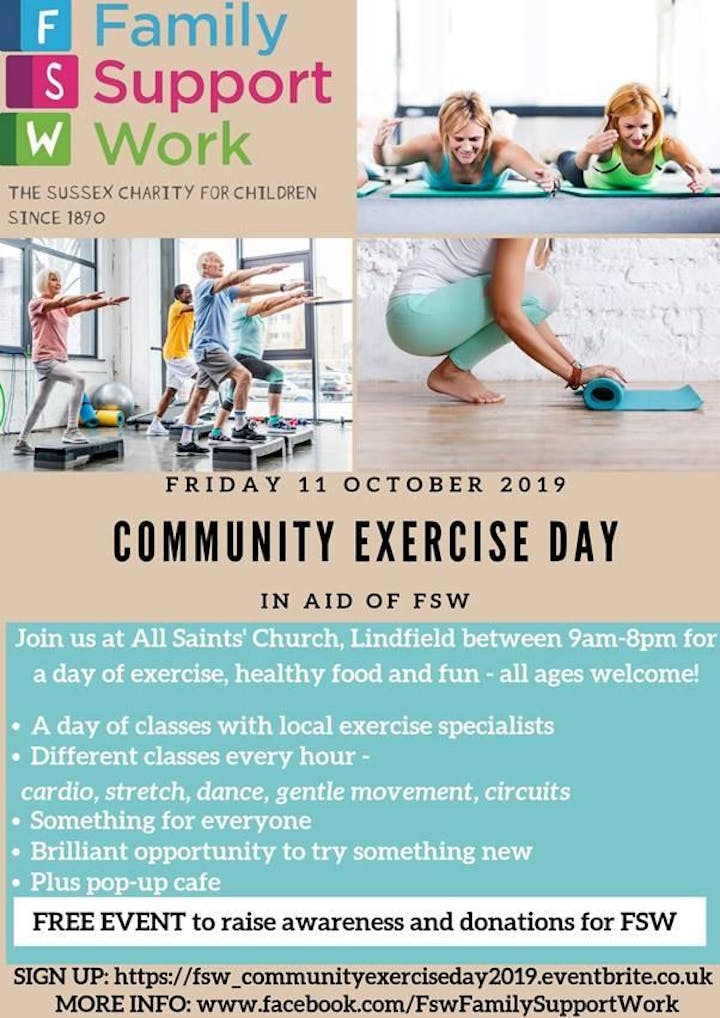 About Family Support Work
FSW (Family Support Work) is a local Christian charity helping families in Sussex to overcome their difficulties and prevent crisis. They support families struggling with anything from bereavement, ill health, learning difficulties, poverty, family break-up or domestic abuse. Their aim is to support parents as they try to ensure that their children have the best start in life. Alongside emotional and financial support, FSW also runs a food bank and provides after-school clubs and holiday activities for children.
For more information about this wonderful charity: