Description
FuckUp Nights
A global network and a meet-up of entrepreneurs, pioneers, innovators and change makers at heart. Our international audience is presented with at least four stories of business/project failures, each story lasting 6:40 minutes (Pecha Kucha). After this presentation there will be a short 5-10 min moderated Q&A.
Format
During the presentation we ask the speaker to use the following 4F guideline:

1. Fail (What happened)

2. Facts (Start-up/ Project details)
3. Feelings (Emotional experience)

4. Find (Learning outcome)
Drinks & Networking
The official program will run approximately 2 hours. We arranged plenty of time upfront, in between and after the event for drinks, bites and networking.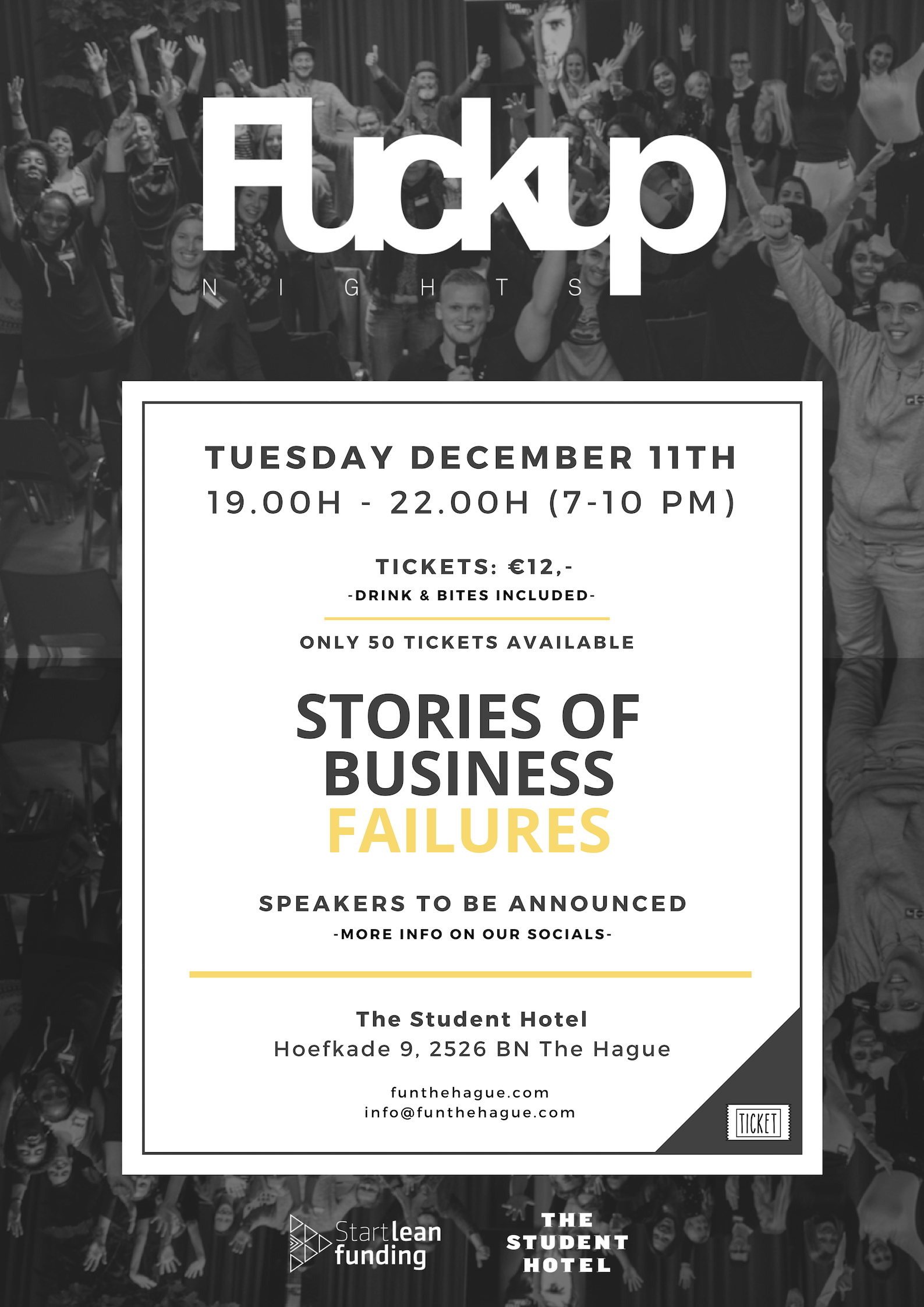 Organiser of Fuckup Nights The Hague | #2
Why
We believe in the unique, spirited nature of entrepreneurs, which is characterized by determination. We are convinced that they are our ambitious rebels who will add value to the vibrant and better world of tomorrow. We see them as an example for the present generation and as a source of inspiration for everyone. For that exact reason, entrepreneurs deserve a stage, but also insights into new chances and opportunities.
Goal
To create a place and stage for entrepreneurs where they can meet in a fun and informal atmosphere, but still a place to take steps with their companies, products or initiatives. Our goal is to unite and ensure that the initiatives of entrepreneurs get a boost in the form of knowledge, skills, resources, manpower, materials or investments and that they reach a wider audience than just those of the event and the region itself.