About this Event
Fuel Your Body and Mind: Finding Your Balance
Finding the key to balance can be tough but can also be the building blocks to a happy, healthy life.
Join us, on the evening of Thursday June 27th diving into a conversation of managing your mental and physical health, revealing the best tips on how to find balance and how you can achieve your goals, tips on how to glow from the inside-out and how you to find the perfect balance in your career and your personal life.
Plus you will receive an amazing goodie bag to take home (win, win).
For more MISSFITS news and recipes please head over to our website and have a peak at our instagram.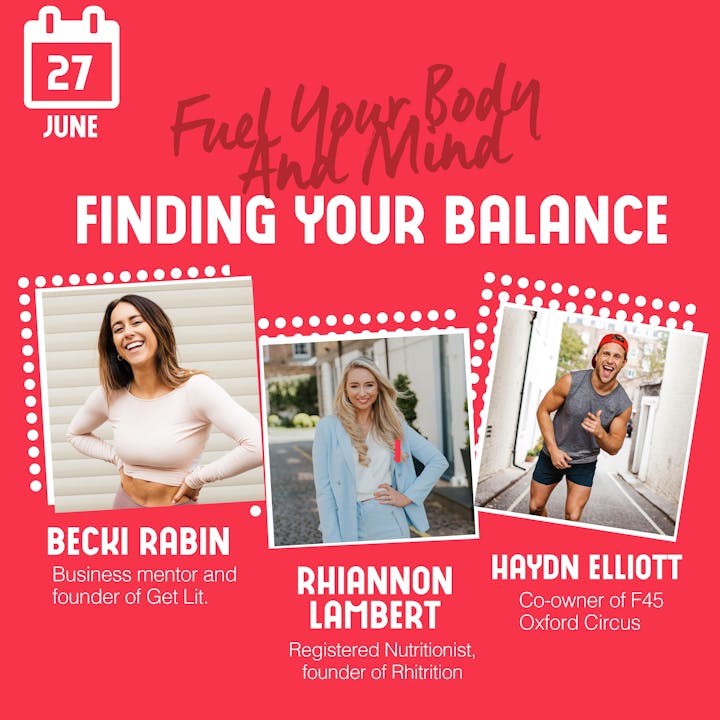 About our Panelists...
Becki Rabin
Business mentor, empowerment coach + serial entrepreneur with an undeniable passion for wellness and obsession with helping you unlock your fullest potential. Becki champions wellness experts to help them expand, grow and connect and unapologetically dial up their self worth to build a business they are proud of, a life they love and a mindset that will take them places. Armed with 9 years experience working with some of the biggest names in publishing, advertising and wellness industry, Becki has worked with 100s of individuals through her mentoring, coaching and consulting. Becki is one of the wellness industry's leading voices and entrepreneurs and has played a key role in shaping the way the wellness space has evolved. Her deepest mission is to help support women to know that they are incredibly worthy of leading a LIT up life.
Follow Becki over at @beckirabin, www.beckirabin.com
Founder of www.alternativelyhealthy.co.uk and www.getlitinc.com
Registered Nutritionist, founder of Rhitrition, London's leading private nutrition clinic, bestselling author of Re-Nourish: A Simple Way To Eat Well and podcast host of Food For Thought.
Follow Rhiannon over at @rhitrition
Haydn Elliott
Co-owner of F45 Oxford Circus and host of The Inspiration Space Podcast.
After struggling with his own mental health battles in his early 20's Haydn has been on a mission to learn and implement strategies that ensure he gets the most out of himself and those around him.
Follow Hadyn over at @haydn.elliott