Sales Have Ended
Registrations are closed
We're sorry pre-registration has now closed. However, if you would still like to attend the conference and have not yet registered, please email the team directly at marketing@edenhousesolutions.co.uk
Sales Have Ended
Registrations are closed
We're sorry pre-registration has now closed. However, if you would still like to attend the conference and have not yet registered, please email the team directly at marketing@edenhousesolutions.co.uk
Description
Explore how to achieve digital excellence in your business. Reserve your seat at this year's Fuelling Digital Excellence Conference and meet those who have embraced technology to drive success.
Why Attend?
An event aimed at Senior Business Leaders, we'll look at the emerging trends and technologies that are shaping businesses and the IT industry. We'll also give you first-hand experience from companies who have already started their digital journey, embracing technologies which are now paving the way for their future growth and development. In the afternoon you can also dive deeper into your specific areas of interest, with demos and workshops.
Pre-Conference Dinner
Join us for a pre-conference dinner on Monday, 25th June. Held at the Radcliffe, at the University of Warwick. It's a great opportunity for you to get acquainted with other business leaders, meet our team and relax and unwind before the main conference the following day.
If you would like to attend then please register via the button. Please note that places for the dinner are limited and these will be allocated on a first come, first served basis.
Overnight accommodation is also available onsite and can be booked, prices start from £65. Room rates are subject to availability and include breakfast and VAT. To book a room click here. Alternatively, you can email: reservations@warwick.ac.uk or call the venue's reservations team on 02476 573925, rooms are now available to book.
The Conference
Held at the impressive venue, The Slate at the University of Warwick on Tuesday, 26th June our one-day event will provide you with the insight, knowledge and inspiration to achieve digital excellence in your business. Hear from our keynote speaker, former New Zealand rugby union player, Sean Fitzpatrick, discover more about SAP on Microsoft Azure and how the joint partnership can help give your business a trusted path to digitalisation in the cloud, also our customers Muntons and Eurocell will be discussing how they have embraced technology in their business'. Muntons will be discussing their S/4HANA journey and what business benefits they've seen since the migration and Eurocell will be discussing their journey to excellence by implementing Cloud for Customer (C4C) and SAP SuccessFactors.
In the afternoon experience live demos and workshops, led by our experienced consultants, tracks include S/4HANA, SAP SuccessFactors, Hybris Solutions, Microsoft Azure Hosting and The Digital Boardroom and Cloud Analytics. We'll also be running demos of SAP Business ByDesign and SAP Business One.
A day not to be missed, it's a great opportunity to ensure your business is at the forefront of innovation.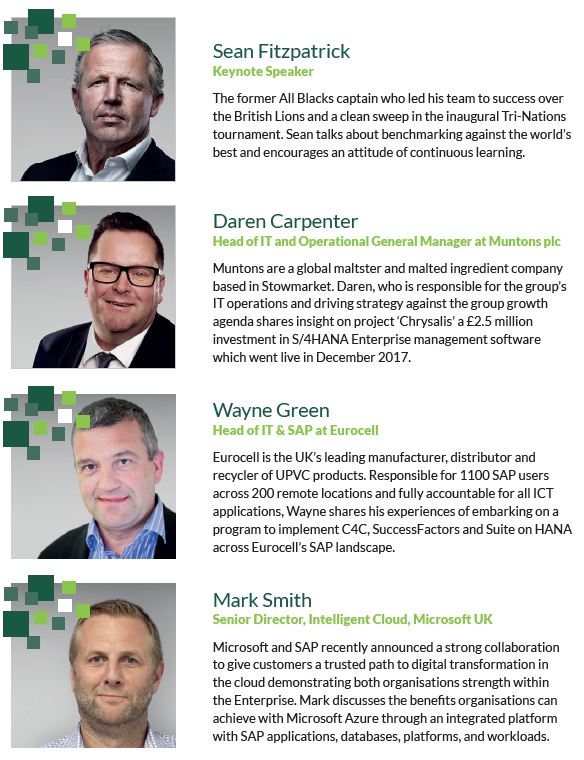 Afternoon Conference Tracks
Our conference tracks will run throughout the afternoon so you can get the most out of the day and dive deeper into specific areas of interest. Each session will run for 30 minutes and will be repeated throughout the afternoon, meaning you can attend up to four different sessions.
Pre-registration is required, please do so via the booking form.
Track start times: 1:00pm, 1:45pm, 2:30pm, 3:15pm