Description


Join our Introductory
Massage Class
and discover the benefits of giving and receiving a full body professional massage.
During the course we will teach you techniques with which you will be able to help your partner with everyday stresses, headaches, releasing the backaches and those annoying muscle knots.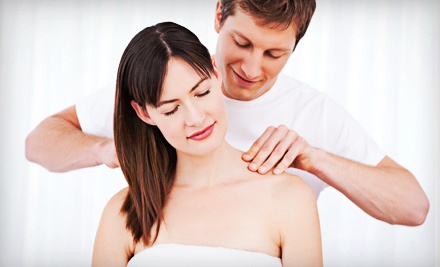 Have you ever heard these questions from your spouse?
· Could you give me a massage?
· My back hurts so much, could you just give me a quick massage?
· My feet hurt, can you give them a massage?
If the answer is yes, we have just the thing for you! You will be introduced to a three-hour long workshop which will change your life and relationship forever!
Knowing how to massage properly is a great skill and your partner will appreciate you even more for learning this therapeutic art. We aim to make this workshop educational and fun. During the three hour workshop you will learn:
· How to massage using a various range of movements
· How to massage for longer than 5 minutes without feeling tired when not to massage (contraindications)
· Which oils to use, you will also receive some complimentary oils to take home with you to use on your partner
This workshop is £60 per person (£120 per couple).
---
"Fantastic session, Magdalena was great, informative and patient. Would definitely recommend this course to others"
Gina & Mike
---


What you need to know about this workshop
This is a fun half day of learning for you and your partner you will take away with you a complimentary pack, which includes printouts with basic massage movements and routines and massage oil so you can practice the movements at home straight away!
We try to keep numbers small thus at the moment we only have up to two per workshop.
During the day you will have access to FREE refreshments.
What you will learn during this workshop
Most of the training will be spent on achieving a practical routine which can be adapted for one's use on friend and family. The routine will be broken down into a series of easy to remember movements which will provide you with an understanding of how you can include massage into your life.
You will practice all techniques on each other this way everyone will receive a treatment on the day!
Learn – Relax – Enjoy


Feedback from January workshop:
Fantastic session, Magdalena was great, informative and patient. Would definitely recommend this course to others"
Gina & Mike


"Great teacher, very Good movements which are not hard on the hands. Hoping that my partner uses what he learned. Great session & Magda was a calm teacher"
Helen and Campbell