Full-Day Axure Prototyping Workshop - April 16th

Thursday, 16 April 2015 from 09:00 to 17:00 (BST)
Event Details
Axure has changed the way we do UX. It is not the only prototyping tool available to users, but it is quickly emerging as a front-runner in the ongoing search for the holy-grail of prototyping software, especially in the London design community.
This is a beginner's bootcamp and guarantees that attendees will walk out of the workshop at an intermediate prototyping skill level. It is also a highly useful workshop for those that use Axure purely for wireframing without much interaction and would like to convert those wireframes into interactive prototypes.
Our learning material is very interactive and addresses the difficulty of learning how to use Axure with colourful, easy to solve Axure Puzzles, so you can concentrate on building a strong foundation behind the interaction logic, without being slowed down by the complexity of Axure's interfaces and features. Once you have mastered the interaction logic with these colourful puzzles, we will then take you through, step by step, how to implement interactive prototypes with Axure. This is a very unique approach that you won't find on any other training course and is proven to be a very effective learning technique when familiarising yourself with Axure.  
Prerequisites
You must be familiar with any drawing or wireframing software such as Balsamiq, Photoshop (at a very basic level) or Microsoft PowerPoint, as Axure uses similar drawing and layout techniques.
Who is the prototyping with Axure course for?
This workshop is perfect for you if you are an Information Architect, User Experience Designer, Visual Designer, Interaction Designer or Product Owner who wants to quickly explore ideas and communicate complex (and sometimes subtle) interactions.

It is also ideal for entrepreneurs that are working on MVP as part of a startup and would like to quickly prove their ideas in front of potential users or to showcase them to potential investors.
Learning Material
This Axure workshop is like no other! During the workshop you will be submerged in a hands-on learning experience by solving Axure Puzzles. For every puzzle you solve, a digital Mozilla Open Badge will be issued.
If you wish to take a quick look at what an Axure Puzzle looks like watch this video. By the time you leave the workshop, you will be able to solve intermediate Axure Puzzles like this one and hopefully some of our more complex Axure Puzzles!
About The Workshop Instructor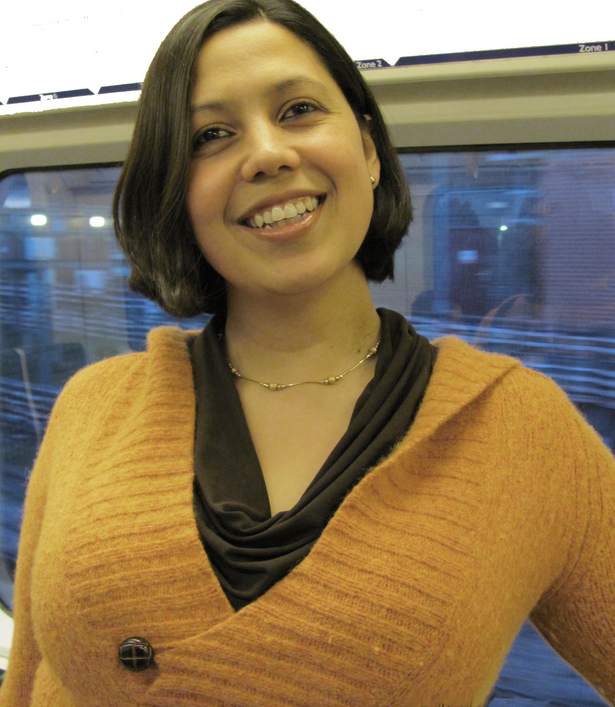 You will be under the guidance of Sandra Gonzalez, founder and host of the Axure London Meetup. Through the Axure London Meetup and as an expert App for Good volunteer, Sandra has been teaching her prototyping techniques to the UX Design community in London for a number of years, so you are in capable hands!

With a dual degree in Engineering and Education, Sandra also has extensive knowledge in developing curriculums and has previous experience working with clients such as NASA, GE and Scholastic.
Her in-depth experience as an educator has inspired her to develop a unique approach to teaching Axure, where students are encouraged to learn by solving our exclusive Axure Puzzles, intentionally designed to teach all levels of Axure features and the logic principles necessary to make interactive Axure prototypes.
About the Venue
 Our training will take place at WallaceSpace, Clerkenwell Green, which is a 5 minute walk from Farringdon Station. The building has floor to ceiling glass walls throughout and provides the perfect working environment with its thought provoking views and abundance of natural light. 
You will also be provided with a lunch, consisting of delicious brain-food to get the most out of your training experience. WallaceSpace have been credited with providing some of the best working lunches in London, so you're in for a treat.
Not only this, but you will be able to help yourself to tea, Infusions, freshly brewed Fair-trade coffee, juices, soft drinks, retro-sweets, cookies, fruit and nuts whenever you want them, so you won't go hungry or thirsty throughout the day!
For more information visit their website.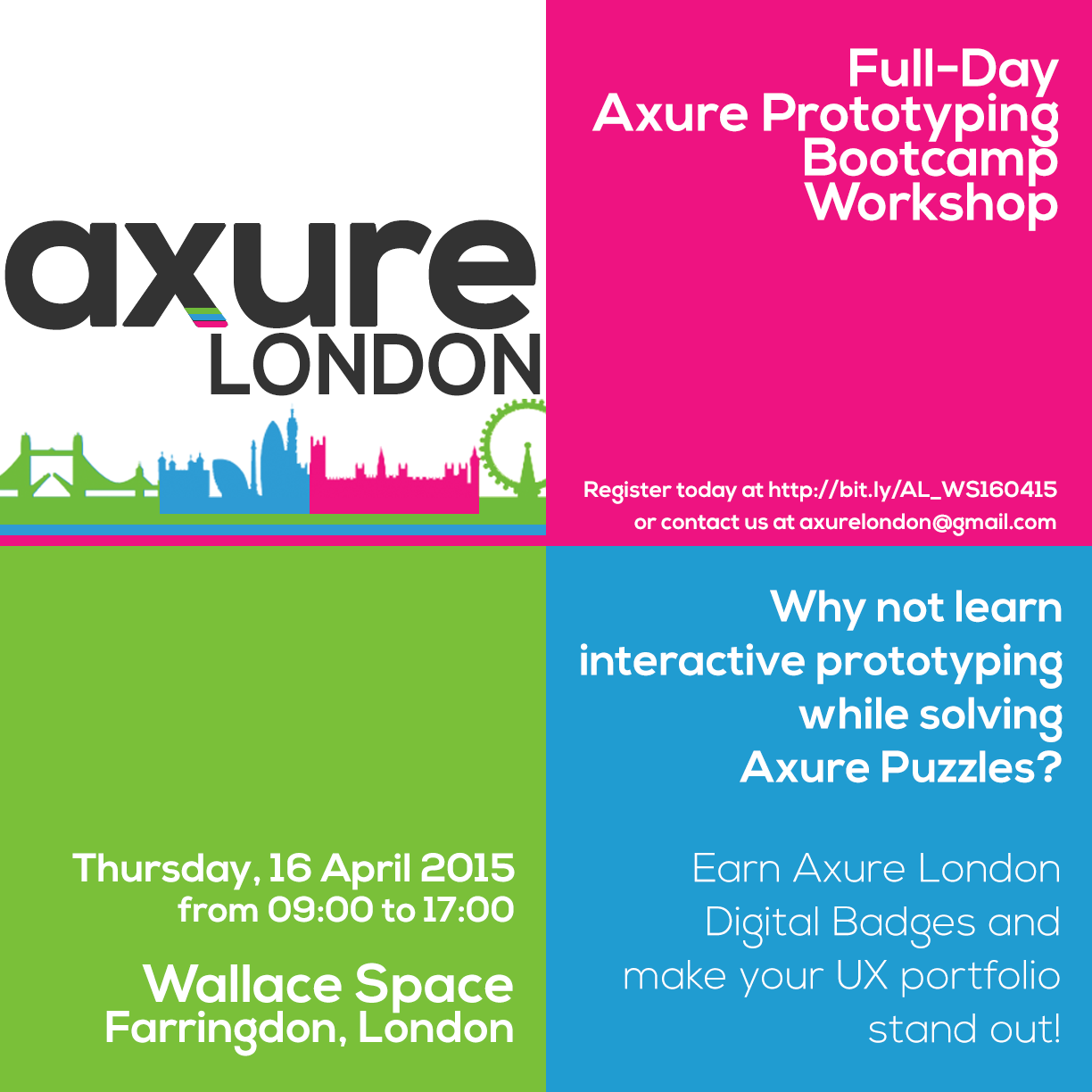 Please contact us at axurelondon@gmail.com if you have any questions about this course or call 07450755600.
FAQs
Will food be provided?
Yes! Your ticket includes breakfast, all the day snacks and beverages as well as lunch. Our venue, Wallace Space, will be providing the food. Here is how they discribe their food on their website:
"Inspiring, not sleep-inducing food, our menus are seasonal, fresh and well thought out to provide tasty and stimulating meals in a relaxed, open plan kitchen.
Rumour has it (or so our clients tell us) that our food is some of the best in the area for working lunches.
What you want when you want it: help yourself to tea, Infusions, freshly brewed Fair-trade coffee, juices, soft drinks, retro-sweets, cookies, fruit and nuts-all day long.
We can also provide nibbles and drinks for that end-of-day team-building chill out, canapés for parties or full-on dinners to help presentations or just plain dinner for dinner's sake."
What can/can't I bring to the event?
You MUST brind your laptop with Axure 7 installed on it. Axure provides a 30-day trial which gives you the perfecto opportunity to figure out if it is the right software for you and your organization.
Axure London won't be able to provide licenses for this training, but if you contact axurelondon@gmail.com within a few days before the event, we may be able to help you extend your expired license (no warranties). 
Where can I contact the organizer with any questions?
Please email any quesitons to axurelondon@gmail.com
Is my registration/ticket transferrable?
Yes, you are welcome to transfer your ticket to any one in your organization, with the caveat that tickets are not refundable. 
Do I have to bring my printed ticket to the event?
There is no need for that, unless you have a ticket that has been transfered, then you do need to have the print out with you.
What is the refund policy?
No refunds only tranfers.
The name on the registration/ticket doesn't match the attendee. Is that okay?
That is fine, as long as the ticket has been transfered to you by someone else within your organization.
Do you have questions about Full-Day Axure Prototyping Workshop - April 16th?
Contact UX & RP
When & Where

Wallace Space - Farrigdon
18 Clerkenwell Green
EC1R 0DP London
United Kingdom


Thursday, 16 April 2015 from 09:00 to 17:00 (BST)
Add to my calendar
Organiser
UX & RP
UX & RP is a highly innovative training programme, dedicated to teaching anyone with an interest in interactive prototyping how to create delightful responsive prototypes, with its resourceful one day training programmes. 

Our meetup, which had an overwhelming success in the vast London design community for the past two years, has been endorsed and supported by Axure.
Full-Day Axure Prototyping Workshop - April 16th