Full Moon Breathing Meditation & Intention Setting
Join our Free Online Full Moon Breathing Meditation with Eugenia Altamira (International Senior Trainer Transformational Breath® )
About this Event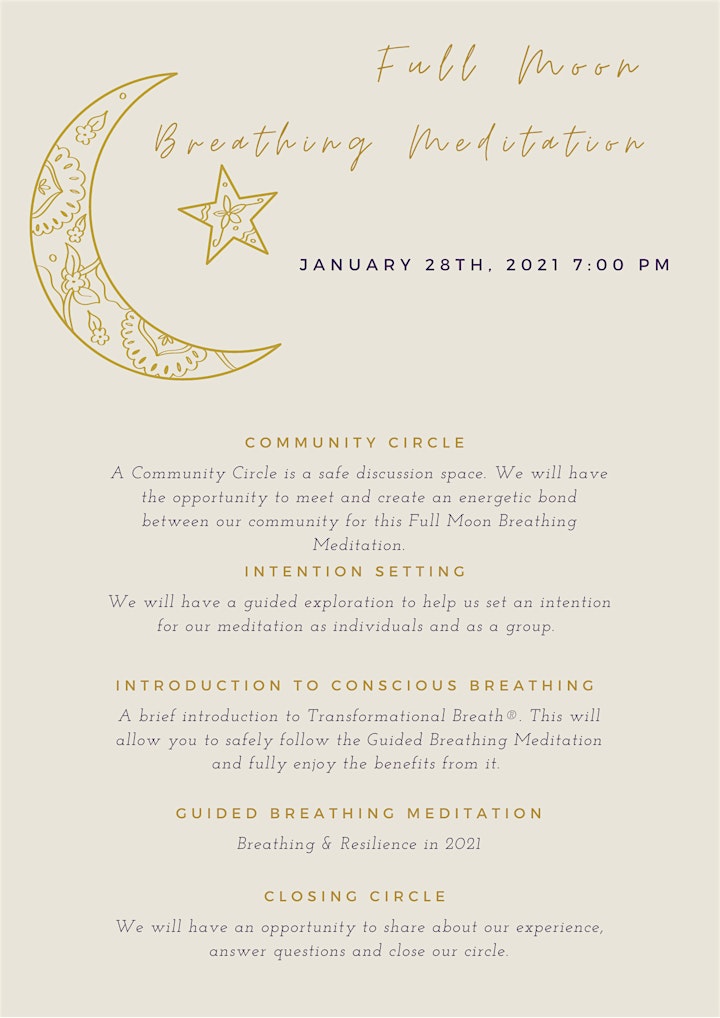 You might already know that breathing can be used to improve physical and mental wellbeing.
Or you might not. And be looking, and confused by the array of breathwork teachers, and techniques out there.
Just know we (The Big Breath Company) are all about the breath. It's all that we do. And we only work with experts within this field.
This event is an opportunity for you to receive a special guided session, from an amazing teacher, who very rarely offers public events.
We've chosen the very first Full Moon of January to deliver this event.
The moon at it full brightness is an invitation for you to celebrate the enduring light that shines within us all. And that light is within your breath.
We know that January is nornally a challenging time, and we're also living through a difficult time. The hardship and emotional impact can feel overwhelming.
Yet there is a way to find peace, to rebalance yourself. This process starts not outside, but inside, with your breath.
And at this full moon breathing event you can
CONNECT WITH YOUR BREATH
RELEASE & SURRENDER
NURTURE YOURSELF
ACCESS INNER CALM
MANIFEST INTENTIONS
ENJOY THE `RITUAL
FIND OUT MORE ABOUT OUR ONLINE BREATH RETREAT
We, (The Big Breath Company) are delighted to collaborate with Respiremos, and our beautiful mentor and teacher Eugenia Altamira from Mexico, for a series of special online events in 2021. She really is a superstar!
Eugenia will be our special guest leading a breath and resilience meditation at the first full moon of 2021. Eugenia is an International Senior Trainer and has led many Breathwork trainings around the World. With an academic background in Psychology, she was a tenured Professor at University of Latin America before discovering Transformational Breath®.
She is supported by her sister Laura, who aside from being an awesome Trainer, plans and organises all her Worldwide events and trainings.
So join us for this special live event. Reserve your space, and also find out more about special Online Immersive Breath Retreat that we have organised on the 27th and 28th February over the Full Moon Weekend .