Event Information
Refund policy
Contact the organiser to request a refund.
Eventbrite's fee is nonrefundable.
Come together as a cosmic community to renew, rejuvenate, realign your mind, body and soul with personal and environmental wellbeing
About this event
Wellbeing Rituals is a virtual retreat that you can join from the comfort of home and incorporate into your daily routine. This is the perfect opportunity to de-stress, energise and empower yourself as we welcome in April's full moon. 
With this retreat falling just after Earth Day, it seemed fitting we bring focus to being the change we want to see in the world. In this 'Be The Change' special, we balance and combine our personal wellbeing with our environmental (and social) wellbeing. As we nurture and revive our mind, body and soul we will also deepen our connection to nature and practice making a conscious positive impact in the world around us too. Come together with a likeminded, cosmic community to renew, rejuvenate, realign and reconnect. Clear out those energetic cobwebs as we embrace this the illuminating and transformative period of the full moon!
Dates: 22nd - 26th April (5 days) / 24th - 26th April (3 days)
Cost: £100 (5 days) / £60 (3 days)
Rituals Box: £25 - This special additional package includes a NINI Organics mini 'Natura miracle mask', some key items featured in retreat recipes and for the workshop and ceremony plus a few other bits and bobs to enhance your retreat experience. (Delivery UK only)
Location: As this is an online retreat, you can join from almost anywhere in the world
______
Zoom Schedule -
Yoga: Daily sessions at 8:30am and 7pm (1hr) - no evening yoga on Mon 26th
Flower Pressing Workshop: Sat 24th April at 8:15pm - 9:15pm 
NINI Organics Pamper Sesh and Q&A: Sun 25th April at 8:15pm - 9:00pm
Full Moon Ceremony: Mon 26th April at 7:30pm - 9:00pm
*These are estimated finishing times
- All sessions above will also all be recorded (and/or information provided) so have the flexibility to catch up in your own time if unable to attend any of the live sessions.Included in your Ebook: Scorpio full moon astrology intro with Rose Saltiel, stress relieving pranayama, daily eco-action prompts, empowering affirmations and illuminating journal prompts.
________
Plantbased Brunch and Drink Recipes - The recipes I've designed especially for this retreat will give your body and mind a serious boost. Focusing on feel-good ingredients that are vibrant and nutritionally balanced, these recipes will also inspire ways to eat more mindfully and consciously. These plant-powered yums will not only nourish you but also provide a great opportunity to use your creativity and find empowerment through learning new ways to nurture, heal and protect your body from the inside out.If you have any intolerances, allergies or dietary restrictions, please let me know in advance so we can work out any alternatives needed.
Yoga with Rose Saltiel and Araba Adjaye - Our wonderful yogi leads Rose and Araba have each designed a series of bespoke, practices for this retreat which feature Yin/Yang, Elemental Flows, Yoga Nidra and a Full Moon Flow. These rejuvenating sessions will inspire acceptance, openness, gratitude, empowerment and reconnecting to both ourselves and the earth. With gentle guidance we will ground and stretch and move our bodies, releasing tension, clearing our minds and finding our centre.Twice daily, you will have the opportunity to meet as a group via Zoom to follow these pre-recorded videos, balancing both energising mornings and restorative evenings. This encourages motivation through accountability and is highly recommended however if you are unable to attend you can use the videos to practice in your own time instead. 
An evening with NINI Organics - In this pamper sesh we will come together for some self-care fun as we treat ourselves to a natural face mask and dig deeper into the world of green beauty in a Q&A with Alex (founder / creator NINI Organics). If you want a peek of the kind of entertainment you're in for, check out Alex's videos via instagram @niniorganics. This is what happier, healthier skin care dreams are made of! 
Flower Pressing Workshop - In this fun, playful and creative workshop, I will lead the group in the therapeutic art of flower pressing. This is a beautiful way to connect to nature and the Spring season as well as being a mindful activity to promote relaxation.
Full Moon Ceremony - We will close our retreat with a healing Full Moon Ceremony. In this space we will hold, support and empower one another as we come together to weave our stories, stepping inwards to reflect, process and release and connect to our divine power. This evening will include light breathwork, a sharing circle (led by ebook journal prompts), guided meditation and intentions setting burning ritual. I will also be providing a Spotify playlist you can enjoy whilst setting up and/or in the background during the ceremony for some added ambience!
Once you have secured your retreat space, your rituals box will be sent out and your 'Prep and Ingredients' ebook will be emailed on Sat 17th April. Your Full Wellbeing Rituals ebook will be sent out on Weds 21st April.
If you're feeling the call, join us - book your space today!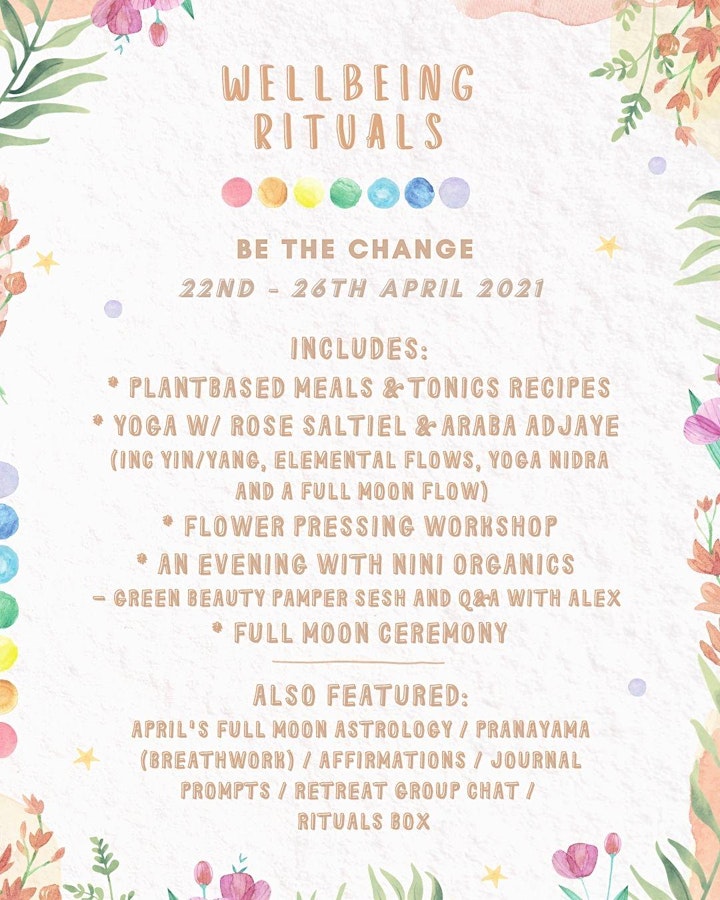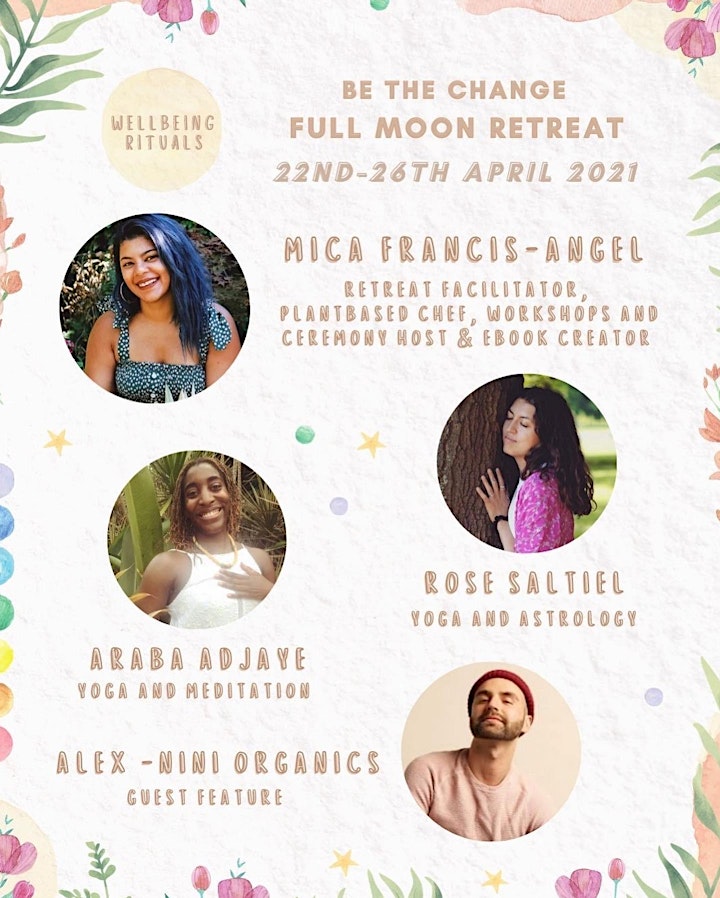 Date and time
Location
Refund policy
Contact the organiser to request a refund.
Eventbrite's fee is nonrefundable.