Description
Cheese lovers rejoice! Cheesemonger and professional cheese taster Ned Palmer is coming to Heffers to talk us through the history of cheese in the British Isles.
Every cheese tells a story, whether it's a fresh young goat's cheese or a big eighteen-month-old cheddar. The flavour speaks to you about the place it was made, the season of its making and the craft of its maker. And each style of cheese reflects the culture of the people who first made it, and their place in history. This book is a cheesemonger's odyssey, a celebration of history and tradition, telling the story of the British Isles, their people and their cheeses, from prehistoric Celts to postmodern foodies, and explains how key moments and major currents in our history are embodied within our food.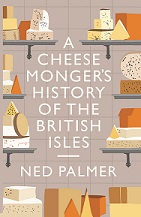 Join Ned to discover how the best cheeses today are made, and meet the eccentric cast of characters who make them - then have a little taste!
Tickets for the event are priced at £7 in advance or £8 on the door, and can be purchased through this page, by calling 01223 463200 or in person at Heffers bookshop. Please note that tickets are transferable but non-refundable.
Like this? See a full list of our forthcoming events by clicking here.