Description
Heffers is delighted to welcome award-winning comedian and writer David Mitchell to the shop to sign copies of his latest book, Dishonesty is the Second-Best Policy: And Other Rules To Live By.
Thinking About It Only Makes It Worse must really have made people think - because everything's got worse. We've gone from UKIP surge to Brexit shambles, from horsemeat in lasagne to Donald Trump in the White House, from Woolworths going under to all the other shops going under. It's probably socially irresponsible even to try to cheer up. But if you're determined to give it a go, you might enjoy this eclectic collection (or eclection) of David Mitchell's attempts to make light of all that darkness. Scampi, politics, the Olympics, terrorism, exercise, rude street names, inheritance tax, salad cream, proportional representation and farts are all touched upon by Mitchell's unremitting laser of chit-chat, as he negotiates a path between the commercialisation of Christmas and the true spirit of Halloween.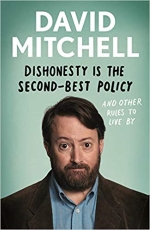 This is the perfect Christmas gift!
The signing is free to attend but booking is essential to be guaranteed a place in the queue. Please arrive by 4.45pm. Please note David will only be signing books bought from Heffers.
If you are unable to attend but would like to request a signed copy, please send an email via the 'contact' button on this page.
Like this? See a full list of our forthcoming events by clicking here.