Description
THIS EVENT IS NOW FULLY BOOKED.
Heffers is delighted to welcome UK artist Charlie Mackesy to sign copies of The Boy, The Mole, The Fox and The Horse - his new book which serves as a beautiful reminder of the most important things in life.
A book of hope for uncertain times. Enter the world of Charlie's four unlikely friends, discover their story and their most poignant life lessons. Charlie's first book includes his most-loved illustrations and new ones too. The conversations of the boy, the mole, the fox and the horse have been shared thousands of times online, recreated in school art classes, hung on hospital walls and turned into tattoos.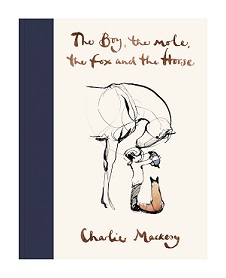 Artist Charlie Mackesy has been a cartoonist for The Spectator and a book illustrator for Oxford University Press. He has collaborated with Richard Curtis for Comic Relief, and Nelson Mandela on a lithograph project, 'The Unity Series'. His first exhibition for The Boy, the Mole, the Fox and the Horse was in London in November 2018. Charlie lives in South London with his two dogs.
The signing is free to attend but please do book a ticket to help us with planning. Charlie will only be signing copies of the book that have been purchased from Heffers. 4 copies max. per customer, whilst stocks last.
Like this? See a full list of our forthcoming events by clicking here.