Description
The activity is now fully booked. Those who do not have a ticket are still welcome to attend for the book signing.
Come and celebrate World Book Day at Heffers with Zeb Soanes and James Mayhew, as they visit with their book, Gaspard the Fox!
This enchanting and humorous picture book celebrates urban foxes and their relationship with the other animals and humans with whom they share the city. A warm-hearted story about friendship and being accepted for who you are. The first in a series of urban adventures with Gaspard and his friends by the broadcaster Zeb Soanes and best-selling illustrator James Mayhew.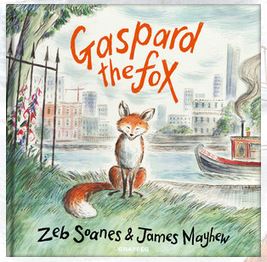 Did you know: Gaspard is a real fox! One day he appeared outside Zeb's home. It was magical to meet a wild animal in the middle of the city. It visited every night after that and everyone agreed it was the handsomest fox in London. Zeb started to write about its adventures and now people all over the world send messages to Gaspard.
Zeb and James will be telling us more about him, running a drawing workshop, and signing copies of the book.
It's free to come along but booking is essential as places are limited. Tickets can be booked through this page, by calling 01223 463200 or in person at Heffers bookshop.
Like this? See a full list of our forthcoming events by clicking here.