Description
THIS EVENT IS NOW FULLY BOOKED.
Heffers bookshop and Cambridge Union Society are pleased to present: How Democracy Ends - in conversation with David Runciman.
Democracy has died hundreds of times, all over the world. We know what that looks like: chaos descends and the military arrives to restore order, until the people can be trusted to look after their own affairs again. Often, that moment never comes, but there is a danger that this picture is out of date. Until very recently, most citizens of Western democracies would have imagined that the end was a long way off, and very few would have thought it might be happening before their eyes as Trump, Brexit and paranoid populism have become a reality. Are we looking for a better way of doing politics, or are we looking for something better than politics?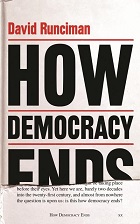 Join David Runciman, one of the UK's leading professors of politics, as he talks to Professor John Naughton about his new book How Democracy Ends, which surveys the political landscape of the West, helps us to recognise the signs of a collapsing democracy and advises us on what comes next. After the discussion, Professor Runciman will be signing copies of his book, which will be available to purchase at the event.

Tickets for the evening are priced at £5 and can be purchased through this page, by calling 01223 463200 or in person at Heffers bookshop. Please note that tickets are not refundable.
Cambridge Union Society members should book their tickets in advance by clicking here.

Click here for a venue map.
Like this? See a full list of our events here.