Description
THIS EVENT IS NOW FULLY BOOKED. IF YOU WOULD LIKE TO BE ADDED TO THE WAITING LIST FOR TICKETS, PLEASE EMAIL EVENTS@HEFFERS.CO.UK
IF YOU WOULD LIKE TO PRE-ORDER A COPY OF THE BOOK, TO BE COLLECTED FROM 31ST JULY ONWARDS, YOU CAN STILL DO SO HERE OR BY COMING INTO THE SHOP.
Muggles! Join us at Heffers to celebrate the release of Harry Potter and the Cursed Child Parts I and II:

We will be opening at 9pm on Saturday, 30th July for activities such as wand-decorating and a Harry Potter quiz. Dressing up is mightily encouraged and we have a prize for the best costume!

Based on an original new story by J.K. Rowling, Jack Thorne and John Tiffany, a new play by Jack Thorne, Harry Potter and the Cursed Child, is the eighth story in the Harry Potter series and the first official Harry Potter story to be presented on stage. The play will receive its world premiere in London's West End on 30th July 2016.
You can pre-order a copy of the book and get £5 off here. If you decide not to pre-order, you will be able to get a copy on the night but with £4 off. Whichever option you choose, the new book will ONLY be released into your eager hands at the Witching Hour: MIDNIGHT!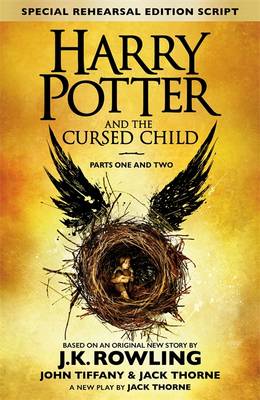 Tickets for this event are free but places are limited. If you would like to attend, it's very important that you register through this page!
If you have any questions, please send an email using the 'contact' button below.
See you on the night!