How To Academy presents... Fully Human – A New Way of Using Your Mind | Steve Biddulph
About this event
At the peak of a lifetime's work, one of the world's best-known psychotherapists and educators joins How To Academy to show us how we can be more alive, more connected.
What if there were parts of our minds which we never use, but if awakened, could make us so much happier, connected and alive? What if awakening those parts could bring peace to the conflicts and struggles we all go through?
From the cutting edge, where therapy meets neuroscience, Steve Biddulph joins us to explore the new concept of 'supersense' – the feelings beneath our feelings – which can guide us to a more awake and free way of living every minute of our lives.
One of the world's best known family therapists and an expert in parenting now applying his insights to help all of us, whatever our stage of life, Steve will draw on deeply personal stories from his own life, as well of those of his clients, and from the frontiers of thinking about how the brain works with the body and the wisdom of the `wild creature' inside all of us.
Praise for Steve Biddulph's Fully Human:
'Another wise offering from Steve Biddulph that manages to be both practically helpful and inspiring. He encourages us to tune into our felt selves as well as to connect with a wider sense of belonging. A lovely book.' - Sue Gerhardt, author Why Love Matters
'A kind and encouraging book, as well as being a helpful and essential tool for navigating modern life. I highlighted various sections and read lots of bits aloud.' - Cathy Rentzenbrink, author of Dear Reader and The Last Act of Love
'This very personal book provides great insight and depth to help us not only survive but to heal, grow and move forward with greater clarity and purpose. I loved this book and found it enormously helpful as I continue to navigate the twists and turns of my life.' - Rosie Batty, campaigner and founder of The Luke Batty Foundation
'Fully Human gives a name and structure to something that we all experience, but mostly ignore; our supersense. As I turned each page I could physically feel a reconnection to this long lost intelligence. This book is rocket fuel to your senses.' - Andy Ramage, author of The 28 Day Alcohol-Free Challenge and Let's Do This!
Steve Biddulph is one of the world's best known parent educators who lectures worldwide on parenting, and boys' education. A psychologist for forty years, he is now retired but continues to write and teach. His books, including The Secret of Happy Children, Raising Boys, The New Manhood and 10 Things Girls Need Most are in four million homes and over thirty languages. They have influenced the way we look at childhood and especially the development of boys and men.
Matthew Stadlen is a broadcaster, writer and regular How To Academy host. Previously he was an LBC presenter, wrote The Matthew Stadlen Interview for the Telegraph and presented the TV series Five Minutes With and On The Road With for the BBC. He is a birdwatcher and photographer, and his book How To See Birds is out now. Twitter: @matthewstadlen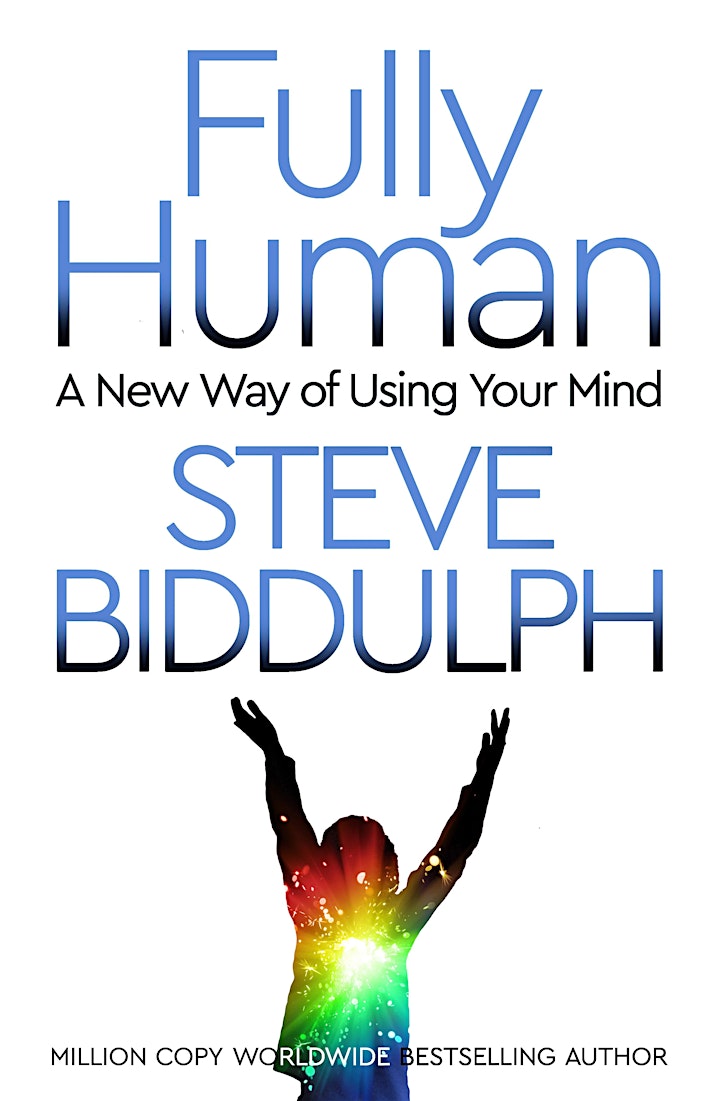 Organizer of Fully Human – A New Way of Using Your Mind | Steve Biddulph
How To Academy is an organisation for people who think big. From Nobel laureates to Pulitzer Prize winners, we invite the world's most influential voices to London to share new ideas for changing ourselves, our communities, and the world. 
We host leading artists and thinkers in an unrivalled programme of public talks, debates and conferences – from Yuval Noah Harari to Natalie Portman, Emma Watson to Eric Schmidt.
We help businesses discover transformative new strategies, anticipate the future, and inspire their staff with keynotes and workshops by internationally-acclaimed economists, psychologists, politicians, and thought leaders. 
We offer masterclasses live and online with experts in essential twenty-first century skills, like leadership, public-speaking, decision-making and resilience. And we make books, podcasts and films to share insight and innovation around the world.