Sales Have Ended
Registrations are closed
Thank you for booking a ticket to attend this workshop on Wednesday the 26th of July. We will send out a full programme closer to the date. If you have any queries or concerns please don't hesitate to contact us ( R.Crean@bath.ac.uk ) Thank you again Rory, Hannah and Dragana
Sales Have Ended
Registrations are closed
Thank you for booking a ticket to attend this workshop on Wednesday the 26th of July. We will send out a full programme closer to the date. If you have any queries or concerns please don't hesitate to contact us ( R.Crean@bath.ac.uk ) Thank you again Rory, Hannah and Dragana
Description
This student led workshop will provide GW4 postgraduates with the opportunity to learn from experts across the GW4 about key biological techniques. This workshop will provide an A-Z to guide to proteins, starting from the beginning with expression and purification, and ending with various analysis techniques.
The following topics will be covered:
Dr Susanne​ Gebhard (Bath) – Aseptic Techniques for Microbiology
Dr Emanuele Kendrick (Bath) – Protein Expression
Alex Obiakor (G.E. Healthcare) – Protein Purification
Dr Chris Pudney (Bath) – Protein Handling and Aggregation
Dr Ian Brewis (Cardiff) – Protein Mass Spectrometry
Dr Kapil Gupta (Bristol) - Structural Analysis of Macromolecular Complexes
Prof Christian Soeller (Exeter) – Optical Super-Resolution Microscopy - Physics based Methods for Biology (Plenary Lecture)
The day will begin at 10:00 am and end at 18:15 pm; slides for all the taught sessions will be made available online afterwards. Lunch, dinner and refreshments will be provided throughout the day. After dinner, a poster session (all attendees are invited to present) will then be held, with the event capped off by a plenary lecture by Prof. Christian Soeller (Exeter). The event is free to attend to any GW4 postgraduates. Travel bursaries are available (please see table below).
We have a maximum capacity of 30 attendees and have therefore limited the number of tickets available to each venue to 8. If your institution has no tickets left please contact us, and we will try to accommodate you. The travel bursary follows GW4 guidelines with students from each university able to claim the amount depicted by the table below (a receipt will need to be provided on the day).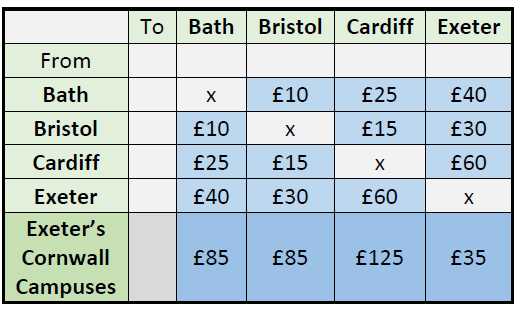 If you have any further questions please don't hesitate to contact us at: R.Crean@bath.ac.uk