Description
Step inside Bloomsbury Publishing as we bring together four extraordinary women to reveal the unspoken challenges of film funding and distribution and if pitches and screenplays written by women are being overlooked by those who hold the purse strings.
In the wake of the Weinstein scandal, #MeToo and #TimesUp, how can the film industry better support women in making their films at all levels of the industry, from actors and directors to producers, writers and technicians? Our four panellists know intimately how decision-makers view works created by women, having worked for many of biggest names, publications and brands in the film industry in the UK and abroad and they're ready to talk about it.
We believe these four are perfectly placed to share their advice and guidance on how to break into one on the toughest industries for women right now. And at this event, we celebrate the launch of Bloomsbury's own contribution to better supporting film students, academics and film-makers with our dynamic new digital resource Screen Studies!
Funding Women in Film event panel:
• Lizzie Francke, Senior Development & Production Executive at the BFI's Film Fund
• Anna Bogutskaya, Director, Underwire Festival http://www.underwirefestival.com/
• Dr. Shelley Cobb, Associate Professor, Film, University of Southampton
• Pamela Hutchinson, Freelance writer & film critic | Sight & Sound, Guardian, Radio 4, Little White Lies (chair)
Date: Tuesday, May 1st
Timing: Doors open and complimentary drinks from 6pm. Our panel in conversation, followed by Q&A with audience members, from 6:30pm to 8:00pm.
Venue: Bloomsbury Publishing, 50 Bedford Square, WC1B 3DP
Nearest station: Tottenham Court Road
Tickets: £15 for adults / £10 students and concessions
This event is hosted by Bloomsbury Institute, a division of Bloomsbury Publishing. Please read our Event Terms and Conditions carefully as by buying a ticket to this event, you confirm that you accept these terms and condition and that you agree to comply with them, alongside the Eventbrite terms and conditions.
***
Lizzie Francke is a Senior Production and Development Executive at the BFI's Film Fund. She was formerly a Development Producer for the UK Film Council's Development Fund where she oversaw the First Feature programme, out of which was developed such projects as The Arbor and Gone Too Far. Projects that she has exec produced while she has been at the BFI include '71, Exhibition, The Selfish Giant, X+Y, The Duke of Burgundy and The Riot Club. She started her career as a film critic in the early 1990s contributing to the Guardian, The Observer, Sight and Sound and Screen International amongst others. During this period she also wrote the book Script Girls: The History of Women Screenwriters in Hollywood (1994, BFI Publishing). In 1997 she was appointed Artistic Director of the Edinburgh International Film Festival and in her five years there re-established the festival as a key showcase for British cinema. She moved into production in 2001, first for Little Bird where she co-produced Marc Evan's thriller Trauma, then as Executive Producer for EM Media where her credits include Control, And When Did You Last See Your Father, Magicians, Complete History of My Sexual Failures and Better Things. She also acted as the British co-producer on Vinyan, the second film from the cult Belgian director Fabrice du Welz which was released in 2009.
Anna Bogutskaya is a film programmer, event producer and marketeer with a background in photography, journalism and film. After working at Pedro Almodovar's production house El Deseo, she relocated to London to work in the BFI festivals team and delved head-first into the world of film and event programming. After running the UK's largest online filmmaker's network, Shooting People, Anna is now programming for the BFI, where amongst other things she programmes the Woman With A Movie Camera strand, runs BAFTA-recognised Underwire Film Festival and co-founded horror film collective The Final Girls. She retweets pictures of cats and film news at @annabdemented
Shelley Cobb is Associate Professor of Film at the University of Southampton. She is currently the Principal Investigator on the AHRC-funded project 'Calling the Shots: women and contemporary film culture in the UK, 2000-2015', author of Adaptation, Authorship and Contemporary Women Filmmakers (Palgrave-Macmillan 2015) and co-editor, with Neil Ewen, of First Comes Love: Power Couples, Celebrity Kinship and Cultural Politics (Bloomsbury 2015).
Pamela Hutchinson is a freelance writer, critic and film historian, specialising in silent cinema and women's film history. She contributes regularly to publications including Sight & Sound and the Guardian as well as appearing on Radio 4. She is the founder and editor of silent cinema website SilentLondon.co.uk and the author of the BFI Film Classic on G. W. Pabst's Pandora's Box (1929).
***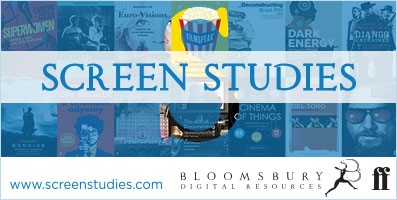 Screen Studies is a dynamic new learning and research platform taking users from script to screen and beyond - offering integrated and diverse content to support moving image studies.
> An expanding range of iconic and contemporary screenplays from Bloomsbury and Faber & Faber, presented in industry standard studio format: including Dunkirk, The Grand Budapest Hotel and The Big Lebowski
> Coverage of works by leading film directors such as Wes Anderson, Joel and Ethan Coen, and Christopher Nolan providing insight into professional and creative practice.
> More than 240 critical and contextual eBooks (on launch) from Bloomsbury and Faber & Faber covering the major genres, regions, people, movements and styles, and history
> An illustrated timeline of cinema history, to enhance contextual understanding and provide links to related content elsewhere throughout the resource.