Description
Fundraising and Philanthropy Series
Seminar 4: Legacy Giving
27th November 2013, The Pitt Rivers Museum, Oxford
Participants are invited to arrive from 10.00 for coffee. The day will start promptly at 10.30 and will include a networking lunch. We aim to finish the day by 15.45.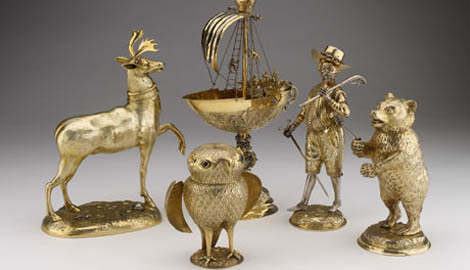 Session outline:
In recent years the museum sector has gone through a series of lasting changes to funding structures which has led to increased competition for available funds. Museums need to get better at asking for money and focus their attentions on increasing and diversifying funding sources. This means that the people working in museums need to be equipped with the right skills and competencies to do the job well.

Legacy Giving, is the fourth seminar in the ASPIRE fundraising and philanthropy series of events which have been designed to focus in on specific areas of fundraising to spark ideas, share and develop knowledge and increase confidence. In this seminar we will look in detail at how museums can develop effective legacy-giving schemes.

Developing legacy schemes can seem complex and difficult – but it doesn't have to be. In America, the level of legacy-living is three times higher than in the UK – so what is stopping us from being more successful?

As the availability of public funding diminishes museums need to be resourceful and look for alternative funding streams that help us develop resilient, sustainable organisation. We need to become more sophisticated in how we harness the generosity of people and get better at asking for money. Keith Nichol, Head of Philanthropy and Fundraising at the Department for Culture, Media and Sport recently tweeted;
'If you don't have a legacy scheme, I would be sceptical of any claim that you're taking fundraising and donor cultivation seriously'.

Through case studies and facilitated conversations, participants will explore and share top tips on developing legacy-giving schemes. Discussions will include an overview of a range of areas including:
• The pros and cons of legacy fundraising
• Why people leave legacies
• How to develop a legacy strategy
• Tactics for success
• Creating an action plan
The day will be facilitated by Lucy Shaw (Oxford ASPIRE Manager) and Claire Routley (Consultant - Legacy Fundraising). They will be joined by Abigail Wilde (Development Manager, Individual Giving - Royal Pavilion and Museums, Brighton and Hove) and Elaine Bentley (Head of Development - Pallant House Gallery, Chichester), who will provide illuminating case studies.
This event is for decision makers working in medium to large museums.
Bios:
Lucy Shaw has been working with Oxford ASPIRE since August 2012. She has worked in the museums sector since the early 1990's, firstly as a social history curator in the East Midlands but for the last 10 years she has worked as a consultant specialising in workforce and organisational development. Lucy is a trained facilitator and coach.
Claire Routley has worked in fundraising for ten years, for charities ranging from a local hospice to Age UK. She is a full member of the Institute of Fundraising and a Chartered Marketer. She is also a tutor and examiner on the Institute of Fundraising's certificate and diploma courses. In addition to her professional experience, Claire hold's the world's first PhD in Legacy Marketing. Her thesis discusses how people's life experiences have contributed to their legacy decision making, and how they want to be remembered in the future. Claire has spoken on legacies at academic and practitioner conferences nationally and internationally.
Elaine Bentley has worked at Pallant House Gallery for the past 15 years and in that time have been responsible for a major capital appeal raising £10.8million to build a contemporary new wing onto the Grade 1 listed Queen Anne townhouse in Chichester. Since re-opening she has been responsible for all aspects of the fundraising at the Gallery including; Trusts and foundations; Arts Council England and other major grants; Corporate and individual sponsorship for both exhibitions and the community programme; maintaining strong relationships with major donors and patrons; developing and implementing a Legacy campaign at the end of 2010 and continuing awareness of the need for legacies; the Gallery's endowment fund; and organisation of large-scale fundraising events. Elaine was also responsible for the Gallery's application to the Heritage Lottery Fund in 2012 which resulted in the Gallery being awarded a £1million HLF Catalyst Endowment Match-funding Award.
Abigail Wilde: As Development Manager for Individual Giving at The Royal Pavilion & Museums Foundation, Abigail has helped increase its membership from 900 to 4500 members, as well as introducing a successful patrons' programme. Abigail's latest mission is launching the charity's first legacy giving programme, which she hopes will be a success, as she'll be sharing her experiences of planning, production and (fingers crossed) profit! Abigail has previously worked in campaigning and PR roles for Shelter, ActionAid and Girlguiding UK.
How to book:
This session is free of charge. Places are limited and will be given on a first-come-first-served basis. Due to the popularity of events we are only able to allocate one place per organisation.
If you need any further information please contact:
Ellena Smith, Oxford ASPIRE Assistant | email: aspireevents@museums.ox.ac.uk or phone: 01865 613784
Organizer of Fundraising and Philanthropy Series: Legacy Giving
Oxford ASPIRE is a consortium of the four Oxford University Museums and the Oxfordshire County Council Museums Service
It is one of 16 Major Partner Museums nationwide funded by Arts Council England as part of their Renaissance programme to support regional museums.
Contact: aspire@museums.ox.ac.uk | 01865 613783 | @OxfordASPIRE
Website: www.oxfordaspiremuseums.org