Event to support the Zapatistas on their travels within Wales, Ireland, Scotland and England (WISE islands).
About this event
With the arrival of the Zapatista delegation to London getting closer, we have organised this event to share our excitement about this historic moment.
We will also use this event to raise funds to support the Zapatistas - or compas, as we like to call them - in their travels across the WISE islands - Wales, Ireland, Scotland and England.
Specifically, the funds will be used for the following purposes:
1. Paying for accommodation, transport, and food for the Zapatista delegation.
2. Covering Covid-related expenses to keep the delegation safe, including Covid tests and PPE.
3. Paying for their journey back to mainland Europe.
Any extra funds will be donated to support Zapatista communities in Chiapas, Mexico.
Join us for an afternoon packed with fun activities, learn more about the Zapatista struggle, and don't miss this opportunity to meet others who share their desire to build a fairer and better world.
Activities:
From 3:00 to 5:30 - Food and drinks.
From 3:00 to 4:15 - Screen printing workshop. Bring your own tee or tote bag (preferably in light colours) and decorate it with Zapatista motifs! (If you can't bring your t-shirt or bag we'll be selling some for an affordable price). This activity is suitable for children.
From 4:15 to 5:30 - Screening of short films about the Zapatista resistance. Afterwards, we'll have an informal conversation on the Zapatista political project and the importance of the Journey for Life: What are they fighting for? Why are they coming? What struggles do we have in common?
We will also have an arts and crafts sale! Come and get your posters, stickers, books, keyrings, coffee beans, and much more!
Hosted in solidarity by Cooperative Town!
#LaGiraZapatistaVa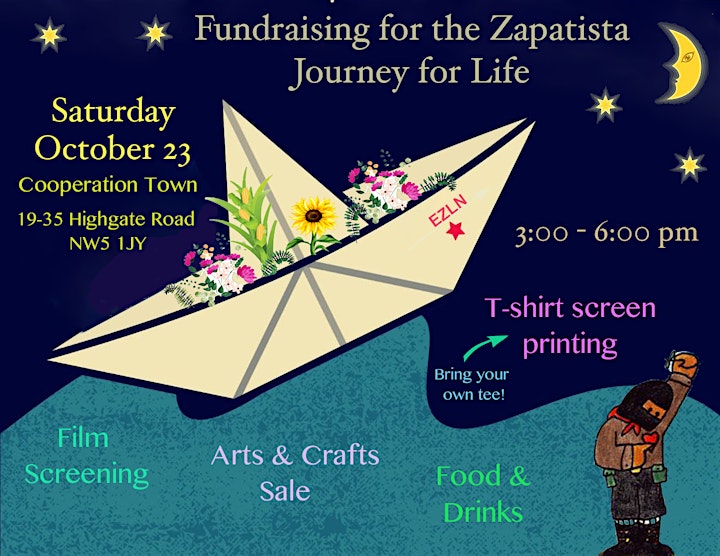 Organiser of Fundraising for the Zapatista Journey for Life