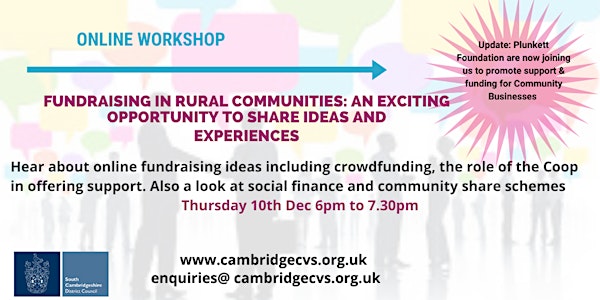 Fundraising in Rural Communities: Interesting speakers & ideas
For community groups particularly in South Cambridgeshire and other rural areas
About this event
We are running an evening session aimed particularly at community groups working in rural areas. We will look at successful online fundraising ideas and other ways of raising finance beyond grant funding. This is an opportunity to hear from other community groups about:
• Running a successful crowdfunding campaign
• Hosting an online community fundraiser including raffles and competitions
The Coop will join us to talk about their role in creating local forums to share resources and support communities to make things happen. We will also touch on social finance and community share schemes which some communities have been able to utilise to save crucial community assets.
The session is a chance to hear what others have done, ask questions, share your own ideas and experience and influence the content of future CCVS sessions. The event is aimed particularly at groups in South Cambridgeshire and other rural communities across Cambridgeshire.
6pm Intros
6.10 to 6.30 Coop pioneers and forums – Presentation Naomh Campbell and questions
6.30 to 6.50 Crowdfunding - Intro to crowdfunding and interview with Oscar Swift Comberton Cricket Club about their project
6.50 to 7.10 interview with Louise Cobb Orchard Trust about taking their fundraising event online
7.10 to 7.30 Plunkett Foundation - Presentation by Aimee Evans about their support for community business
By booking on this course you agree to the CCVS cancellation policy
 Registration is usually limited to two bookings per member organisation please contact CCVS if more spaces are required.
 If you have any problems please contact us on 01223 464696 or email enquiries@cambridgecvs.org.uk