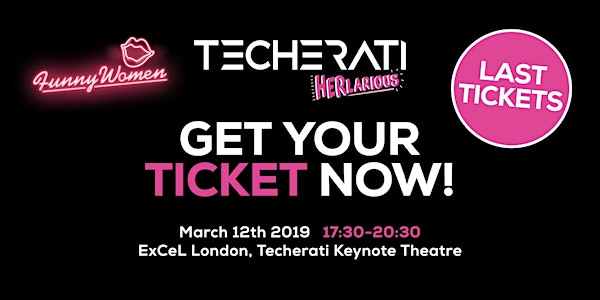 Funny Women & Techerati present HERlarious
Location
Excel London
Royal Victoria Dock, 1 Western Gateway
London
E16 1XL
United Kingdom
Techerati and Funny Women present workshops, a panel discussion and stand-up comedy on diversity and inclusion in technology.
About this event
Funny Women and CloserStill Media present
Techerati HERlarious
Humour and confidence for women in tech.
Technology has always been associated with masculinity. It's time to change the narrative and acknowledge the contribution that women have made to technological advancement. To celebrate International Women's Day 2019, CloserStill Media has joined forces with leading comedy experts Funny Women, to create Techerati HERlarious, an immersive event comprising of workshops, a panel discussion and comedy.
Funny Women has been helping women to perform, write and do business with humour since 2002, and the aim of Techerati HERlarious is to help boost female confidence and improve visibility and impact for women in the workplace, business and beyond.
Explore how to express your ideas more confidently and freely using some of the tried and tested tricks of the comedy trade, and get some insights and inspiration to build your career, start a business or reinvent yourself! Get valuable advice on how to 'perform', write great copy, bring your ideas to life and develop techniques to communicate more effectively. We will show you how to create your own 'material', tell your story and become more confident and memorable.
Men are welcome to attend and join in the workshops.
Participants are invited to take part in two of the four workshops on the following themes:
Stand UP to stand OUT (with Lynne Parker)
Can you feel it?!: Get your business mojo running (with Tracey Barr)
Speak up in public: How to resurrect yourself when you 'die' on stage (with Rachel Creeger)
Owning your diversity (with Mariana Feijó and Becky Singh)
TIMETABLE
17:30-18:00: Registration and introduction, drinks, canapes and networking
18:00-18:45: Workshop round 1
18:45-19:30: Workshop round 2
19:30-19:35: Comfort break
19:35-20:10: Panel discussion on 'What impact do women have on the world of technology?' (with Genevieve Leveille, Sarah Williams-Gardener, Kirsty Cooke, Deb Leary and Richard Freeman)
20:10-20:30: Headline Fun - Keynote with Deborah Leary
Techerati HERlarious is part of the UK's biggest technology event - Cloud Expo Europe, DevOps Live, Cloud & Cyber Security Expo, Big Data World, AI Tech World, Data Centre World, Smart IOT and Blockchain Tech World - two day free entry trade shows in London ExCel on March 12th and 13th 2019.