Fur Coats and Overalls: clothing and munition workers in World War One
A talk looking at working class women in World War One with a particular focus on representations of their role in munitions.
About this event
By 1917 the First World War was affecting the British Public's morale but munition production reached its peak in this year.
Profiting from the war effort by company owners or female munition workers, in particular was discussed in vociferously disapproving tones.
Cartoons appeared in publications such as Punch ridiculing the class, manners and extravagant taste of those working in munition production.
Towards the end of the war when women were being 'laid-off' in favour of the returning soldiers editorials published in the Carlisle press described former munition workers attending employment offices dressed in fur coats.
This talk will discuss some of the illustrations and attitudes towards this group of working class women whilst considering whether their purchases did reflect a new financial security or if their future was actually more precarious.
Biographical information about the speaker:
Jenny Richardson's AHRC funded doctoral thesis Female Munition Workers' Workwear in Britain, 1914-1918: A Visual and Material Cultural Analysis focused on her own collection of original First World War postcards, photographs and cartoons. Her research revealed that too little is known about the design, manufacturing and retailing supply chains for women's workwear during this period. She is fascinated in the stories communicated through dress, whether of individuals, political ideas, gender divisions and the complex attitudes of society towards the inherent meanings and interpretations of dress. Jenny is currently teaching at Middlesex University and UCA and preparing articles and her monograph proposal.
You can read more about her research here: https://cartoonscloseups.blog/
Picture below:
Artist unknown. The Dornock Souvenir Magazine, 1919, pp. 44-45. Courtesy of The Devil's Porridge Archives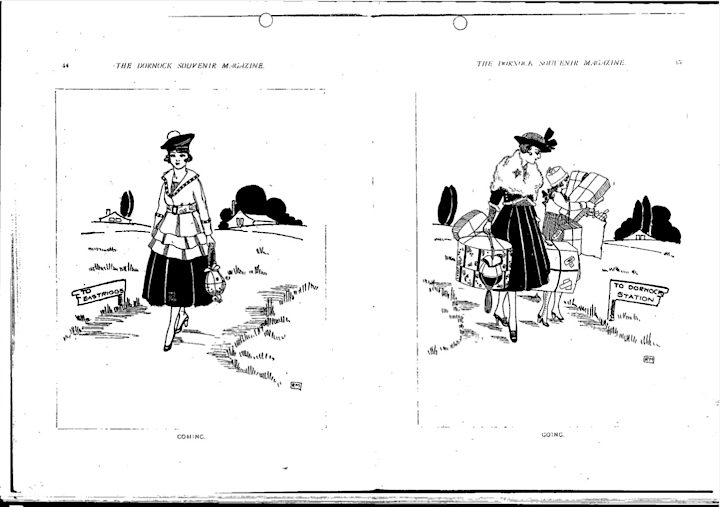 Organiser of Fur Coats and Overalls: clothing and munition workers in World War One

The Devil's Porridge Museum commemorates HM Factory Gretna, the largest munitions factory in the world during the First World War and explores the stories of the Solway Military Coast during the Second World War and beyond. The museum uses artefacts, information panels, film and audio, photographs and oral histories to bring the fascinating history of this Border area to life!