About this Event
In the bicentenary year of George IV's accession, the Furniture History Society Symposium will present new lines of research on the King's long career as a patron and collector of furniture and furnishings. It aims to re-examine the driving forces behind his activities in this field, relationships with makers, activities as a collector, as well as his contemporary impact and longer-term legacy.
10.00-10.25: Registration and coffee/tea
10.25-10.30: Welcome by Christopher Rowell, Chairman of the FHS, Senior Curator of Furniture, National Trust
10.30-10.35: Introduction to the day, Sir Jonathan Marsden (Chair)
10.35–11.05: David Oakey - 'Painting it and Putting Handsome Furniture Where Necessary' – George Prince of Wales's Early Furnishing of Carlton House
11.05–11.35: Rufus Bird, Surveyor of The Queen's Works of Art - Tatham & Co. at Carlton House
11.35– 12.05: Cristina Alfonsin Barreiro The Valliamys: From Clockmakers to Merchants of Luxury
12.05–12.35: Dr Diana Davis - 'Quite éblouissant': George IV and the Anglo-Gallic Interior
12.35-13.00: Q&A
--
13.00-14.00: LUNCH (Lunch will be provided for those FHS Members who have booked it in the Meeting Room at the Wallace Collection. Otherwise, there are various cafes/restaurants nearby or the Wallace Collection Restaurant.)
--
2.00–2.30: Kathryn Jones, Senior Curator at Royal Collection Trust - 'Of the Utmost Beauty and Newest Fashion', George IV and Modern Manufacturing
2.30–3.00: Dr Alexandra Loske, Art Historian, Curator & Editor - The Interior Decoration and Colouring of Brighton Pavilion
3.00–3.30: Dr Helen Jacobsen Senior Curator and Curator of 18th century French Decorative Arts, The Wallace Collection - Shared Tastes: George IV and the 3rd Marquess of Hertford
3.30–4.00: Michael Hall, Curator at Exbury House - George IV's legacy and the English Rothschilds
4.00–4.15: Q&A
4.15: Summing Up
4.15–5.00: Tea/Coffee
Attendees will also have an opportunity to see the 'The 3rd Marquess of Hertford as a collector' – a trail around the Wallace Collection galleries highlighting objects that the 3rd Marquess of Hertford collected, helping to illuminate his taste and drawing parallels with that of George IV.
Associated events:
On Friday 27 March 5.30 PM – 6.30 PM there will be a chance to see the exhibition George IV: Art & Spectacle at The Queen's Gallery led by Kathryn Jones, Senior Curator at Royal Collection Trust. Limited tickets will be made available to attendees of the Furniture History Society's Annual Symposium, on a first come, first served basis. To apply for one of these tickets, please email events@furniturehistorysociety.org.
George IV is arguably the most magnificent of British many of these works by the finest artists of the day. Bringing together Dutch and Flemish masterpieces, magnificent portraits by Sir Thomas Lawrence and Sir Joshua Reynolds, delicate French porcelain, intricate goldsmiths' work and elegant books and drawings, this exhibition will present George IV's life through the art that enriched his world.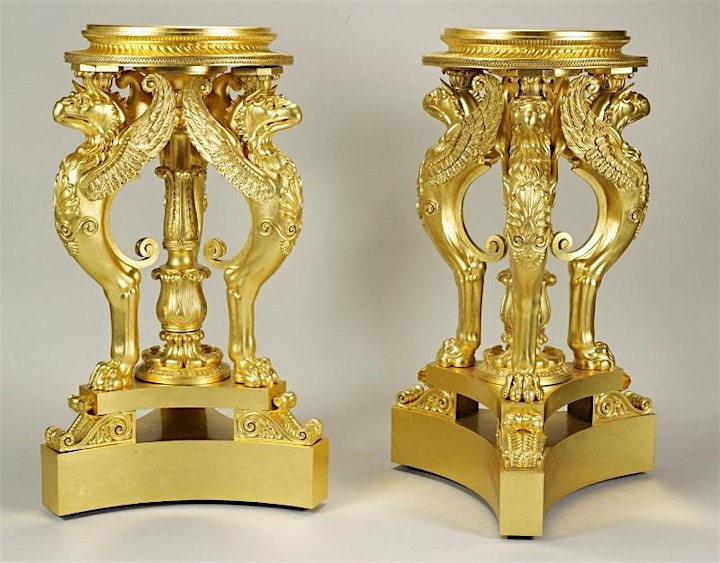 TATHAM, BAILEY & SANDERS, Pedestals c.1811, Carved and gilt wood | 99 x 68 x 68 cm (whole object) | RCIN 3202), Credit: Royal Collection Trust/© Her Majesty Queen Elizabeth II 2020