'Further Up, Further In: Going Deeper!' Education Conference for Christians
Fri 29 – Sat 30 Oct 2021: Hosted by Christian Schools' Trust and Christian Concern. An inspiring conference for Christian staff in schools.
About this event
Further Up, Further In - Going Deeper
An online conference including free follow up networking events throughout November for Christians in education.
*10% discount on bookings before 15th September with promo code CC10*
Over 300 teachers and educationalists joined us for our online conference in February. Be part of this growing movement, seeking to be distinctively Christian in schools across the UK and beyond.
In C S Lewis' The Last Battle, the call to come 'further up and further in' is made to those on the cusp of a great new adventure. As those in education with a distinctively Christian vision, we will be stirred through these events, to 'go deeper' into His plans for us personally and for those we educate. Get a flavour of some of our February events here.
Quality equipping and networking in a flexible, award winning, online platform
Incredible networking before and after the conference through the Whova™ app
Be encouraged, envisioned and equipped to serve the Lord in your school
Meet and network with other Christian teachers in your key stage or subject
Speakers for Main Events
Canon J John - International Evangelist, Broadcaster and author of 'That's a Good Question!' Apologetics for Children. J John is also speaks as a husband, father and grandfather.
Mike Beaumont - Teacher, Author & UCB broadcaster. Mike has supported several schools and has been a successful teacher, leader and school governor in the UK and abroad for nearly 50 years.
Andrea Williams – Chief Executive, Christian Concern and the Christian Legal Centre. Andrea has been involved for over 20 years in supporting Christians and Christian witness in many areas of public life. Check out the wide-ranging work which the organisation is involved in on their website, including the work in the Education area.
Steve Beegoo – Head of Education, Christian Concern; CEO, Christian School's Trust (CST). Steve has taught and led for over 25 years in state, special and independent schools.
Baroness Caroline Cox - Chief Executive of HART. Baroness Cox has supported engagement with education across the world, and is an inspiration in her love and work for the most marginalised.
Sheridan Voysey - BBC Broadcaster and Author. Sheridan is a regular contributor to BBC Radio 2's 'Pause for Thought'. He has brought inspirational encouragement at various events with education staff from Australia to the UK.
Schedule
Friday 29th October
Main Event 1
7.15 - 9.30pm 'Education and the Power of Friendship': Fun, Introduction, Networking, Biblical Encouragement & Spiritual Enrichment
Steve Beegoo: 'Going Deeper - As Teachers and Christians'
Sheridan Voysey: 'The Power of Friendship in School Settings'
Saturday 30th October
Main Event 2
9.30 - 11.30 am 'How and What Should We Teach The Children': Practical Wisdom and Challenge 
Mike Beaumont: 'Teaching Like Jesus-Communicating Faith and Truth in the Classroom'
Andrea Williams: 'What are we Teaching the Children? - Identity and Life Issues'
Afternoon Seminars: Practical and thematic talks with discussion
2 - 3pm - Seminars and Networking Groups 1: Including...
Stuart Woodburn: Teaching and Leading with Hope: Stuart is Head of a state school in Bristol seeing hope impact his community. Be inspired as to how you could also see this.
Becky Sedgewick: A Vocabulary for Sharing and Teaching authentic faith to children. Real equipping for teachers by 'Parenting For Faith' and 'The Bible Reading Fellowship'.
Roger Kiska: Legal Rights and Parental Responsibilities. Christian Concern's lead advisor on education will help leaders and practitioners understand where we stand with RSE and RE.
3.15 - 4.15pm - Seminars and Networking Groups 2: Including...
Dr Naomi Graham: 'Growing Hope' for those with SEND. Pupils with SEND, and their families, need personal support and guidance. Join Dr Naomi Gray from 'Growing Hope', who will explain the kind of support that can be given from a skilfully developed Christian approach.
Matt Pearson: Online Safety and Godly Wisdom. As children reach the junior years, online safety is so important. Come hear current practitioner Matt Pearson, consider how godly wisdom can be applied to this area of teaching.
Tim Dieppe: As teachers and leaders we can believe that the curriculum can have many 'neutral' elements. But can curriculum be neutral? Join Christian Concern's Tim Dieppe as he explores 'The Myth of Neutrality in School Curriculum'
4.30 - 5.30pm - Seminars and Networking Groups 3: Including...
Rev Dr Joe Boot: Teachers need to understand how secondary education is 'progressing' and yet returning to pagan beliefs. Join the Ezra Institute's Joe Boot for an in depth analysis in 'Waking up to the 'progressive': Pagan Culture in Secondary Education'
Lizzie Nesbitt: 'Becoming- A journey in developing curriculum'. Teachers and leaders' Christian approaches to curriculum and pedagogy are so important. Join Lizzie Nesbitt, Headteacher of Emmanuel School Oxford, as she explains how they are developing an approach inspired by Charlotte Mason and the Classical Model.
Main Event 3
7.15 - 9.30pm - 'Reaching Out': Stirring vision for our work and expectation of seeing God move. Including announcements of November events.
Canon J John: In conversation with J John 'Natural Evangelism with Children: Praying, Caring and Sharing'
Baroness Cox: 'Global Educational Inspiration: Inspiring Pupils About God's Activities in the Earth'
Throughout November...
Additional seminars and networking groups through November using the Whova™ platform. This platform will allow you multiple ways to connect with others before and after the event.
These events will include a sequence of Thursday twilight sessions from 4.15-5.45 exploring a variety of Christian curriculum approaches on Thursday 4th, 11th and 18th November.
'Secondary MFL Undoing Babel' with Carol Jackman, will now be held on Wed 10th November 7.30-8.30pm
Subsidised Price
£40 per person before 20 July 2021, £50 thereafter
£20 per individual 'Main Event' on Friday and Saturday
Discount available through contacting CST office should you have challenging financial circumstances: office@christianschoolstrust.co.uk
Note: CST member schools should book for staff members through the CST office. Preferential rates are available to CST member schools and those who attended the February event. Email office@christianschoolstrust.co.uk for details.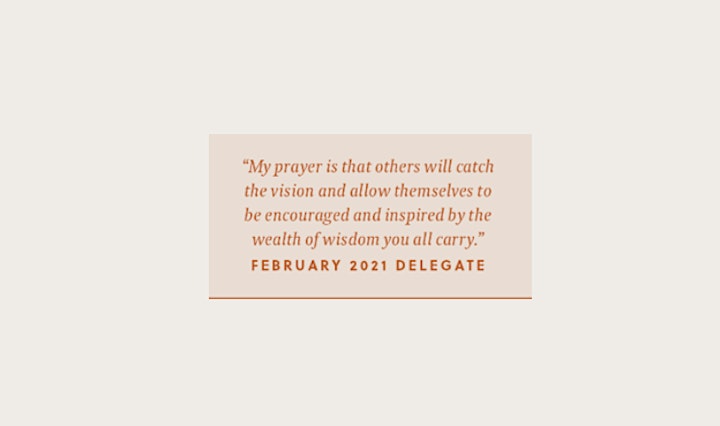 If you would like to exhibit, or would like more information, please contact Thérèse Tinnion: office@christianschoolstrust.co.uk, 01905 759740
#furtherupfurtherin2021
Date and time
Location
Refund policy
Organiser of 'Further Up, Further In: Going Deeper!' Education Conference for Christians