About this Event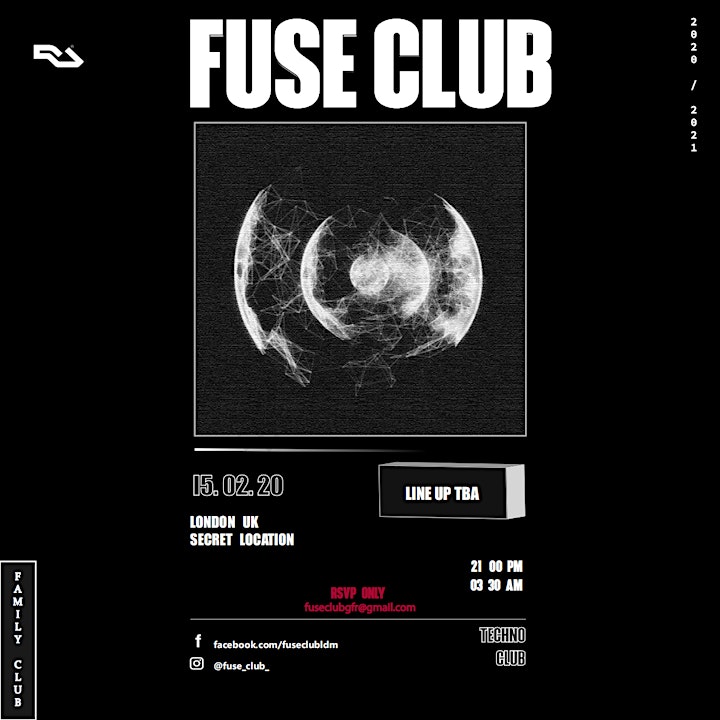 FUSE CLUB: 𝗙𝗥𝗘𝗦𝗛, 𝗩𝗜𝗕𝗥𝗔𝗡𝗧 𝗧𝗘𝗖𝗛𝗡𝗢 𝗦𝗢𝗨𝗡𝗗𝗦 🛸
🎫 𝗧𝗜𝗖𝗞𝗘𝗧 𝗜𝗡𝗙𝗢𝗥𝗠𝗔𝗧𝗜𝗢𝗡
+ RSVP is compulsory+ FREE RSVP (SOLD OUT): https://bit.ly/2YJR2NR
+ Resident Advisor: https://www.residentadvisor.net/events/1333631
+ https://www.fatsoma.com/fuse-club
- 𝟭𝟴 𝗼𝗻𝗹𝘆. 𝗡𝗼 𝗜𝗗, 𝗻𝗼 𝗘𝗻𝘁𝗿𝘆 𝗣𝗼𝗹𝗶𝗰𝘆 -
📡 𝗝𝗢𝗜𝗡 𝗧𝗛𝗘 𝗖𝗟𝗨𝗕
https://bit.ly/2Y630gCh
ttps://www.mixcloud.com/fuse_club_/
https://www.instagram.com/fuse_club_/
---------------------------------------------------------------------------------------
𝗟𝗜𝗡𝗘-𝗨𝗣 (𝗧𝗕𝗔)
+ FUSE CLUB RESIDENTS DEBUT
+ Special headline set from France
📍 𝗟𝗢𝗖𝗔𝗧𝗜𝗢𝗡
𝗡𝗢𝗥𝗧𝗛 𝗟𝗢𝗡𝗗𝗢𝗡
+ The exact location will be kept secret until hours before the event.
+ All ticket-holders will receive the exact location via email.
+ 𝗜𝗳 𝘆𝗼𝘂 𝗽𝘂𝗿𝗰𝗵𝗮𝘀𝗲𝗱 𝘆𝗼𝘂𝗿 𝘁𝗶𝗰𝗸𝗲𝘁 𝗼𝗻 𝗥𝗘𝗦𝗜𝗗𝗘𝗡𝗧 𝗔𝗗𝗩𝗜𝗦𝗢𝗥 𝗼𝗿 𝗬𝗢𝗨 𝗗𝗢𝗡'𝗧 𝗛𝗔𝗩𝗘 𝗢𝗡𝗘, 𝗲𝗺𝗮𝗶𝗹 𝘂𝘀 𝘁𝗼 𝗳𝗶𝗻𝗱 𝗼𝘂𝘁 𝗳𝘂𝘀𝗲𝗰𝗹𝘂𝗯𝗴𝗳𝗿@𝗴𝗺𝗮𝗶𝗹.𝗰𝗼𝗺**
----------------------------------------------------------------------------------------
FUSE CLUB (𝗟.𝗗.𝗠.) is a young techno club-night curated by the London music label GFR.FUSE CLUB aims to establish a self-defined concept of techno music with each installment.
Remaining faithful to its label's, GFR, philosophy, the club's highest priority is to explore; whilst tackling prejudices and preconceptions surrounding techno music.
FUSE CLUB's purpose is to bring fresh and interesting sounds to the dancefloor while embracing the richness and flexibility of the genre.
Manifesto: "We are constantly searching for new angles, perspectives and ways of understanding music. We firmly support new local and international talent and celebrate diversity. It is all about creating a space where we can all learn, create, and where "the sound" is the true protagonist. We welcome humans from all races, colours, gender identities, sexes and backgrounds to travel through the space of techno sounds with us at FUSE CLUB".
#allhumanswelcome
📡 𝗝𝗢𝗜𝗡 𝗧𝗛𝗘 𝗖𝗟𝗨𝗕
https://bit.ly/2Y630gC
FUSE CLUB: Techno Club
Curated by GFR