Location
White/Rock Glass Studio
11 Whiterock Road
Newtownhamilton
Newry
BT35 0AW
United Kingdom
Sales Have Ended
Ticket sales have ended
Sales have ended for this session but please follow my face book page for upcoming events
Full Day Creative Experience at White Rock Glass Studio creating a bespoke piece of fused glass, inspired by the ancient language of Ogham.
About this event
Reconnect with your inner creative in this fully immersive, fused glass experience at White Rock Glass Studio with professional visual artist Tracey Mc Verry.
Surrounded by the wild and dramatic scenery of the Fews Mountains, once the haunt of robbers and highwaymen, Tracey welcomes visitors to her safely nestled 5th generation family home and glass studio, overlooking the National Trusts ancient Ballymoyer Woodland.
Here you will feast your senses whilst creating your own bespoke piece of fused glass artwork inspired by OGHAM in a professional artists studio.
Ogham (pronounced 'oh-am') is an ancient Celtic alphabet which takes the form of linear strokes and notches cut into stone, etched onto wood or written on parchment. It appears on monumental inscriptions found mainly on standing stones across the island of Ireland but is also found in Scotland, Wales and the Isle of Man.
Ogham was used to translate Primitive and Old Irish, and also to write Old Welsh, Pictish and Latin. It is a mysterious and beautiful language which historians and archaeologists believe was used as a way finding tool or a marker of land ownership and prominent sites.
Ogham has heavily inspired Tracey's artwork for many years. With her as your tutor and host you will explore the mysterious language of Ogham and learn to translate a chosen word using the beautiful medium of fused glass. Listen to Tracey's story of how her home, her connection to her ancestors and her artistic practice of sculpture and glass are intrinsically linked and inspire each other.
Watch Tracey as she takes you through this creative process, step by step, guiding you while you design your own art work using language, colour and form to inspire your piece.
Learn to cut and shape glass using specialist hand tools and cutters, add coloured glass inclusions using glass frits, stringers and confetti and finally assemble your cold glass panel prior to loading it into the kiln in preparation for firing. Collectively you will close the kiln and start the firing process.
Your beautiful piece of artwork is then fired in the glass kiln at 840 degrees over an 8 hour period and cooled slowly to room temperature the following day. It is then carefully assembled into a custom made frame, ready for delivery to you five working days later. The artwork will be delivered using Royal Mail Special Delivery and will arrive safely as a beautiful memento of your experience at White Rock Glass Studio.
All materials, glass equipment and safety equipment are supplied for you on the day. Wear comfortable and sensible clothing with closed toe footwear.
Enjoy locally sourced refreshments and a fresh traditional home cooked lunch, all served in the 'front kitchen' of Tracey's ancestral home.
Covid Precautions: All precautions have been taken to ensure your experience is as relaxed and safe as possible whilst at White Rock Glass Studio.
Be assured that the space has been adapted for your safety and peace of mind.
All participants asked to take a Rapid Lateral Flow Test one day prior to attendance
Sanitiser is provided
Participants are asked to wear a visor unless proof of exemption can be shown
All seating is 1.5 meters apart
The space is well ventilated
Regular breaks will be encouraged.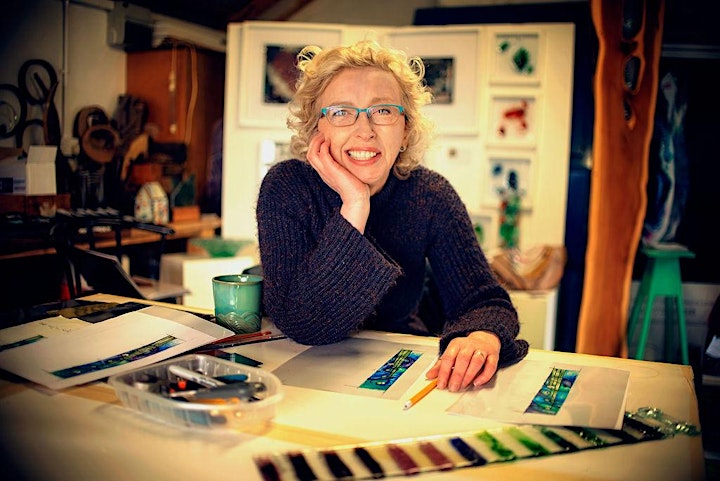 Meet your host and artistic guide for the day, Tracey Mc Verry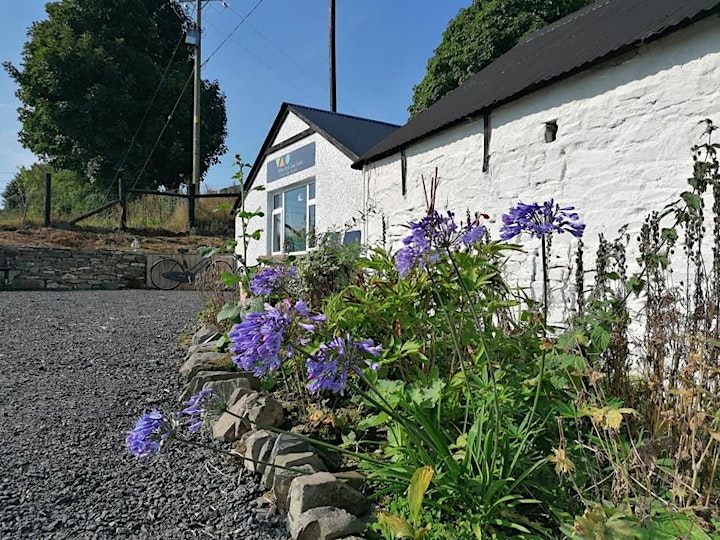 White Rock Glass Studio overlooking the beautiful South Armagh countryside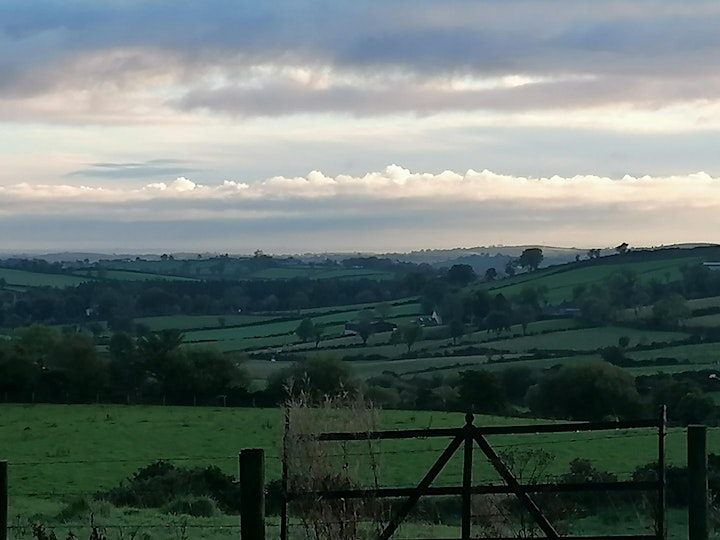 The rolling hills of Ballymoyer, South Armagh from outside Tracey's glass studio.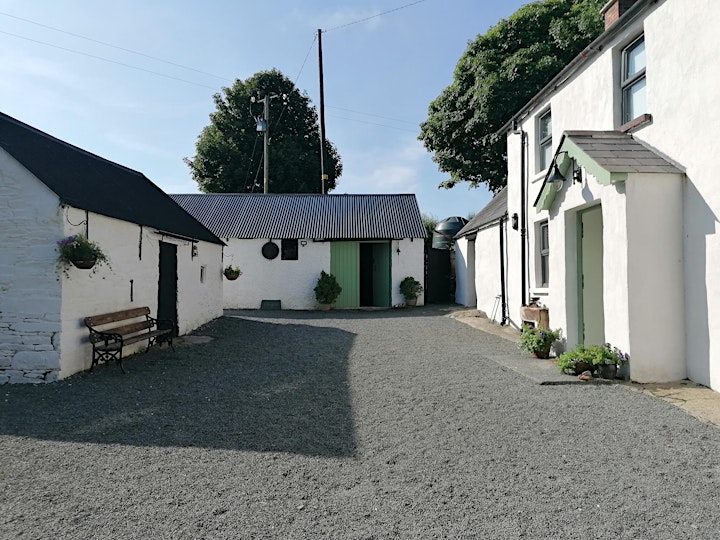 Traceys ancestral home and glass studio nestled in a traditional Irish country cottage courtyard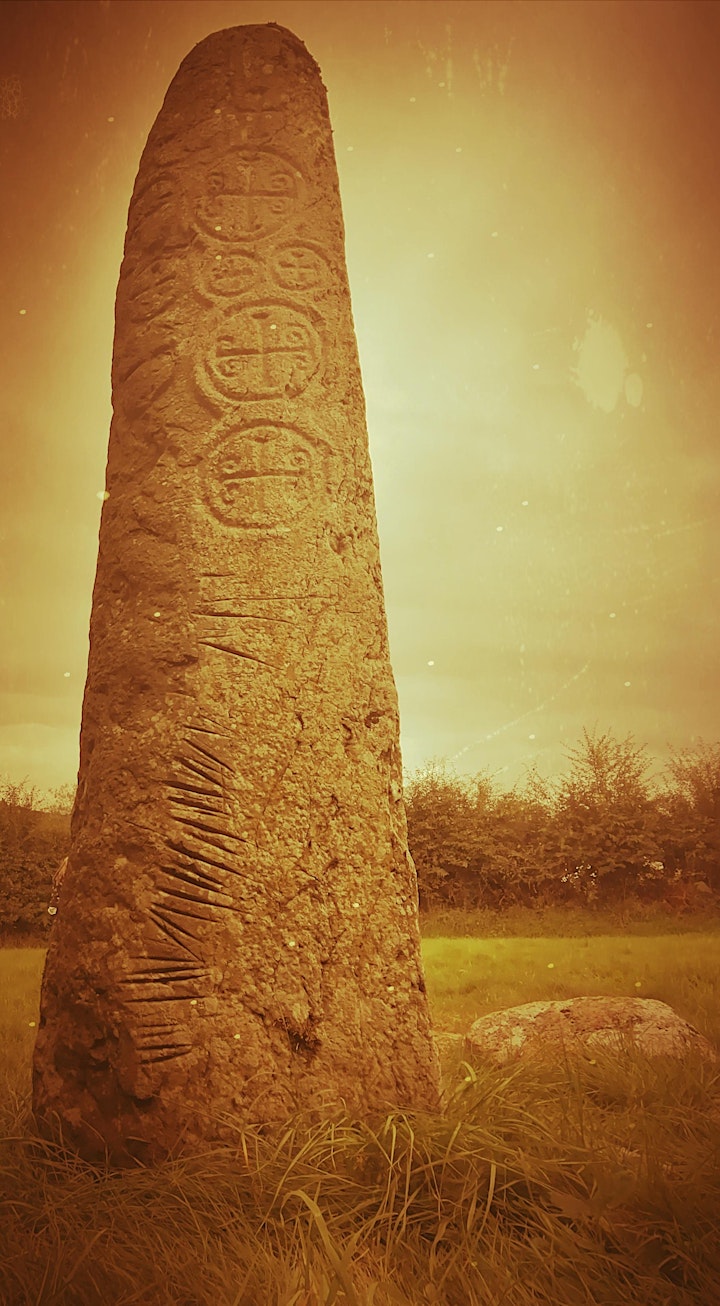 The Kilnasagart Standing Stone found outside the village of Jonesborough, South Armagh. The most local Ogham stone to White Rock Glass Studio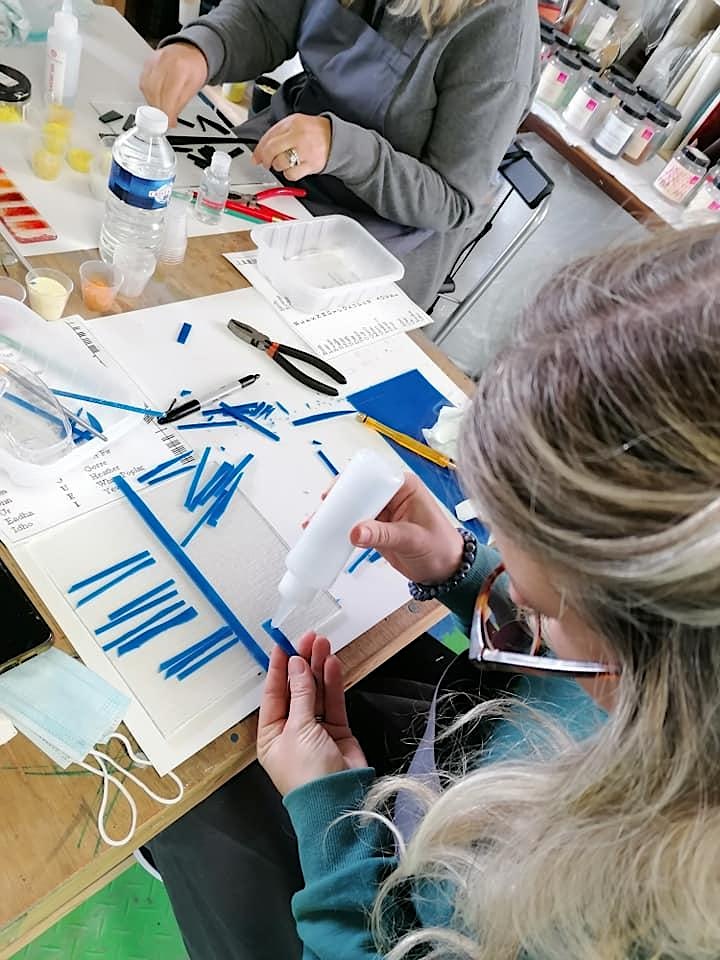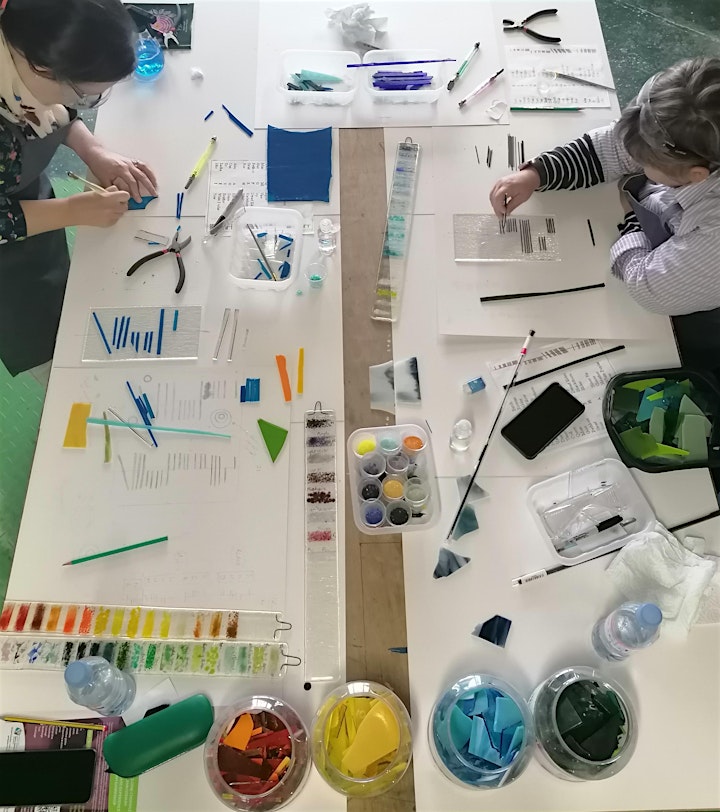 Cutting and laying cold glass on to their chosen Ogham designs prior to firing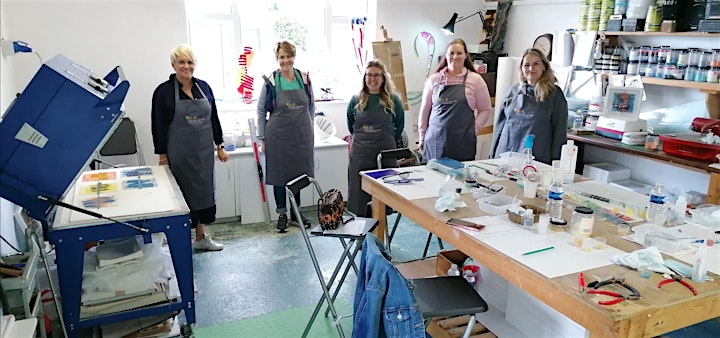 A day of creative play and relaxation in the glass studio complete. What a sense of achievement!

A selection of Fused Glass OGHAM artworks, mounted, framed and ready for special delivery to their makers