Create your own unique and beautiful fused glass picture for yourself or as a gift. Please ensure you read the full details before booking.
About this Event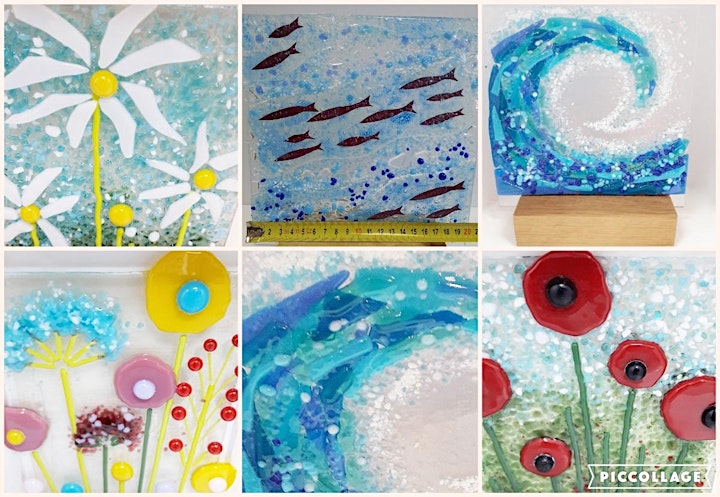 Join Sarah Quick for one of her popular fused glass workshops where you can make your own unique and beautiful item for yourself or as a gift. Suitable for complete beginners as well as those who've caught the fused glass bug! You will have up to 2 hours to create your masterpiece, some people will finish more quickly. In our experience, 2 hours is plenty of time to create something beautiful. This workshop is not suitable for children and we only accept bookings for people aged 16 and over. Anyone under the age of 18 must be accompanied by an adult.
In this workshop you'll create your own unique design on a pre-cut flat piece of glass. Sarah will have lots of ideas to inspire you, including a selection of her own work. The photos give you an idea of the type of designs that Sarah creates. Sarah will show you some basic cutting techniques to create your shapes, and give you tips on how best to get the finished look. Uncomplicated designs tend to work best, the beauty of the glass enhances even the simplest of patterns. Custom made wooden stands can be purchased on the day if you'd like to display your picture as Sarah does.
PLEASE NOTE - Sarah will take your finished piece away to be fused in her kiln. It will be available for collection a couple of weeks after the workshop. On the day you'll be given details of when and where to collect. You can also choose to have your item posted to you for an additional charge payable in cash on the day. Any items posted will be packaged in accordance with Sarah's normal standards but no responsibility can be taken if an item is damaged in the post.
Refunds and cancellations - no refunds will be given if you cancel less than 7 days before the event. If the event is fully booked, we will operate a waiting list and you'll automatically be notified if a place becomes available.