FUTURALLIA 2012 : LILLE REGION

Wednesday, June 27, 2012 at 8:30 AM

-

Friday, June 29, 2012 at 5:30 PM (CEST)
Event Details
After Belgium, Poland, Qatar and more recently Kansas City, Futurallia will take place at the heart of Europe. 
The 17th edition of the international business development forum will be held in Lille, France 27-29 June
LILLE REGION AT THE HEART OF EUROPE
A COMPETITIVE ECONOMY
3rd regional economy in France
At the heart of a hub with a GNP of over 100 billion euro
More than 100 000 internationally renowed companies including Arc International, Decathlon, Bonduelle, Lesaffre, etc.
STRONG INTERNATIONAL POSITION
Leading French exporting and importing region
Second French region for foreign investment (excluding Paris) with 1 100 foreign owned companies established in the region such as Toyota, Tate&Lyle, Häagen-Dazs, Bridgestone, Coca Cola, Bombardier, GSK, Bayer, among others.
THE REGION IS ALSO KNOWN for its high rate of business start- ups, its dynamic youth (2nd university cluster in France) as well as for the warm welcome and solidarity of its inhabitants.


Futurallia is a unique and globally-recognised event. Futurallia Lille Region 2012 will offer small and medium size  businesses from different industry sectors, meetings in a business speed networking format that includes 600 companies  from 30 countries.
International Business Development Opportunities
Over two days, this international business development event will give business leaders the opportunity to have up to  12 pre-scheduled, 30-minute, one-to-one meetings with partners of their choice.
Futurallia Lille Region 2012 is a springboard toward establishing new international business partnerships!
In addition participants will have the opportunity to receive advice and help from international trade experts and set up informal meetings during the various networking events.
YOU ARE...
An SME executive, a cluster or entrepreneur, aware that expanding into new international markets is essential for your company's growth !

SEEKING FOR...
Commercial, financial or technological partnerships.
A proactive approach leading to multiple targeted business opportunities.
Advice and help in accessing new markets.
MAKE THE MOST OF FUTURALLIA LILLE REGION 2012
Get the most of the inter- clustering approach we have adopted in 2012, with an emphasis on the business opportunities related to French and foreign clusters.
Take advantage of the presence of numerous European delegations to access markets with high purchasing power.
TAKE EVERY OPPORTUNITIES TO GROW YOUR BUSINESS NETWORK

The networking area is a great place to connect with other professionals, to talk business and to grow your network. All the new technologies will be there to help you optimise your informal meetings, work smarter and communicate with ease. Conviviality and effeciency guaranteed !
Need further advice ? The best international business experts will answer all your questions.
YOU LOVE BUSINESS,
YOU WILL LOVE LILLE !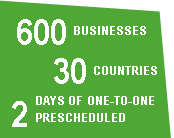 More than 600 attendees gathered in one place- at the heart of Europe's wealthiest consumer hub- Lille and its region rank 1st in terms of purchasing power in Europe.
More than 20 business sectors from  over 30 countries.
More than 8000 scheduled meetings and over 2000 informal meetings.
Up to 16 prescheduled one- to- one meetings, per participants, in 2 days.
A matchmaking process tailored to your needs: identification of your best prospect leads by our team of experts.
Access to a rich network of contacts and international business experts.
EXECUTIVE ALL- INCLUSIVE PACKAGE
WE OFFER TO OPTIMISE YOUR BUSINESS DEVELOPMENT EFFORTS AND TO MAXIMISE YOUR TIME BY PROVIDING YOU WITH
Your customised meeting schedule                           

Access to the following events:

> Accommodation & breakfast- (depending on the package) 

Access to the following events:

   Welcoming Cocktail on June 27th

 

   Welcoming Cocktail on June 27th

   Gala Dinner on June 28th 

additional package with up to 3 nights 

   Gala Dinner on June 28th 

   International Evening on June 29th

in a 3* or 4* hotel, 10 minutes away from the forum 

   International Evening on June 29th

   Transfers to the reception venues on June       

 

   28th & 29th 

venue, 150€/person/night

 

 

800 €

 

 

no taxes included
HOW IT WORKS ?
BEFORE MAY 18th : Company registration through your delegation leader*
FROM MAY 28th : Online catalogue
MAY 28th TO JUNE 22th : Meeting choices
ON ARRIVAL AT THE FORUM : Meeting schedule
*Delegation leader : a representative in each participating country, who is mandated by Futurallia to assist and accompany local companies before and during the forum
A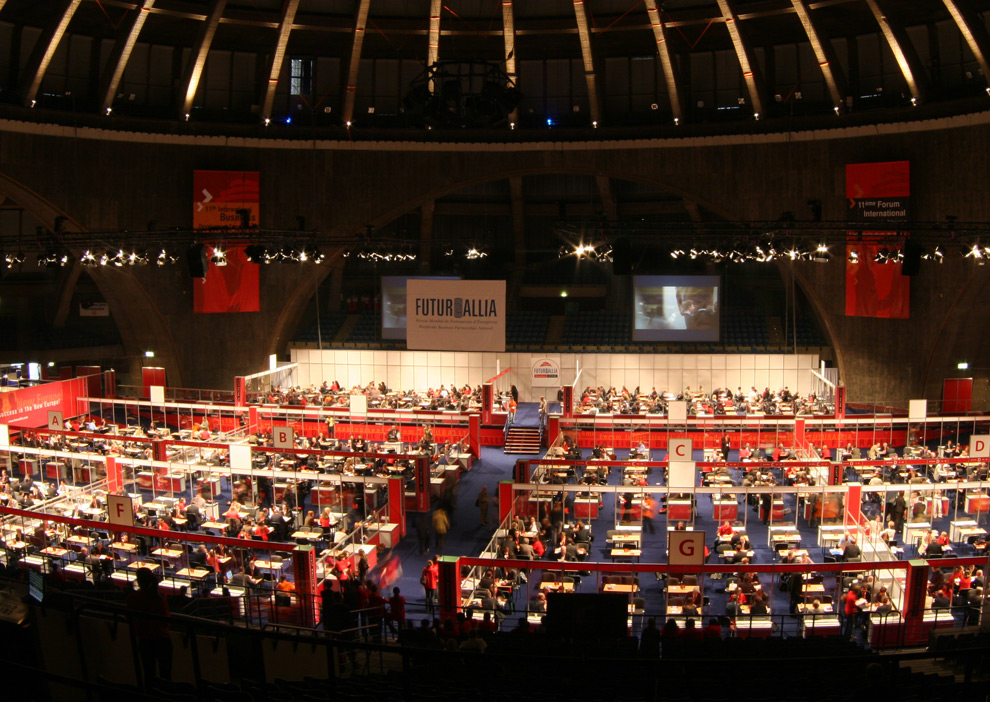 dvice and help in accessing new markets.
When & Where
LILLE GRAND PALAIS
Lille
France


Wednesday, June 27, 2012 at 8:30 AM

-

Friday, June 29, 2012 at 5:30 PM (CEST)
Add to my calendar
Organizer
The newly established World Trade & Commerce Club London provides a business and social forum with services that opens doors and builds trade connections and opportunities with internationally based business parties and the UK region (London, Southampton, Milton Keynes, Hull and Humber). It provides visiting business and potential tenants with a prominent office address and through its trade services it facilitates a peer to peer network with companies, trade organisations and agencies to share best practices, build relationships, skills, knowledge and opportunities to increase international trade growth .