FUTURE FABRICS EXPO 9 ½ LONDON, 22ND JUNE – 2ND JULY 2021
About this event
From the 22nd June - 2nd July 2021, we look forward to welcoming you to the Future Fabrics Expo 9½. It will be held in person at our spacious new showroom in London*. As we ease out of the pandemic restrictions, this interim Expo will be your key sustainable sourcing destination, offering a physical showcase of thousands of materials, sustainability knowledge, supplier insights, advice, and networking events.
For those who can't join us in person, this physical showcase is accompanied by online panel discussions with experts and thought-leaders every day from 1PM - 2PM during the Expo. You will also be able to explore even more fabrics and newly launched features on our Future Fabrics VIRTUAL Expo that will enhance your online sourcing experience.
Future Fabrics Expo 9½ is aimed at supporting fashion professionals seeking to understand sustainability impacts and source a wide range of more responsibly-produced textiles and materials for a positive and responsible fashion future. All material qualities are supported with detailed sustainability information and contextual content.
* COVID-19 social distancing measures and restrictions will still in place as per the UK government's announcement yesterday.  We are respecting all the government's guidelines ensuring social distancing, controlled people flow and capacity in our showroom, as well as further measures include such as one-way flows, separate entry/exit arrangements, staggered access times, signage/crowd management, floor markings, with spaced out furniture for more flexible space.
Upon arrival, you will be directed to the sanitisers . Please also bring along a mask and wear it whilst in the building. Naturally, if you do show symptoms of COVID-19 or you recently had a positive test please do not attend.
We looking forward to seeing you!
WHAT TO EXPECT AT THE FUTURE FABRICS EXPO 9½:
9½ OPEN DAYS AT OUR *NEW* WEST LONDON SHOWROOM, W10 6BL
EXPLORE AND FEEL THOUSANDS OF MATERIALS ON DISPLAY
DISCOVER THE LATEST COLLECTIONS AND SUSTAINABILITY INITIATIVES OF FEATURED MILLS AND SUPPLIERS
ONLINE PANEL DISCUSSIONS WITH PARTNERS & INDUSTRY EXPERTS
PREMIUM ACCESS TO THE FUTURE FABRICS VIRTUAL EXPO
LEARN ABOUT MATERIAL IMPACTS THROUGHOUT THE VALUE CHAIN
A CURATED SHOWCASE OF EMERGING INNOVATIONS
PREMIUM ACCESS TO THE FUTURE FABRICS VIRTUAL EXPO FOR THE DURATION OF THE EVENT
Instagram: @thesustainableangle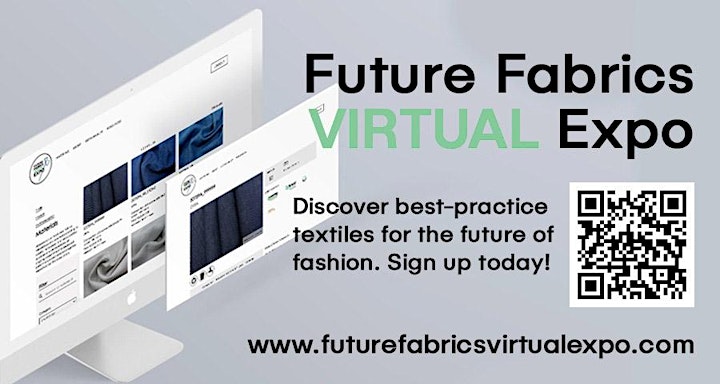 Organiser of FUTURE FABRICS EXPO 9½
Established in 2010, The Sustainable Angle is a not-for-profit organisation that initiates and supports projects which contribute to minimising the environmental impact of industry and society. Our main project, the Future Fabrics Expo, has become the largest dedicated showcase of sustainable materials for the fashion industry, with more than 5000 textiles for fashion from over 150 suppliers. Through the resources and activities showcased at the Future Fabrics Expo, The Sustainable Angle's educational background information displayed, and via the seminars and workshops held, our aim is for fashion to have a positive impact upon nature and communities, and be a vehicle and agent for change -- working with sustainably produced textiles that are safe, renewable, restorative, and that apply responsible practices throughout the supply chain.