A purposeful, online, business start-up programme with a people and planet focus that starts with YOU.
About this event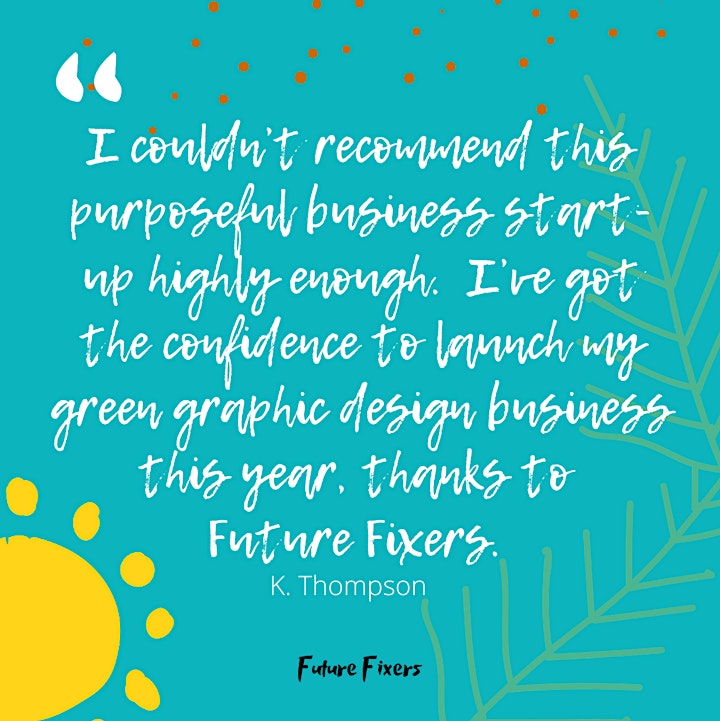 Future Fixers Purposeful Business Start-up programme is different from other start -up programmes in two simple ways:
We start with helping you understand what makes you tick, what motivates you, and how you can stay resilient. (Research has shown that this is the key to a successful business.)
We explore business planning, marketing, sales, and finance but always with a focus on how your business can have a positive impact on people and planet
Perhaps you have dreams to set up an enterprise to help you live the life you want to live, or you need to adapt your current business to enable it to flourish in a changing market. In either case we are here to support you.
Combining their unique skills and interests Dave and Karen set up The Future Fixers Business Start-up programme to inspire and encourage people to launch businesses which have at their heart the essence of who you truly are. We do this because we believe that by understanding yourself first, you will be able to create a profitable business which is an expression of your uniqueness, a business that you and your customers will love..
Who is it for?
You think you want to start a business and want to do something worthwhile but you're a little bit scared (understandably) and not sure where to start.
You have a great idea , even the seed of an idea, but would welcome a bit of support to get it off the ground. (Who wouldn't?)
You're in the early years of a new business and feel like you need to re-evaluate where you're going.
You like the sound of this programme and want to be part of it.
The Programme
The Future Fixers programme will enable you to benefit from the peer support of others in your group and will provide you with opportunities to collaborate. All participants will be welcome to join our Coaching Circle (see events below) during the period of the Programme, free of charge.
By the end of the programme you will have a clear vision for the future and a focused plan to get there as well as the confidence and resilience needed to carry it through.
What you get:
Twelve weeks of the support and guidance you need to make your business idea a reality, including an optional private Facebook Group where you connect with other people on the programme.
An optional one-to-one coaching session
The multiple benefits of the 'People, Planet, Profit' business model, or triple bottom line, for your enterprise
Purposeful business planning, finance, marketing and time management.
Encouragement to set goals that will truly inspire you (and get you out of bed in the mornings!)
The chance to develop your interpersonal effectiveness, essential to running a successful business.
The knowledge and understanding you need to 'get out of your own way' and make a success of your life.
Support to connect with a mentor in your chosen field who is already doing good business.
Opportunities to sell your product or service and to network with like-minded people.
FREE access to Future Fixers Coaching Circle for 3 months. (See events listings below.)
You will also have the chance to learn about the award winning Functional Fluency Model of Human Social Behaviour and the associated TIFF tool which will enhance what you already do well, and give you the understanding you need to communicate more effectively, and to transform patterns of behaviour that don't work well.
So when and where can you take part?
Our next full programme will be delivered online starting on Wed 3rd Feb 2021 and finishing on Wed 22nd April 2021. It will combine fortnightly 'face to face' sessions via Zoom with downloadable resources to work on in your own time alongside a private Facebook group.
Session 1 Wed 3rd Feb 1.30pm – 4pm Clarifying your purposeful business idea (including uncovering your 'why' and your values)
Session 2 Wed 17th Feb 1.30pm – 4pm Setting meaningful goals and planning your purposeful business
Session 3 Wed 3rd Mar 1.30pm – 4pm Developing a purposeful business plan (with a difference)
Session 4 Wed 17th Mar 1.30pm – 4pm How to sell your goods/services (in a way that doesn't feel like selling).
Session 5 Wed 31st Mar 1.30pm – 4pm Some things you need to know about marketing
Session 6 Wed 22nd Apr 1.30pm – 4pm Presenting your business and yourself with confidence
NB The Zoom sessions will sometimes be recorded.
Fees and Registering your Place
Please register your interest by signing up on Eventbrite. We will then get in touch to complete your registration and to confirm your place.
The full course fee is £495*.(Can be paid in installments).
* If you are a resident of South Lakes in Cumbria the fee is just £59, or FREE if you receive benefits and are referred by the Job Centre, thanks to funding from South Lakeland District Council.
If you have any questions please get in touch as we may be able to offer further reduced places (on this or future programmes) subject to current funding bids. We want to help as many people as possible to set up purposeful businesses during these challenging times.
Contact Karen on 07854 751169 or e mail karen@bentley-brown.co.uk
Still not sure?
If you are unsure whether or not you want to start a business, or need to explore and clarify your idea, you're welcome to join our introductory course:
Is Your Business Idea a Good One?
Date: January 2021
This introductory workshop costs just £10 (See separate event listing below)
Organiser of Future Fixers Purposeful Business Start-Up Programme
Welcome to Future Fixers. We run courses, deliver coaching programmes, and host networking events, to encourage a greener, fairer world. We align you to your deepest values and your greatest strengths. We help you to grow your networks, and we inspire connection with nature and the environment. We support you in developing your purposeful business, and in creating a life you love.