Description

Thanks for your interest in our Future Focus Digital Mindset day at Eden on October 9, from 9am until 5pm.
We'll keep you updated as more details become available, but we can tell you now that the day's divided into morning, afternoon sessions.
In the morning session 'Max Your Digital UX' , you'll hear how technology is enabling more than just a faster version of business-as-usual and transforming the nature of business itself.
How we attract, engage, retain, delight and understand customers using on-line, digital or technology platforms, how we enhance user and customer experience and understand who our customers are and what they want: all this – and much more – will be the focus of the pre-lunch session, with keynote speaker ….
The afternoon session 'The Human Dimension' we will power down and focus on the human at the eye of the data-storm, as we delve further into customer experience, employee engagement and the link between them. We'll also look at how tools like super-personalisation can help all strategies and touchpoints within the business seamlessly connect to create a distinctive, coherent experience. There'll be time, too, to talk about how we respond when ever-increasing connectivity often means ever-decreasing connectedness to people and place. All of this and more will be delivered by our afternoon keynote …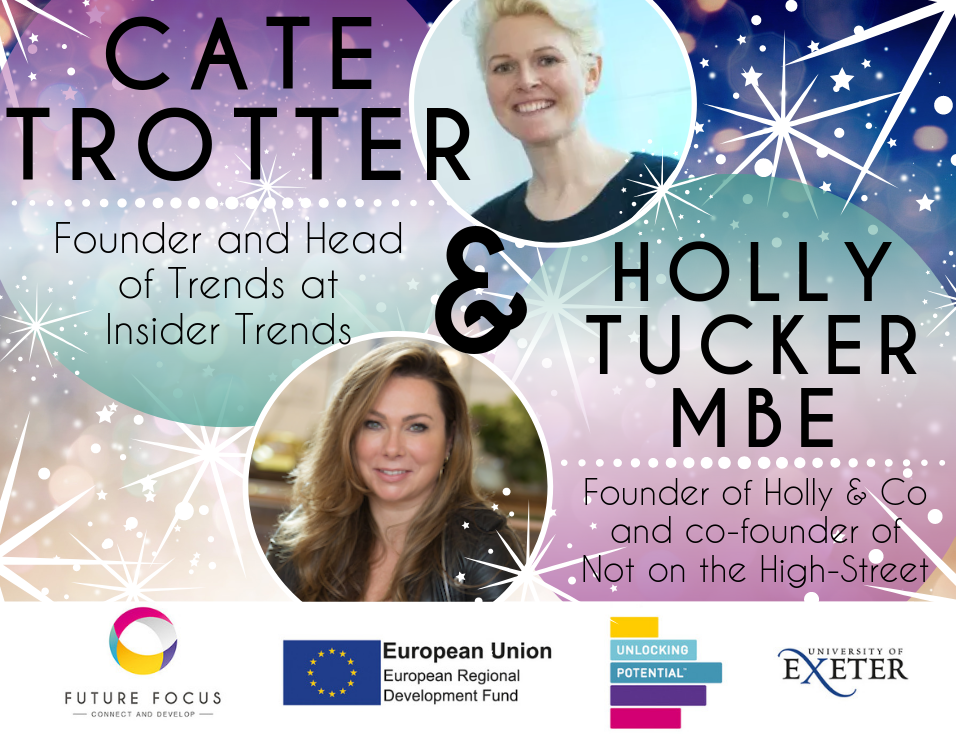 Morning Keynote: Cat Trotter, Insider Trends
Cate will pilot you through the morning session, 'Max Your Digital UX'. She has spent the last 12 years helping all kinds of brands – including Nike, Levi's, Marks & Spencer, Chanel, Samsung, Clarks and Lego – deploy the latest retail trends to their advantage. Now she's coming to Cornwall to give us the lowdown on how technology is transforming the nature of business itself. She'll report back from the frontier of where digital-first thinking is shaking up business to the point where traditional notions of sector (product, service, retail, etc.) are breaking down, as everyone has the potential to be a media business.
Afternoon Keynote: Holly Tucker, Not on the Highstreet and Holly&Co
Holly Tucker will lead the afternoon session on 'The Human Dimension'. She's an incredibly successful entrepreneur, responsible for notonthehighstreet.com, as well as for holly.co, which continues her life's quest, to bring colour to the grey world of business and to champion creative small businesses. So nobody better, in other words, to lead our afternoon session, which will focus on the human at the eye of the digital data-storm and delve further into customer experience, employee engagement and the link between them. Holly's stated aim and goal is to enable a whole new generation (and type) of small businesses: small, agile, forward-thinking, innovative and intent on the wellbeing of their employees as well as their customers.
We'd love for you to come along for the day to get the most out of this gamechanger event, but if your diary doesn't allow it, we are also offering morning or afternoon session tickets.
Be engaged, surprised and provoked.
Be inspired, challenged and awestruck.
But do be there.
Can I return my ticket?
Yes. If you can no longer attend, we encourage you to let us know as soon as possible so a fellow Cornish business leader can experience this opportunity to hear world-class speakers.
This event is supported by Media Partner, Business Cornwall.
There is no cost to attend this Future Focus Event; it is fully funded by the European Regional Development Fund.
Keep up to date with keynote speaker announcements and news by signing up to our mailer HERE
---
Here's a quick look back at some of our recent Future Focus Events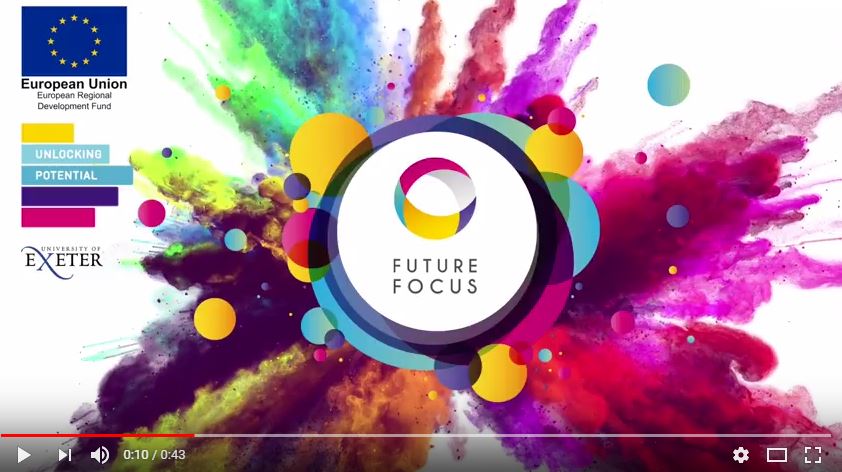 Click here to read Unlocking Potential's terms and conditions regarding capturing film and photography at our events, workshops and Labs.