Description

If 2019 could be characterised by one thing – it would be change! And with a changing environment, comes a change in behaviour. The ability to navigate, predict and better understand your consumer's changing wants and needs is becoming more complex.
This event will help you understand how changing consumer needs, behaviours and values are influencing the products or services you produce. Then, empower you to explore future motivations and trends which will effect consumer behaviour and buying habits relevant to both B2B and B2C markets.
With so much change and uncertainty in the market place today, it can be a challenge simply determining the worthy trends from the impulsive fads, so we are delighted to welcome 2 expert Keynotes in the field of consumerism and trend-prediction.
Paul Lindley OBE is an award-winning British entrepreneur and children's welfare campaigner. He founded organic baby and children's food brand Ella's Kitchen in 2006. Ella's Kitchen is the UK's number one baby food brand, retailing in major markets around the world with a global turnover of over $100 million. Driven by Paul's founding mission, Ella's Kitchen has fast-become an instrumental force in national campaigns to tackle childhood hunger and improve early-childhood nutrition. From his own experiences, Paul will be giving insights into understanding modern consumers, building a loved brand and the importance of an ethical and 'human' face and soul in a business.
Our second keynote is Consumer Trends Futurist, Will Higham who has made his global reputation by analysing and predicting how consumer needs, expectations and behaviours will change, and how to use that as the basis for a growth strategy. Will's company has since helped build future-proof strategies for a wide range of national and international blue chip clients: from BBC to HSBC, Sainsbury's to Siemens.
The full day event will reenergise or kick-start your own revolutionary thinking into how your business can prepare and predict future changing consumer behaviours relevant to your industry. Through a combination of inspiring keynotes, examples of Cornish businesses already achieving great consumer insights, practical tools, and the opportunity for follow-on labs in core areas including brand power, creative and business model innovation, you will leave armed and ready to test new ideas, explore new thinking and look at your business through your customer's eyes.
The afternoon Lab Sessions
Brand Power Lab: The Lab will help you refine your brand positioning and capitalise on future opportunities for growth. You will leave inspired with fresh ideas for your brand and the confidence to communicate new or existing products – to new or existing customer segments & markets – using contemporary and effective marketing activities. This Lab series will be facilitated by Angelo Spencer-Smith. As a Positioning and Differentiation Strategist, Angelo will provide his specialist knowledge to your business, offering new and creative ideas to support your development. This opportunity is not to be missed for innovative and future-focused brands.
Idea to Reality – Demystifying Innovation Lab: If you want to better understand how innovation can transform your business this Lab is for you. You will explore how to search out new ideas, select the most beneficial ones and how to get on with implementing them. Delegates will learn about creating ideas, scaling them and capturing as much value as possible from them. By the end of the lab series, you will also be able to establish your own business innovation process to help drive future growth. Alongside the lab sessions, delegates will be challenged and supported to apply the learning to live business opportunities. Discover how innovation can help transform your business.
Business Model Innovation Lab: This Lab will guide you through a structured and interactive process to revisit your business model, identify what is working well and spot opportunities for change. Working side-by-side with like-minded business leaders, you will use a contemporary business modelling tool, the Business Model Canvas, to take a fresh look at your business. Entrepreneur and business optimisation coach, David Bone, has taken small businesses and led them to become big businesses in Cornwall and beyond. Bringing his war wounds, accolades and successes, David will support you to revisit and refresh your business model – equipping you to meet emerging and future consumer needs.
There is no cost to attend this Future Focus Event; it is fully funded by the European Regional Development Fund.
Can I return my ticket?
Yes. If you can no longer attend, we encourage you to let us know as soon as possible so a fellow Cornish business leader can experience this opportunity to hear world-class speakers.
---
Here's a quick look back at some of our recent Future Focus Events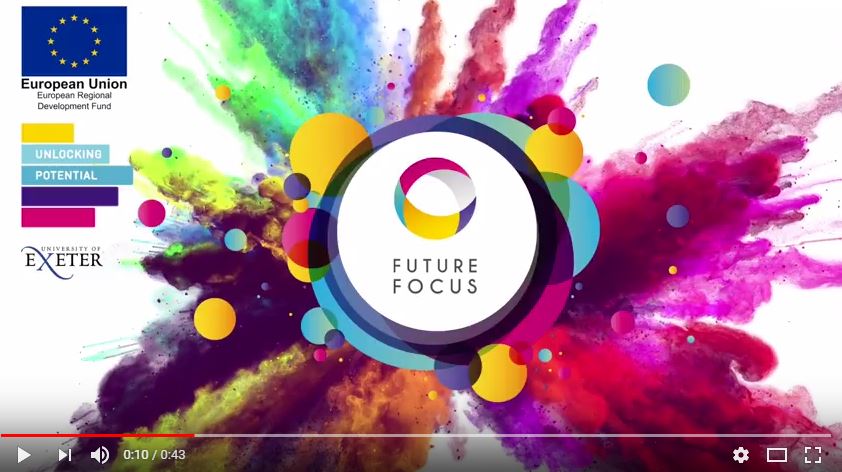 Keep up to date with upcoming events and news by signing up to our mailer HERE
Click here to read Unlocking Potential's terms and conditions regarding capturing film and photography at our events, workshops and Labs.