Description

In an industry that is used to moving with the times, each season bringing new styles, colours and trends, there is a more significant shift happening away from the catwalk.
Technology is not only heralding a new era of textiles and fabrics, but changing the way garments are made, and increasingly how they are promoted and purchased.
Whether you're producing clothing, footwear, accessories, sportswear or technical clothing, or involved somewhere in the process, the demand for products that are created ethically, responsibly and sustainably will affect you.
The market is changing, as are the needs and demands of your customers. The opportunities are significant, and in an industry that's always setting the trends, are you ready to be ahead of the pack? Come and explore the Future of the Clothing Industry and start to shape your business' future.
About the day
Our Future Focus Event, Wear It Well, will cover a full day with a range of exciting keynote speakers and industry giants taking the stage in the morning, followed by six diverse afternoon workshops.
The first speaker to be revealed is Patrick Grant, owner and Creative Director of Norton & Sons, a Savile Row tailor and the force behind Community Clothing, a social enterprise with a mission to sustain and create jobs in the UK textile and garment manufacturing industry. You may recognise him as one of the judges on BBC 1's The Great British Sewing Bee, and he also consults for brands such as Barbour and The Kooples. His accolades include being named Menswear Designer of the Year at the 2010 British Fashion Awards an and is an honourary Professor at Glasgow Caledonian University.
Our thought-provoking afternoon workshops will enable delegates to network with like-minded businesses and interact with industry thought-leaders to explore the trends, opportunities and challenges presented during the morning session.
The first workshops take place from 2pm-3pm. You are invited to attend one of the following:
The Future Consumer- Future trends in consumer behaviour
Pitch Perfect- Selling to major buyers
Sustainable Design- Upcycling, traditional techniques and longevity
After a short break, you are invited to attend one further session from the final series of workshops from 3.30pm-4.30pm which are:
Communication Revolution- Digital, social and new platform
Who Made My Clothes?- Traceability and provenance
Making Amazing Products- Quality, manufacture and workforce
Please let us know which two sessions you'd like to come to when you sign up.
There is no cost to attend this Future Focus Event; it is fully funded by the European Regional Development Fund.
Can I return my ticket?
Yes. If you can no longer attend, we encourage you to let us know as soon as possible so a fellow Cornish business leader can experience this opportunity to hear world-class speakers.
---
Here's a quick look back at some of our recent Future Focus Events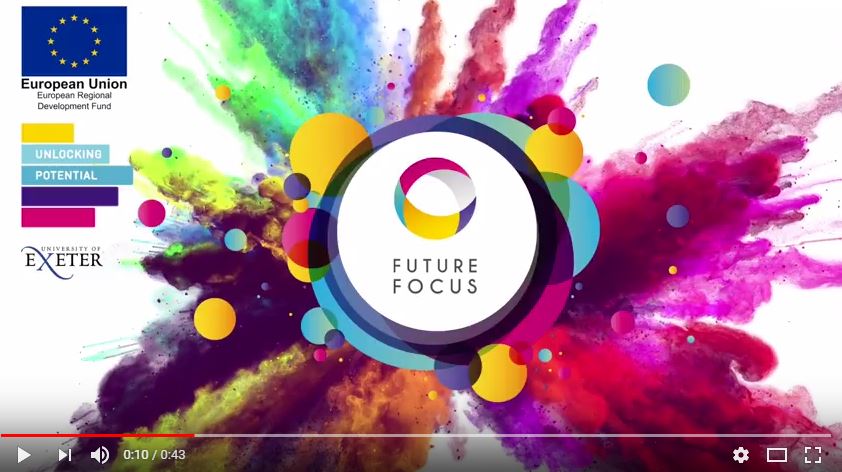 Keep up to date with upcoming events and news by signing up to our mailer HERE