Mizuho Future Leaders Networking Event
About this event
We celebrate and encourage diversity of thought and value smart thinkers – after all, it is our people who make our business what it is. And we are looking for diverse future talent now.
Are you in your penultimate year of University? Are you looking for an internship in Financial Services commencing Summer 2022?
Join us online to meet Mizuho colleagues and learn more about career opportunities in Finance, Technology, Human Resources, Trading and Sales, Corporate Banking, and Sustainability.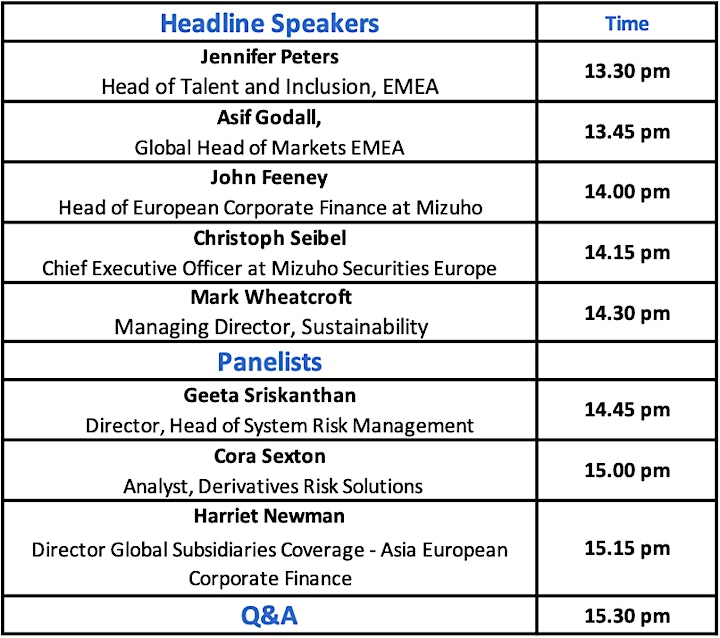 Start your career with Mizuho
This is a great time to join us. We are always looking to find new and innovative ways of doing business while being committed to sustainability and ESG initiatives – which are at the heart of everything we do, be that expanding our product range or creating a carbon-neutral work environment.
We recognise that our business activities have a direct and indirect impact on the environment and societies in which we operate. In response, we proactively implement ESG initiatives that draw on our capabilities and knowledge as a financial services group; engage with a range of stakeholders, and track our progress. This helps us operate responsibly and sustainably.
We are proud to be a founding signatory of the HM Treasury's Women in Finance Charter and have a wide number of networks including Faith, Cultural and LTGTQ+ networks, which support our commitment to inclusion and diversity.

The Mizuho Internship Programme 2022
We are now recruiting interns to join our 10-week Mizuho Internship Programme in 2022. The aim is that successful interns will be offered a permanent position on the 2023 Mizuho Graduate Programme (commencing September 2023).
We have opportunities in the following areas:
Applicants must be in their penultimate year of undergraduate study and be available to work during the summer of 2022 and be looking for permanent work from September 2023.
Applicants must have the permanent right to work in the UK for roles at MHBK or MHI or have the permanent right to work in Germany for MHEU roles. For more information, visit: https://www.mizuhogroup.com/emea/careers
Applications are open now and close on Friday, 12 November 2021. Assessment centres for shortlisted candidates will take place in December.