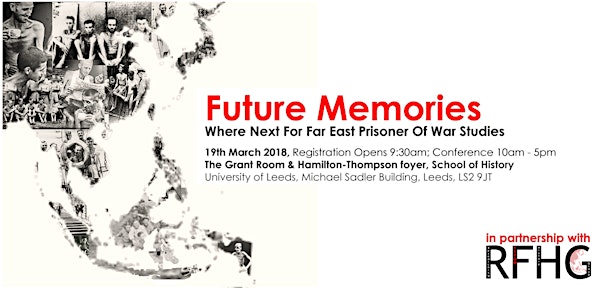 Future Memories: Where next for Far East Prisoner Of War Studies?
Location
The Grant Room & Hamilton-Thompson Foyer
Michael Sadler Building, University of Leeds
Woodhouse Lane
Leeds
LS2 9JT
United Kingdom
Description
It is a pleasure to invite you to Future Memories: Where next for Far East Prisoner Of War Studies?

Academic and wider public interest in the Second World War is likely to increase dramatically with the end of the conflict's 75th anniversary in 2020, and its centenary beginning in 2039: a pattern observed with the anniversaries of the First World War. Drawing on the broad theme of captivity across Southeast Asia, this one-day symposium will aim to be a 'seed' event for the consideration of larger projects. It will consider the likely trajectory of future research into the legacies of captivity, and identify early opportunities for impact within this field of study.
Taking place at the University of Leeds on 19th March 2018, the symposium will unite around thirty delegates including postgraduates, relatives of former captives, researchers and medics involved in the care of veterans. The confernece will also provide the opportunity to visit the Special Collections at Leeds to view some of their Far East Prisoner of War (FEPOW) related artefacts.

Alongside established academics, this symposium will act as a platform for current postgraduates to showcase their research.
A visit to the view some of the FEPOW related artefacts within the Liddle Collection (part of Leeds University Library's Special Collections) will also take place on the day and be included within the delgate ticket as standard.
Speakers as follows:




David Boyne

Escaping From Japanese Camps

Nigel Brown

Lieutenant Colonel Shigeo Emoto

Helen Innes

Makassar: a lesser-known geography of captivity

Clare Makepeace

'A happy release from an earthly existence of torment and hunger. R.I.P.' The war graves of Far East POWs who died on the Thai-Burma railway

Mary Monro

Stranger In My Heart

Toby Norways

FEPOWs and Forgiveness: Post-war attitudes of veterans towards their Japanese captors

Lizzie Oliver

RFHG

Meg Parkes

The Secret Art of Survival

Louise Reynolds

Making and Marking Memory

Emily Sharp

Syonan Civilian Internment: The Effect of British and Japanese Norms on the Experiences and Treatment of Internees in Japanese Occupied Singapore

Terry Smyth

In Search of Fathers

Nigel Stanley

The Longest Fighting Retreat: Jitra to Changi Recalled By Regimental Brush and pen