Do you feel the support you receive improves your health and wellbeing? Do you find adult social care services easy to access and use?
About this event
What this event is about:
Tower Hamlets Council has developed a new adult social care strategy which is open for consultation.
At the previous Taking Control of Your Life open forum we spoke to the Head of Policy and Strategy for Health, Adults and Communities at Tower Hamlets Council, Joanne Starkie, on what you would like to see included in the strategy.
We will be welcoming her again at our next online meeting on 6th October 2021 to discuss how your recommendations have been taken into account.
For those of you who were not able to attend the last session, you will still have a chance to influence the direction of the new adult social care strategy. The strategy would like to empower people who need support to achieve their goals, be connected to others and be as independent as possible.
Get your voice heard to ensure this happens!
The session will begin at 1:30 (with doors opening at 1:15)
• A discussion on what like to see incorporated in the new strategy
• Jo Starkie presenting on how our recommendations have been taken in account with an opportunity of Q&A.
Who the event is for:
Disabled* people who live in the London borough of Tower Hamlets.
Information about the Taking Control of Your Life Project:
Real's Taking Control of Your Life (TCOYL) project empowers disabled people in Tower Hamlets to have more choice and control in their care. We work to ensure health and social care services are accessible and inclusive of the needs of our diverse community.
In addition to our support service, our TCOYL steering group meets every two months to identify the barriers local disabled people face in health and social care. We then design creative solutions to dismantle these, so our services work for all.
How to book:
• Sign up here on Eventbrite.
• Email us at TCOYL@real.org.uk
• Call or text either 07305811946 or 07458304616 to secure your place.
Once you've booked your place, we'll send you the Zoom link you need to join (and instructions on how to do this) 24 hours before the event is due to start.
Access
If you require support to participate in the event please let us know as soon as you can by email or phone.
Want to get involved but can't attend due to other commitments? Or maybe you simply don't feel comfortable using Zoom or meeting in a group setting? Not to worry - please contact our team on the above details and we can support you to participate in whatever way works best for you.
*When we used the word Disabled we consider this anyone who has an impairment, illness, injury or long-term health condition and who may face barriers to being included in society, whether they self-identify as disabled or not.
This includes those with physical, cognitive and sensory impairments, people with learning disabilities; Deaf people, people with visual impairments, mental health system users, and survivors, and others.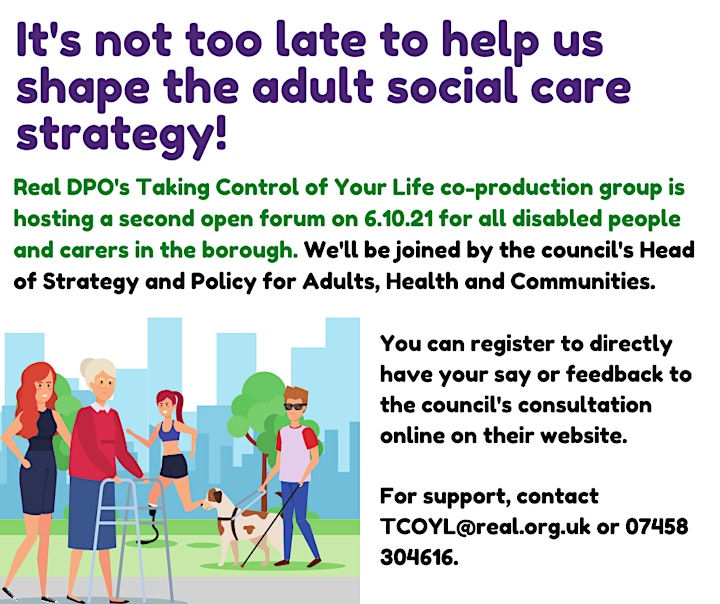 Organiser of Future of Adult Social Care in Tower Hamlets - Follow up session
We're run by disabled people, for disabled people, and have been around in one form or another for over twenty years.
We think disabled people should have the same choices and opportunities in their lives as non-disabled people, so we challenge inequality and discrimination.
We support anyone in Tower Hamlets who is or has been disabled or who has a long-term health condition.
Everything we do is based on the social model of disability.

We support people with any type of impairment or disability, and of all ages, genders, gender identities, ethnicities, religions, beliefs, and sexual orientations.

We also work with friends, families, carers, professionals and allies who support our goals.

We're formed through a merger of Disability Coalition – Tower Hamlets and Disability Information Training Opportunity, bringing together lots of different skills and experience.

We get most of our funding from Tower Hamlets Council and the local NHS, but we also get help from other organisations, businesses and donors.

Click here to make a donation to Real